The Vette Kart that Erich Heinig built a couple of years ago was his way of giving back to Veterans, and to bring about awareness for Veteran suicide. He built the car out of his own expenses with very few sponsors, one of which was our friends at Silver Sport Transmissions. He completed the build and brought it out to the Hot Rod Power Tour, and that's when our friendship started.
It was there that our friend, Jeff, pointed out one of our radiators that was attempting to keep the car cool. As it turned out, the radiator that Erich purchased to fit the confines of the Vette Kart was a Vega unit, and it wasn't quite up to the task of keeping the LS engine cool. Before we could get the problem remedied, Vette Kart was donated, and Erich was on to another project. That new project is pretty much going in the opposite direction of Vette Kart.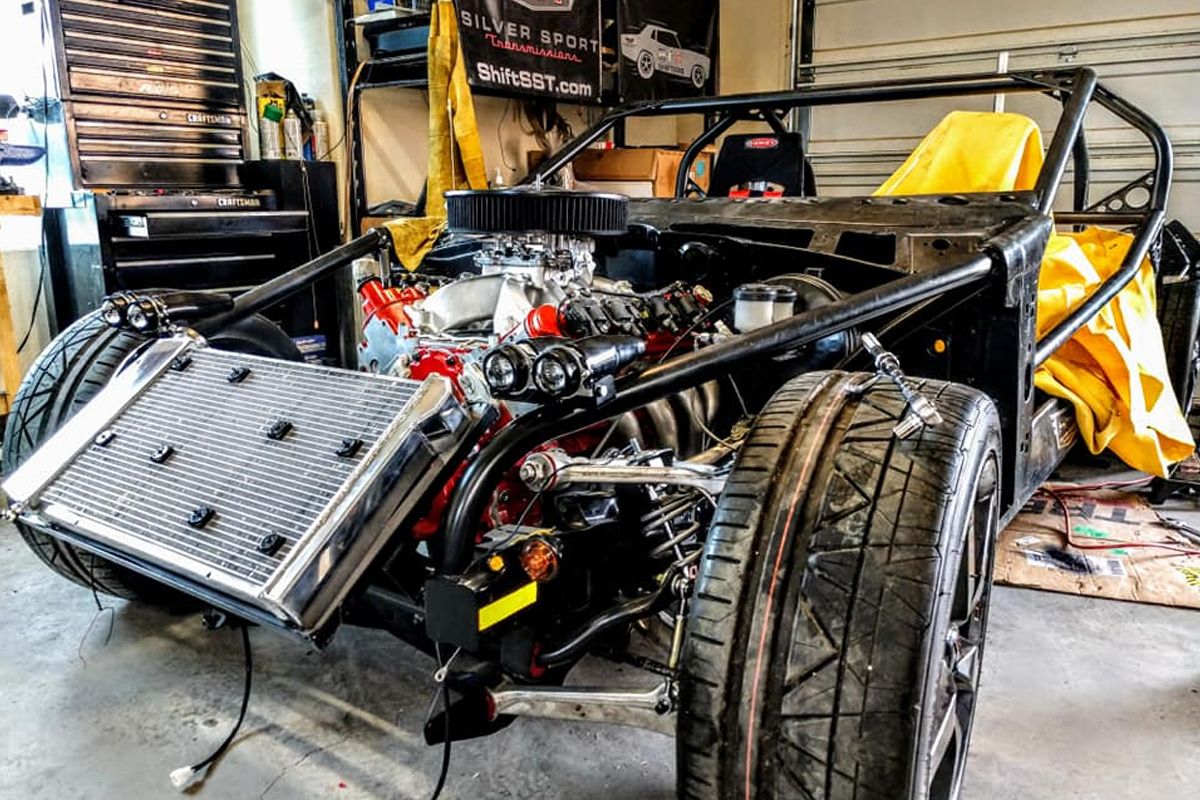 We reached out and told Erich we wanted to be a part of his new build, and as of this writing he has not only helped to promote the Champion Cooling brand, but has kept us as his sole sponsor, spending his own money on the rest of the project to create his current vision: a Rat Rod Dually 4×4.
The Vision Awakens
While contemplating how he should go about his build, Erich decided a slightly more modern Chevrolet dually chassis was going to be the best foundation for the rusty 1934 Chevy pickup that had all but succumbed to the perils of nature. While it was quite rusted out, Erich saw it as the perfect canvas to build upon.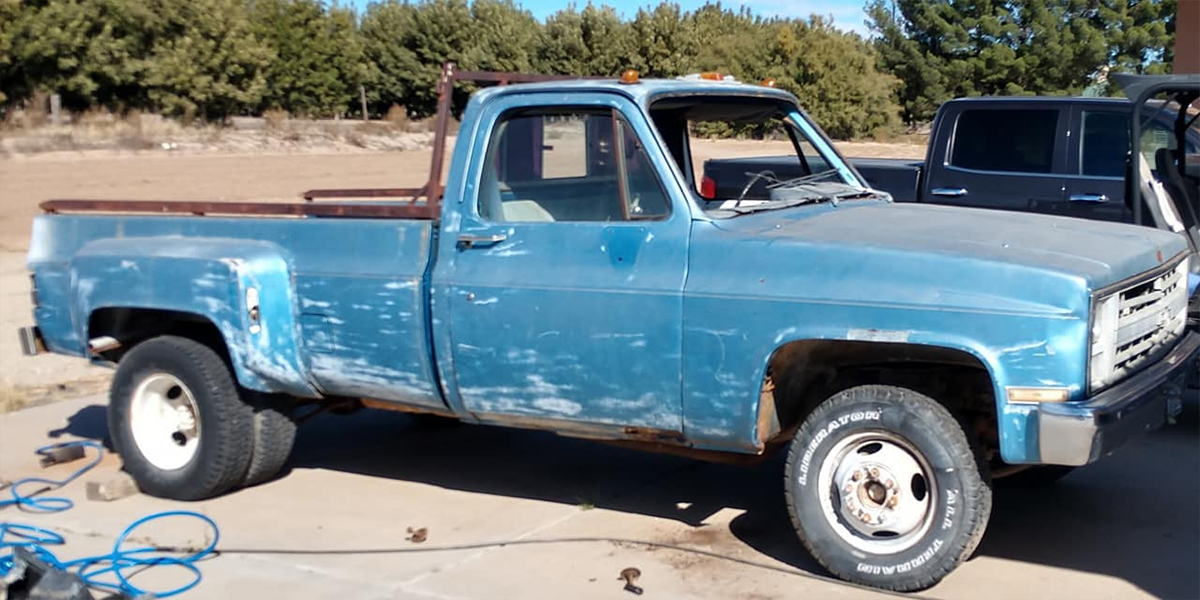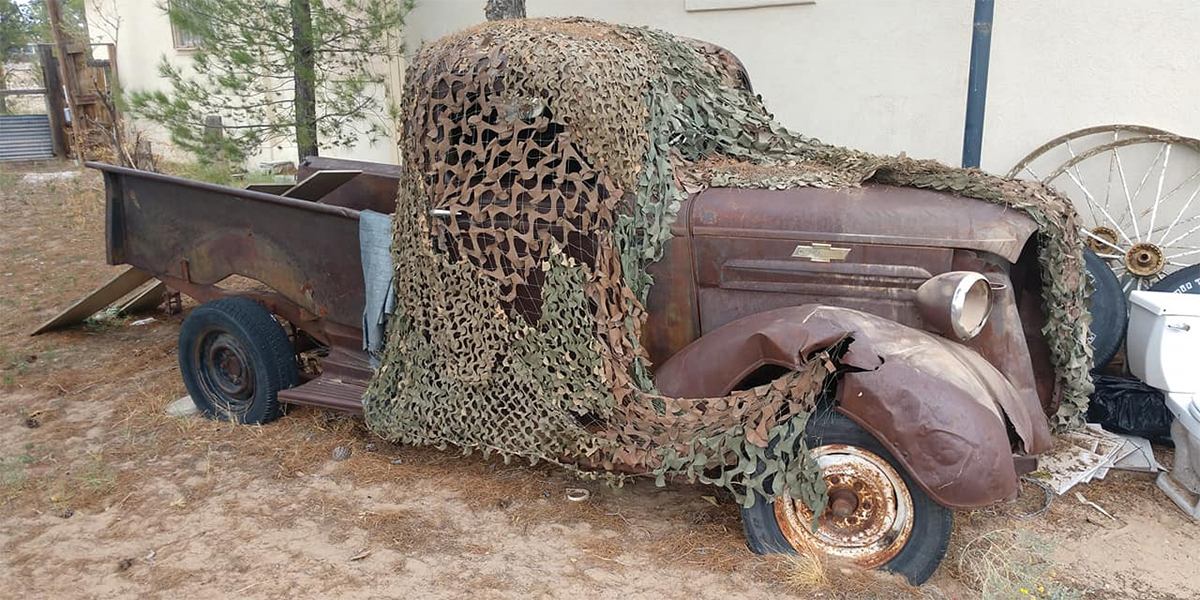 The goal was to get the body from the bottom truck and put it on the chassis of the top truck.
Although the dually that loaned itself to the build already had a suspension, that wasn't good enough for Erich. He was going to do away with the leaf springs and build his own four-link suspension system – front and rear. That meant getting rid of all the unnecessary brackets, perches, and tabs; and figuring out where his new suspension would be welded in place.
The first task was to get that old blue Chevy cab and bed removed, and set them out for scrap. Starting with a somewhat complete vehicle, that meant a complete teardown and dismantling. This is one of those times when you wish you could just holler out to your faithful assistant, "Scrap the Dually, Clyde" and then check back later to find the bare frame.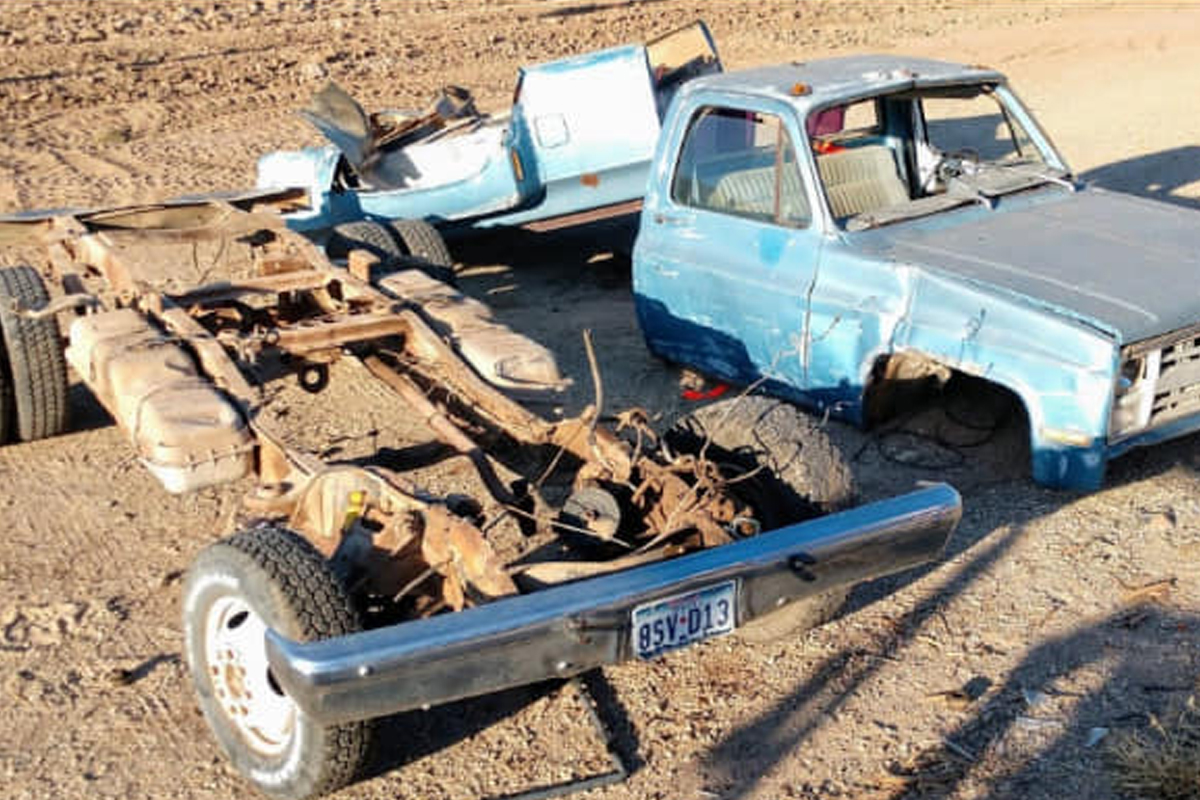 After the body removal, it was time to clean up the grease, grime, and dirt on the chassis, and that's a task for a power washer. It makes the job go a little quicker, and it's definitely one of those tools that most gearheads want – even if they only get to use it to show the wife how accurately they can shed a wasp from the fence post a thirty paces.
Of course, all of this is much easier facilitated when you have a large enough area away from things that could make it a difficult task – like neighbors complaining. It also helps having a deep garage, not one of those fru-fru garages in most every tract home neighborhood. Did we say this truck was long?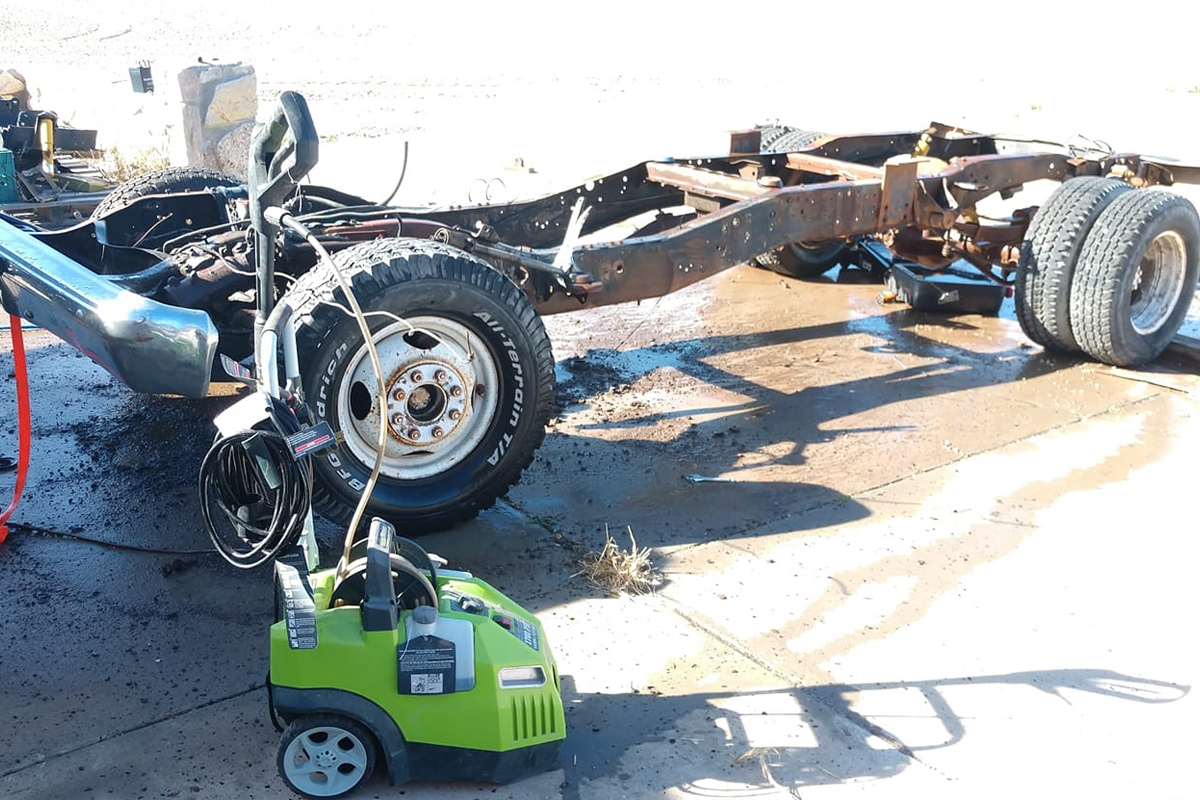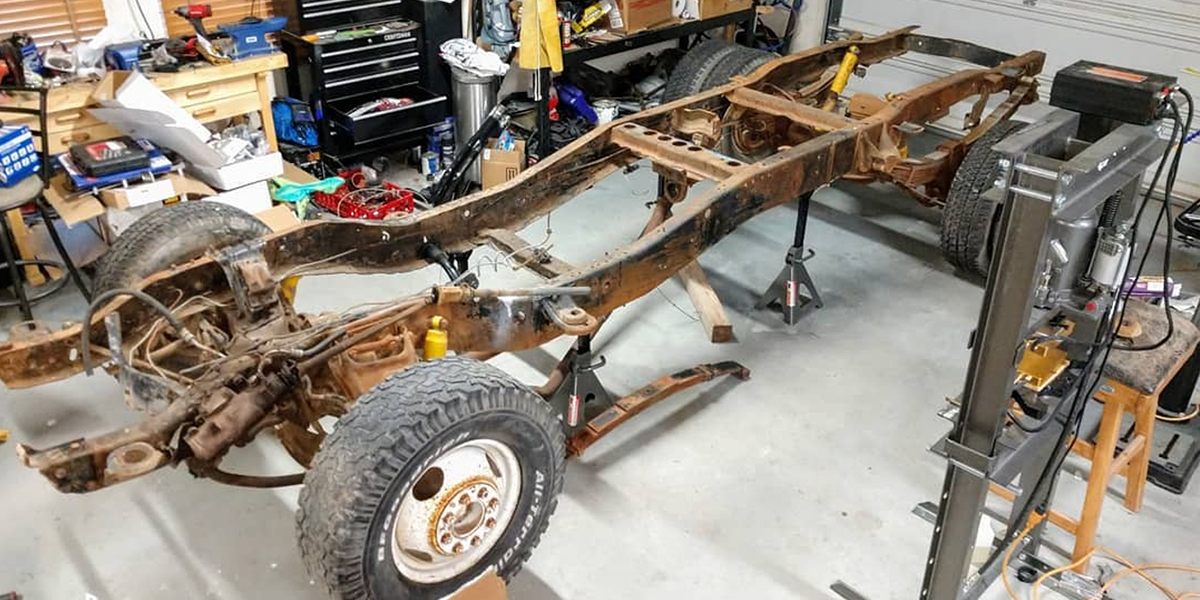 A power washer is a great tool to have when you don't want to sit there for days with rags and Simple Green, trying to remove decades of neglect and abuse.
Then there was rust all over the frame, and that needed to be removed for the new welds to be made, and also for the paint to adhere to it when the time comes to coat the frame. So with grinder in hand and a morning cup of Joe, Erich went to work stripping everything off the frame that wasn't needed, which included all that reddish-brown stuff.
Along the frame, there are a lot of brackets and tabs that can get in the way of a project, so a good cutoff wheel made quick work of ridding the frame of crossmembers and brackets that wouldn't be needed. You never know if that one little tab you left on the frame will be in the way later on when you're plumbing brake and fuel lines – or mounting the cab to the frame.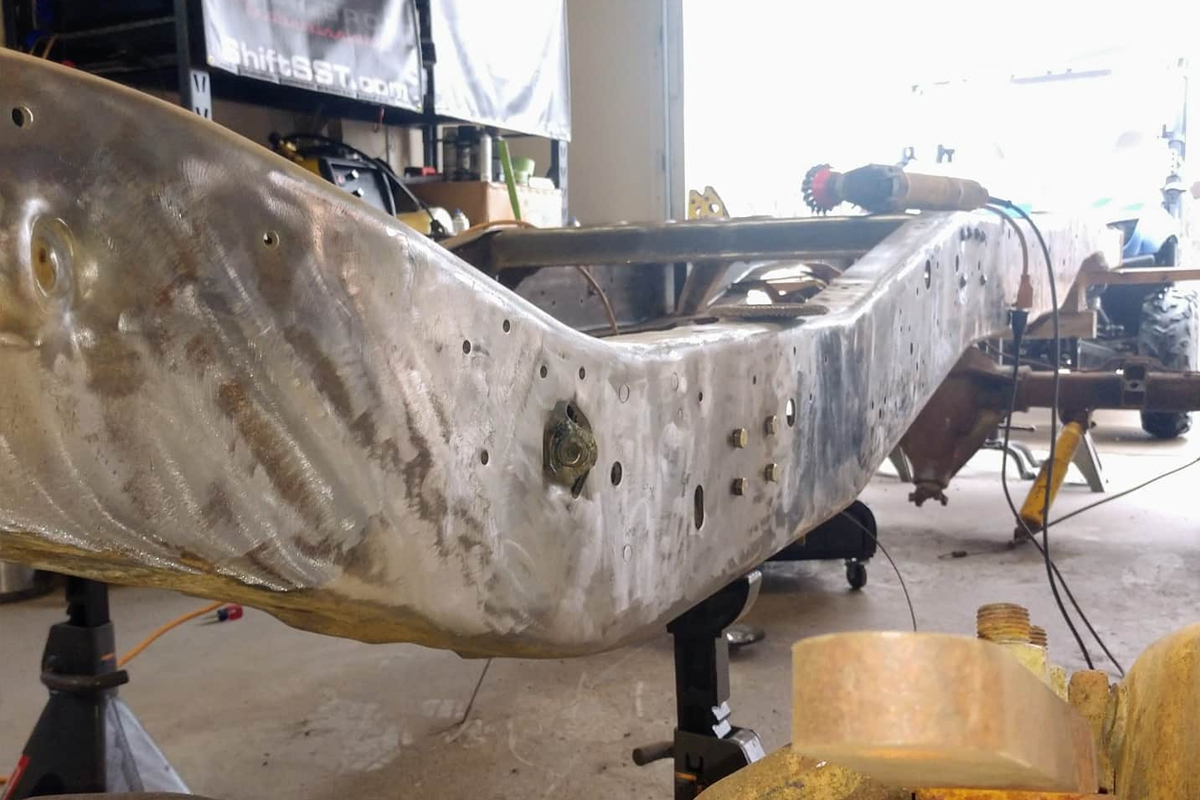 Firing up his JEGS welder, he went out to practice a little welding on the scrap crossmembers that were discarded from the frame. It's probably a good idea to do some practice runs and familiarize yourself with metals and heat ranges so that when the new brackets are welded in place, they stay there. Of course, if you weld every weekend – piece of cake.
The goal isn't to just add a four-link suspension, however. The goal is also to raise it up, not slam it down to the weeds like most Rat Rods we're used to seeing. The other goal with this behemoth is to tow a trailer with it, so that Erich and his far-better-half can join him as they cruise the Southwest U.S. in search of car shows and events to show off the truck.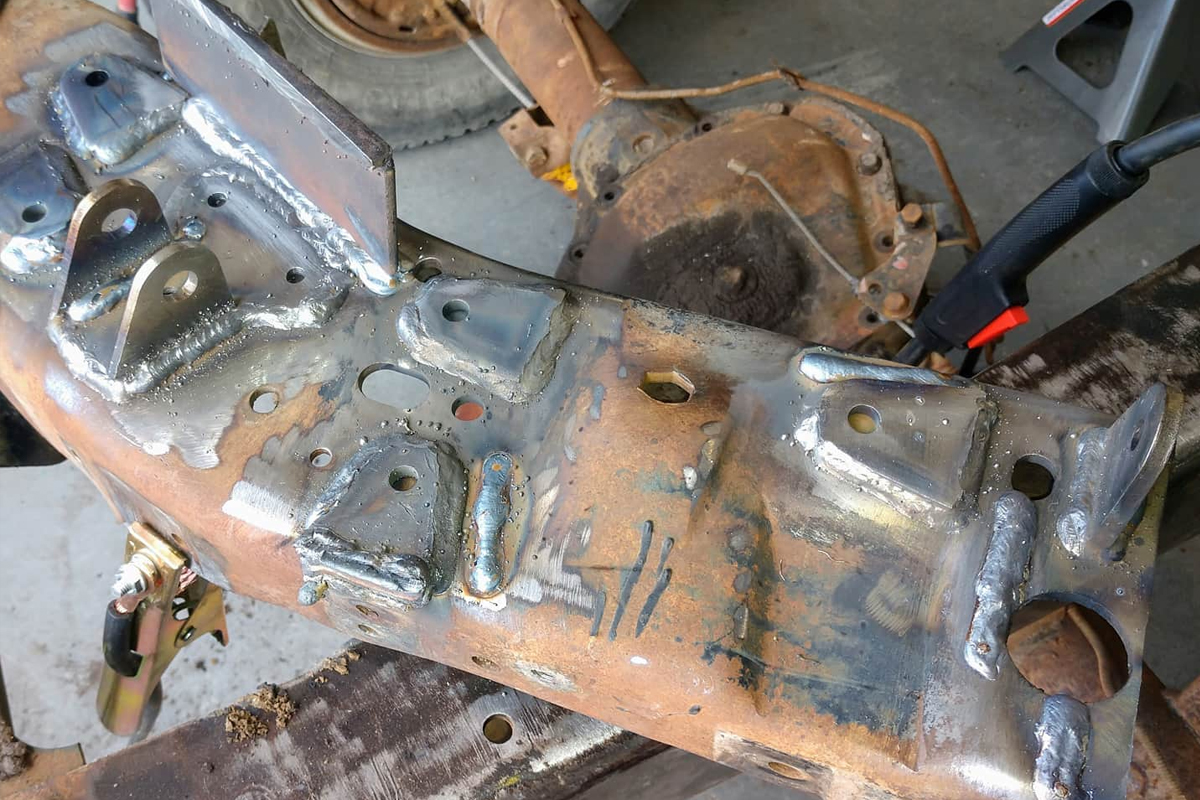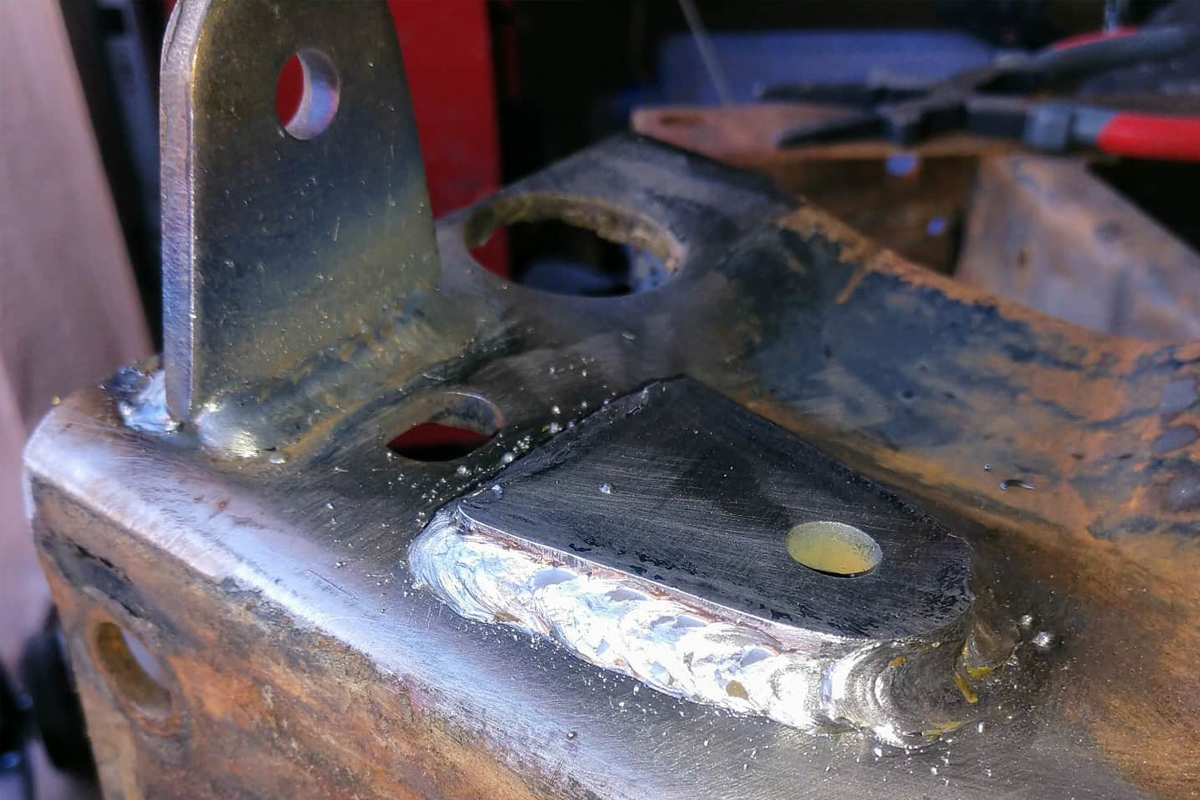 You know what they always say: Practice makes perfect!
Being in New Mexico, of course you would expect a slight South-of-the-border flair added to the project. That's where "Escuela Vieja Garage" came from – or "Old School Garage" to those who don't "hablo Espanol." We think it's kinda catchy, and in an odd way it sort of fits the vibe this truck is giving off.
Although the project is taking place in another location, in another state, Erich has become family to some of us and therefore when we saw what he was building we asked him to keep us posted on the progress and share what he's up to.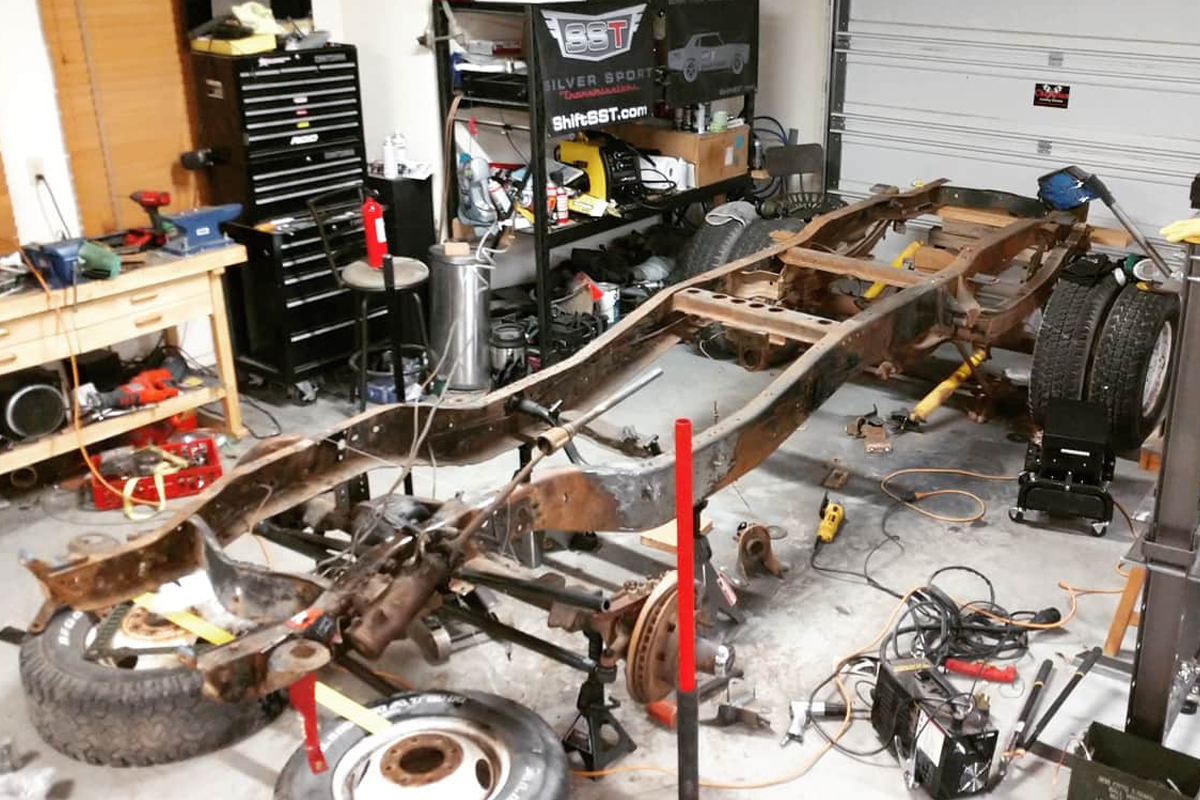 We would be remiss if we didn't mention the other component to any successful garage build, and that would be to hire a loyal assistant to oversee the project and make sure you not only keep at it, but that you don't make mistakes. Erich has three such assistants, and some of the mistakes they catch him making are "more scritches" and "more treats."
As mentioned, when we saw the project getting under way, we definitely wanted to be a part of it, and if you've visited our Facebook page or our gearhead spinoff – Champion's Cool Rides – then you've likely seen some of the progress he's made. We decided to give you more details here, and the next update will include a little more information on what and how Erich is putting this plan to fruition.