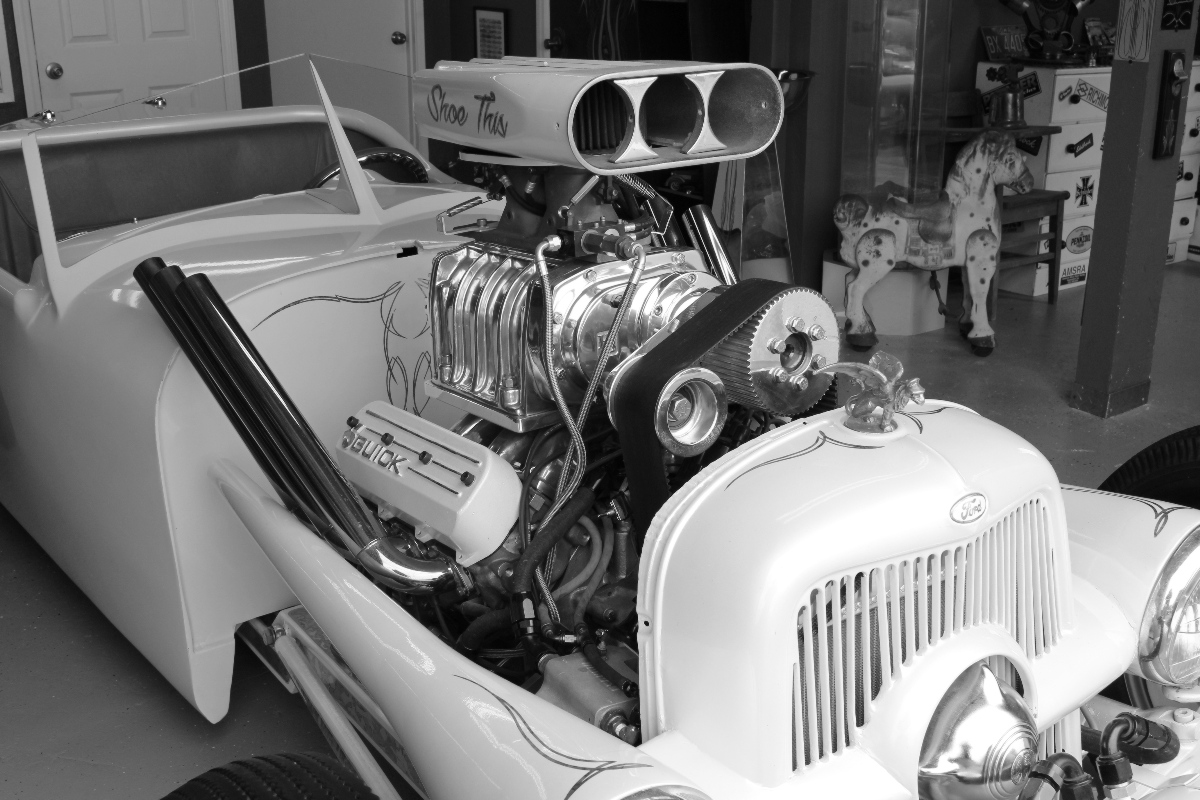 When your grandfather and your father build cars, you either build cars or watch from the sidelines. For Jacob Griffin, it was a simple choice, and joining his father, Brian, they are the team behind Griffin Design in Escondido, California.
We got wind that Jacob was putting together a wild ride for SEMA last year, and although the car wasn't finished at the time, it did draw a bit of attention. We saw it up close and it reminded us of a build that was seen quite often back in the early years of hot rodding.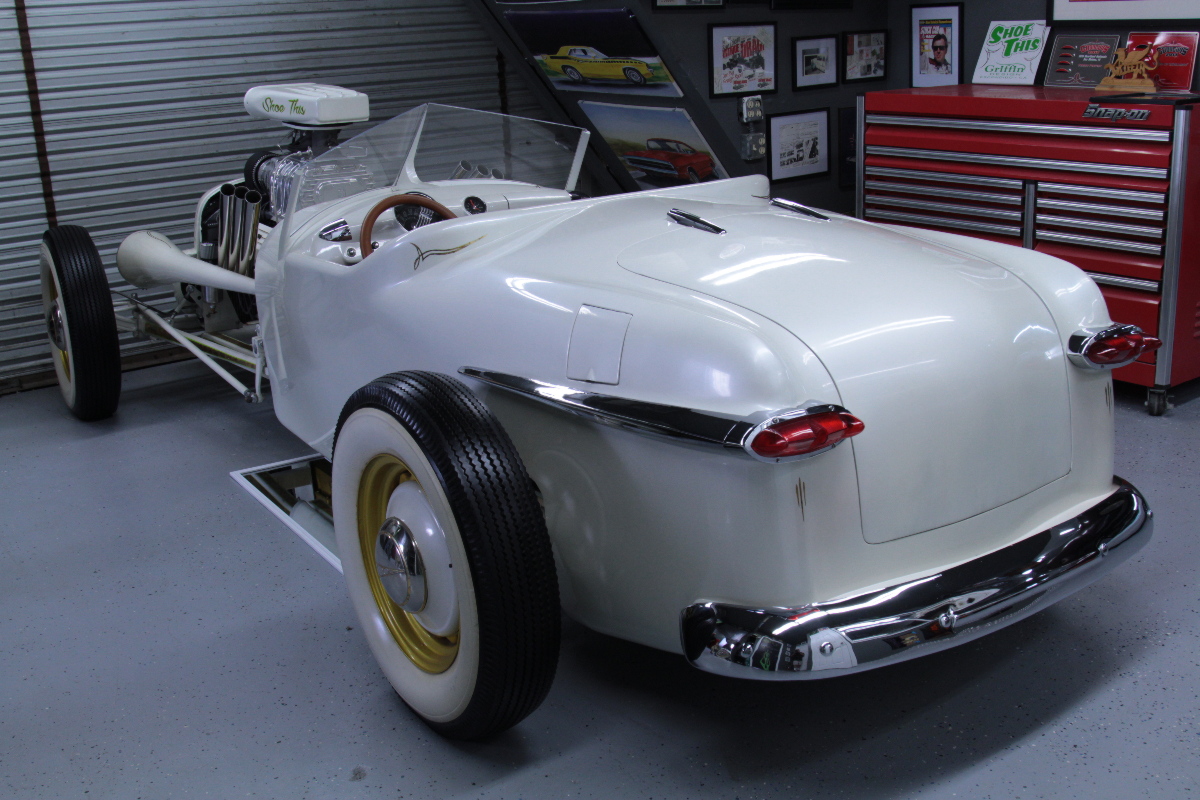 This year, young Jacob brought the completed car to the Goodguys show in Des Moines, Iowa, where he took an award for Period Correct Hot Rod.  He also won the Young Gun Award of Excellence at Pleasanton, California, and then a couple of awards at local shows here in California.
It's easier to see from the pictures what the car was that this young, up and coming builder brought out, but to name it sight unseen you'd have a much harder time. Just listing it as a 1927 Ford Roadster doesn't do it justice, there's so much more to it than a mere label.
Shoe This – The Blown V6-Powered Custom
By now, you've realized that the 1927 Ford has had a bit of a facelift and had some surgery done in the rear.  Actually, the '27 Ford Grille is about the only thing left that's 1927 Ford. The rest is an all metal build that many would think is fiberglass – something Jacob says is a point he wants people to know. This car is all steel.
Starting with a 4-door 1927 Ford, Jacob shortened up the body to ditch the rear doors. To replace the missing rear doors, a slew of parts from a 1951 Ford sedan made their way onto this beauty that he calls "Shoe This."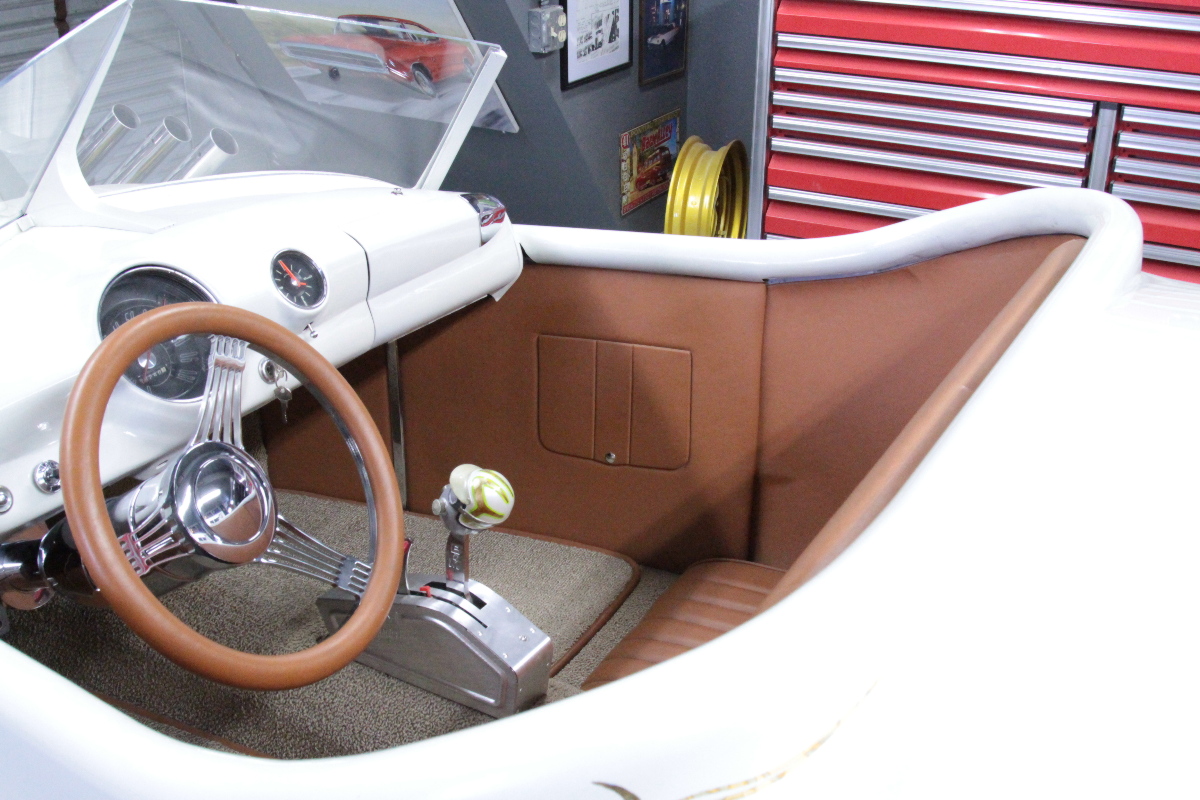 The rear body on this car is sectioned, narrowed, chopped, and channeled. Basically, it's a smaller, narrower, shortened '51 Ford in the back. With the trunk lid raised, you can see all of the surgery scars underneath that shows how it was patched together.
"Some people think I should leave this the way it is," Jacob said of the surgery scars on the lid. "That way they can see how this was all patched together." He's still not sure if he will leave it or smooth it out, but it is a good testament to how he put all those compound curves together for the lid.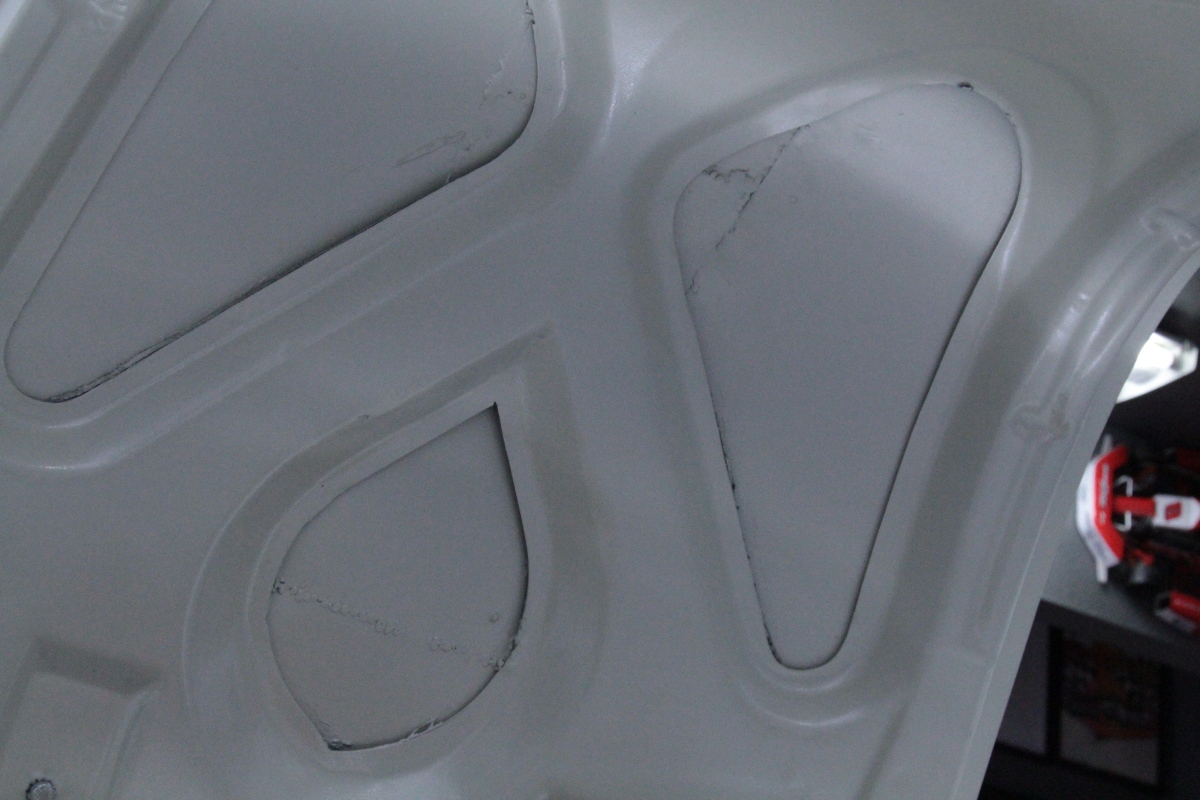 ---
Champion Radiator Profile


---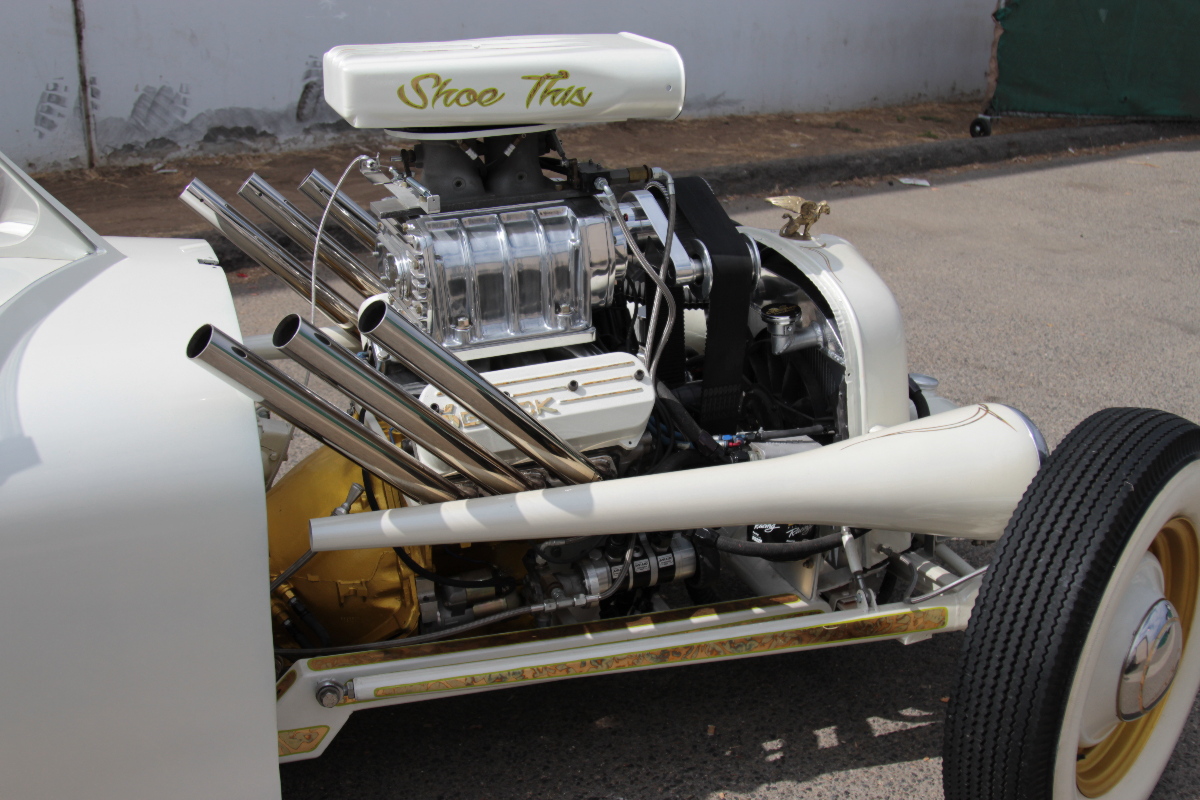 Moving forward, the 'railing' around the cabin of the car is actually a grafted in tube that adds strength and structure to the chopped body. Inside, the dash from that '51 donor car made its way into the car, cut down to fit. Up above, a custom made windscreen and frame are all that separates the driver from the wind before him.
Up front, Jacob molded the '51 Ford Bullet into the '27 grille shroud, and then hand made the headlights, with all the wiring running through the left headlamp housing. The whole combination makes for a custom build that you don't see very often these days.
The whole car is covered in PPG White Platinum Pearl, and pinstriping and gold leaf accents can be found all over the car, adding a distinctive classic touch to the build.
But that's probably not the part of the car that brought you to this article. The motivation between the rails is what drew us in, and despite the fact that the engine isn't the behemoth that we usually see below a roots-type blower, it is, nonetheless, unique and eye catcing.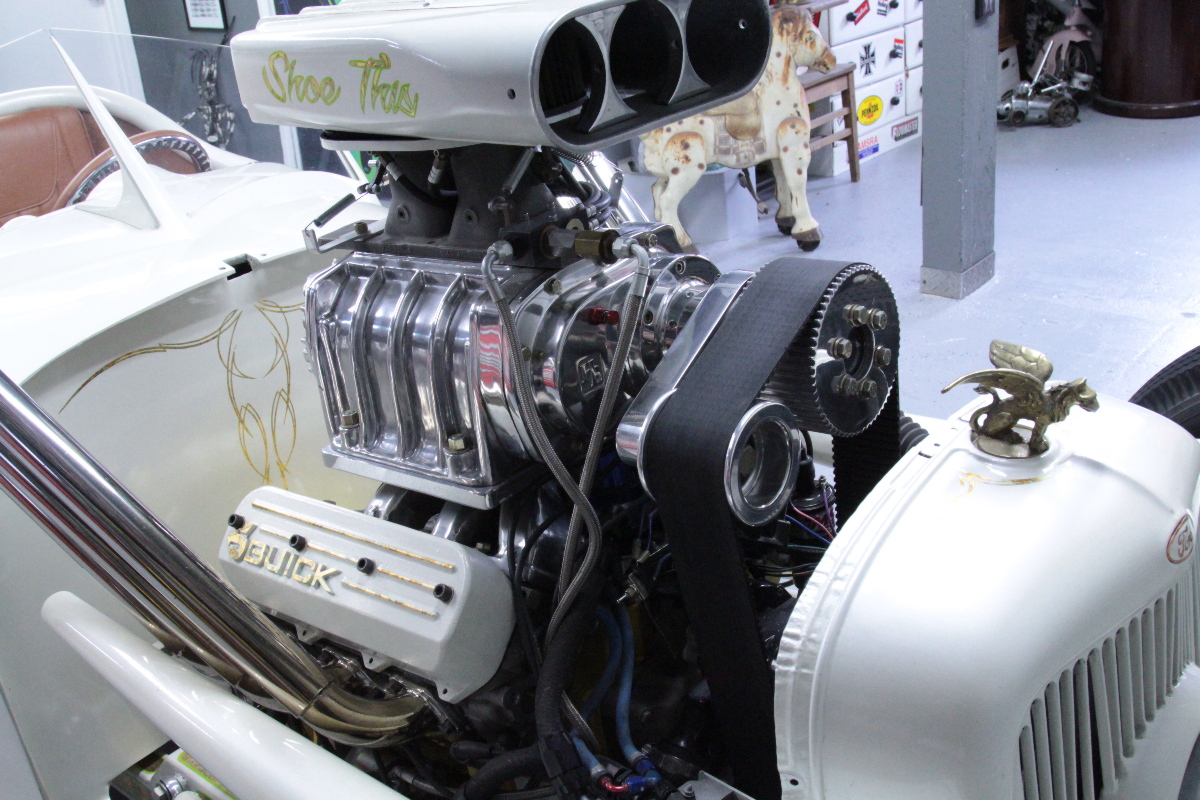 Rolling Thunder
Most gearheads notice one part of this car first: the blower. At first glance, you see the blower, the the Gilmer belt, and the air scoop. It draws us in, and we want to hear it, we want that blower whine, we need that blower whine.
But you get closer and you see that the engine is a bit smaller than you're typical blown small-block – it's actually a smaller-block. But don't let the size fool you, that Buick V6 with the stage 3 Hampton blower is putting out a little more than 1,200 ponies, thanks to engine work performed by Machine Tech in Oceanside, California.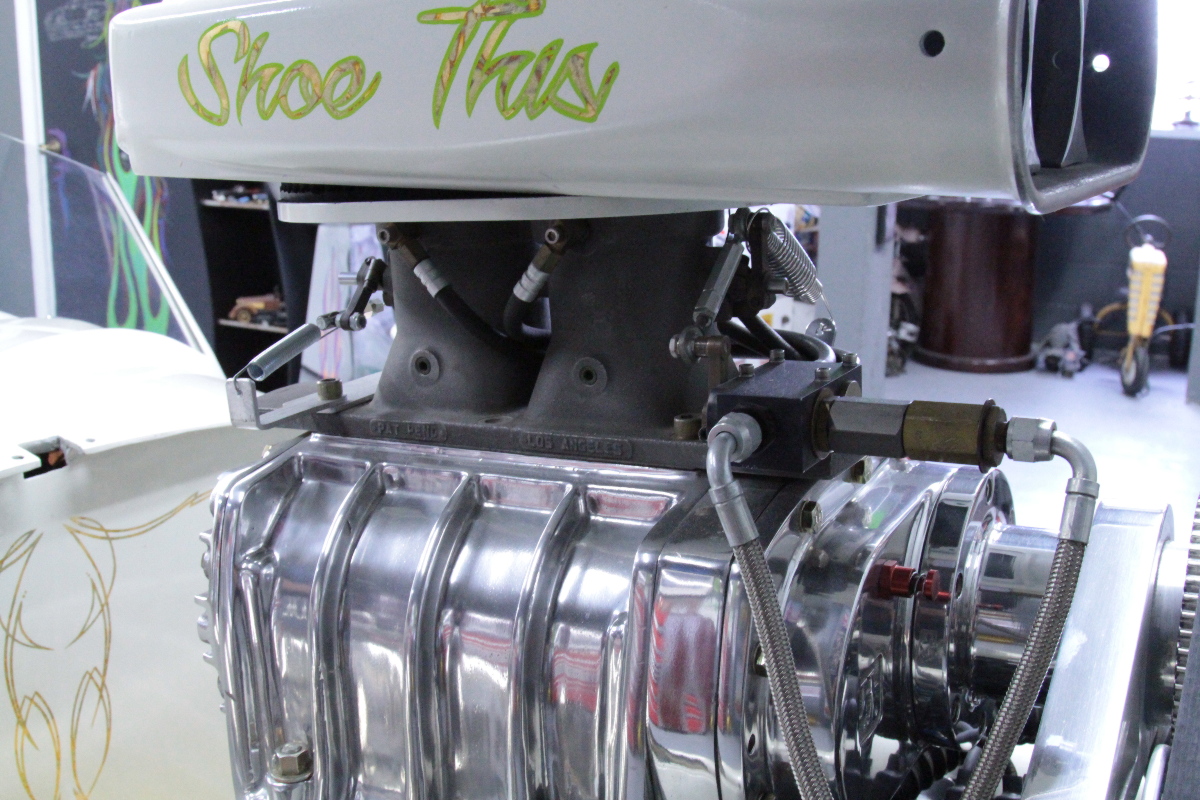 The heart of the beast is a 209-inch stage 2 block with a 4340 forged crank and Carrillo rods pumping a set of JE Pistons. Helping to make all this air move at the right time is a Comp cam actuating titanium valves in the ported Stage 2 Buick heads. This combination is good for 10.25:1 compression with 18 pounds of boost.
Up top, a Hillborn direct fuel injection system helps out when the throttle is tasked, but Jacob says it's a bit finicky when you first fire it up. That makes for interesting cruises around town, such as Cruising Grand in Escondido, but he does admit he has a lot of fun in the car.
All that power runs through a Turbo 400 automatic transmission on down the line to a Ford 9-inch rearend hung on coilovers and a four-link setup. The drum brakes all around wrapped in gold steel wheels and classic wide white Firestones give it just the right period-correct look.
Building The Dream
Jacob said that he and his dad were thinking about a car for him to build, and after a few sketches and ideas, the car was more than just a thought. "Never let your dreams catch you sleeping," Brian told Jacob, and from that point forward Jacob would spend many sleepless nights building his dream.
He prides himself for taking this idea from paper to a full size working car in a little less than a year. Other than the engine work and the gold leaf/pinstriping, Jacob can say he built it all himself. Brian told us as he threw his hands up in the air, "He wanted to build it himself, so I stayed out of it except for advice and pointers." But Jacob pulled it off and now has something to show for it.
If you want to hear what it sounds like, check our video on Facebook.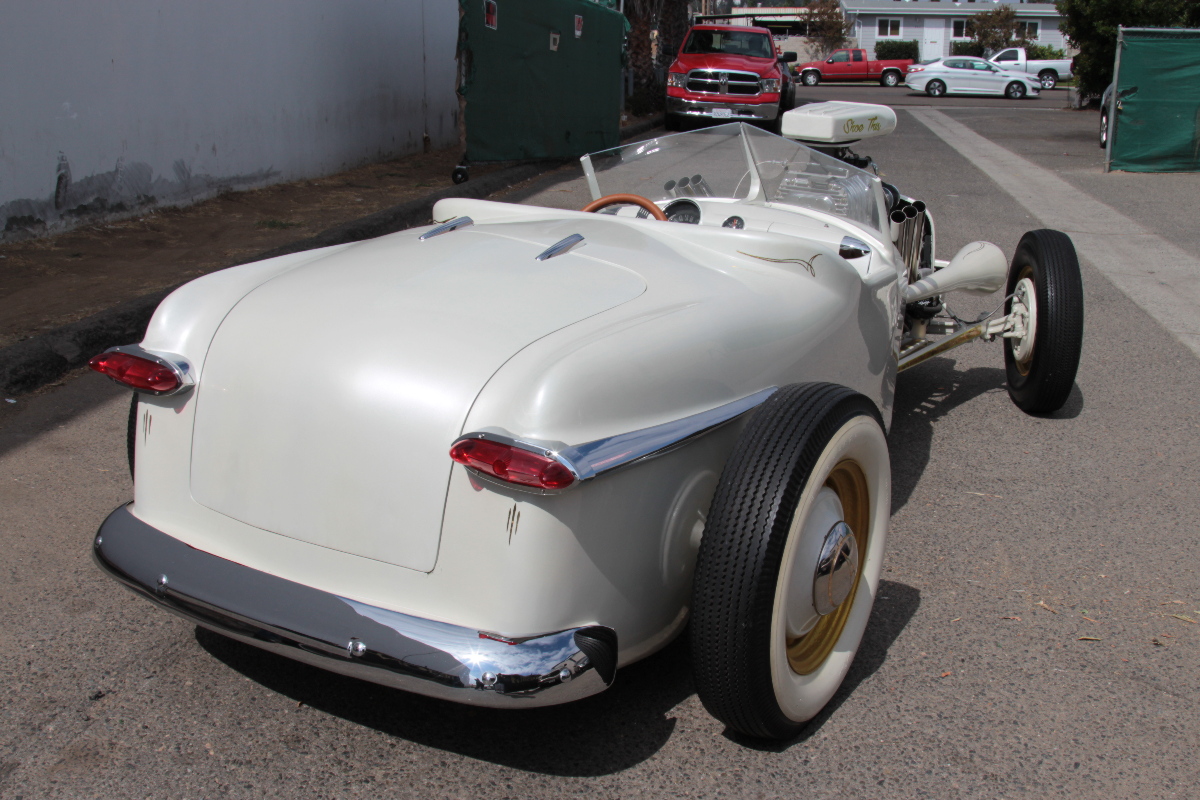 Written by Michael Harding