Imagine going to a major automotive expo and finding companies that copied someone else, trying to pass off their counterfeit parts as originals. You might not expect something like this to happen at a major show, like the SEMA Show in Las Vegas, but it happens. Just last fall, three companies were kicked out and banned from the annual trade show.
I was visiting a friend at the Aeromotive booth at SEMA one year, and he pointed out a suspicious photographer spending too much time taking photos at every angle of some of the new products on display. Aeromotive has been dealing with counterfeiters for a while now.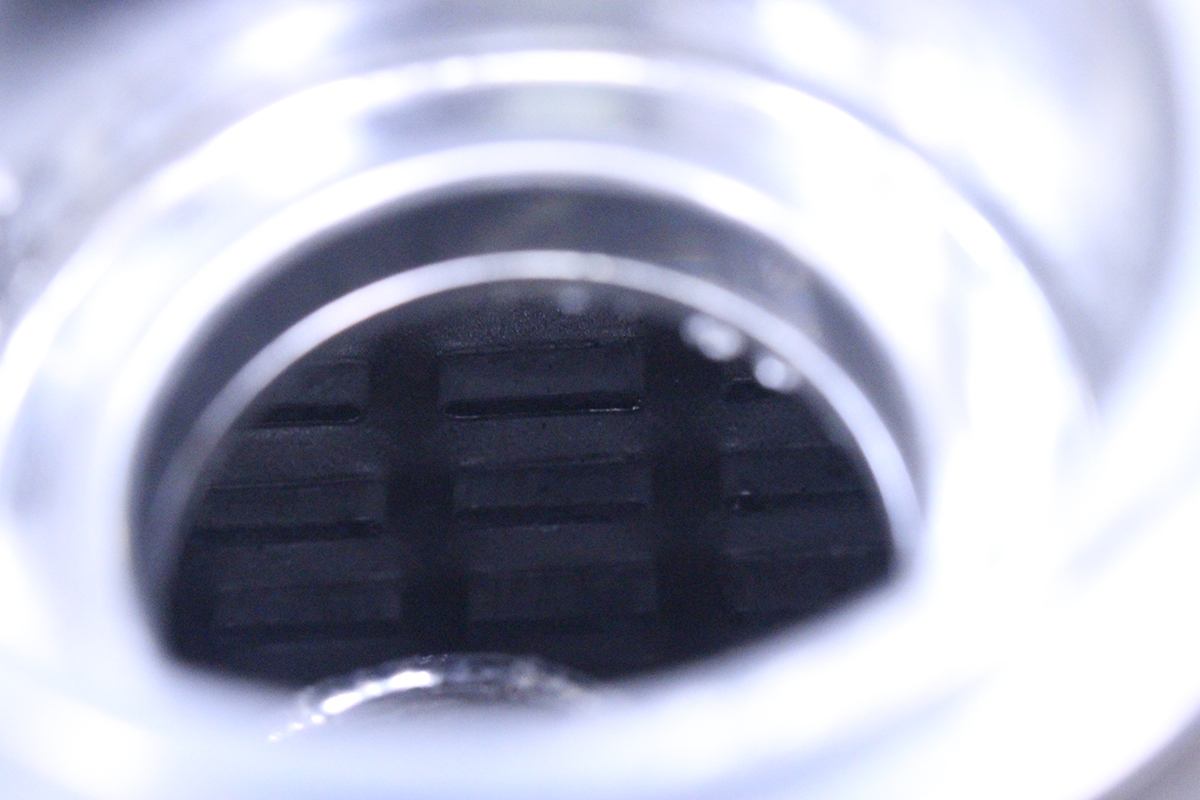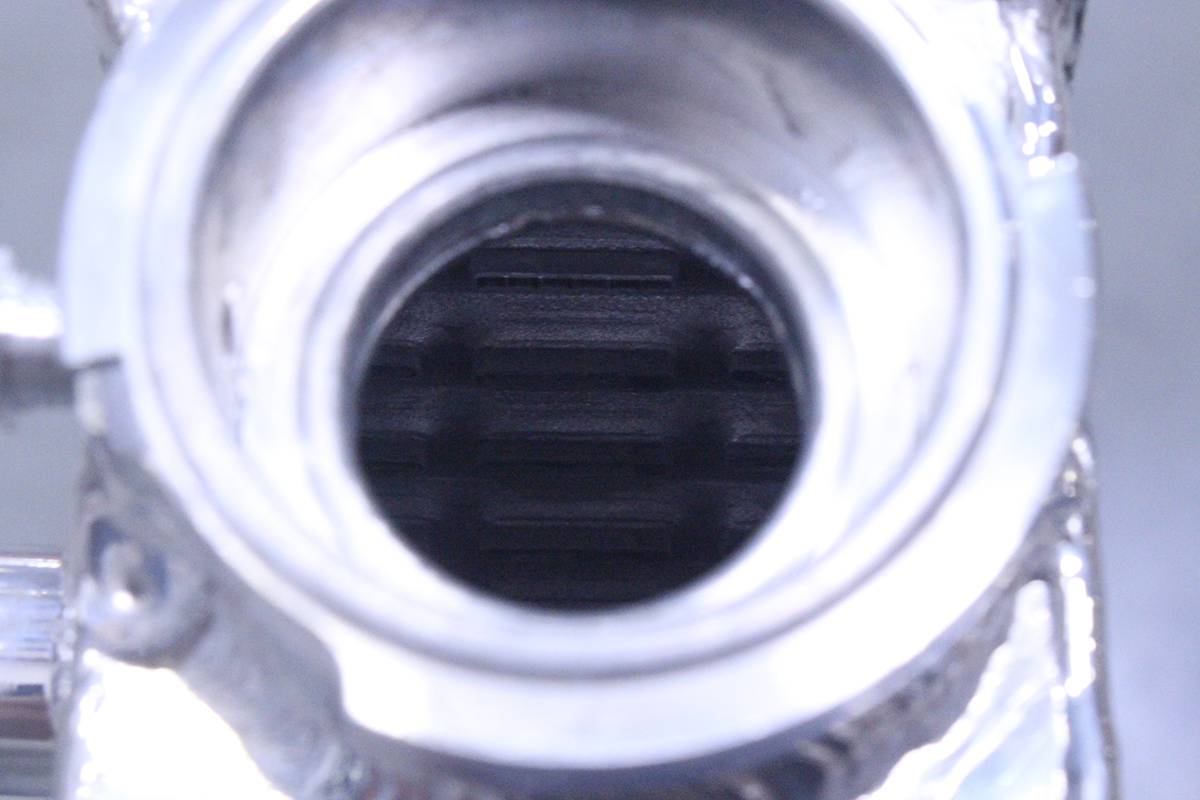 While sometimes they can look similar on the outside, a closer inspection on the inside can reveal why the counterfeit product is inferior.
Counterfeiting is a big business, and if you think it doesn't affect you, you'll be surprised to find that companies, like those mentioned above, prey on customers who can't tell the difference. They'll post their products on places like eBay or Amazon, and trick potential customers into thinking they're getting the original product, when it's merely a cheap knock off.
Counterfeiters will do just about anything they can to fool you, including stealing legitimate images from other websites. They want to trick you into thinking you're getting one product, when they're really selling you a product that is inferior in quality, and often times illegal.
Here at Champion Cooling Systems, we see it quite often and recently received a call from a customer who got duped by one of those copycat companies. When his radiator failed, he tried to get a hold of someone and couldn't. He also found out that his knockoff didn't include a lifetime warranty, something you can expect from Champion.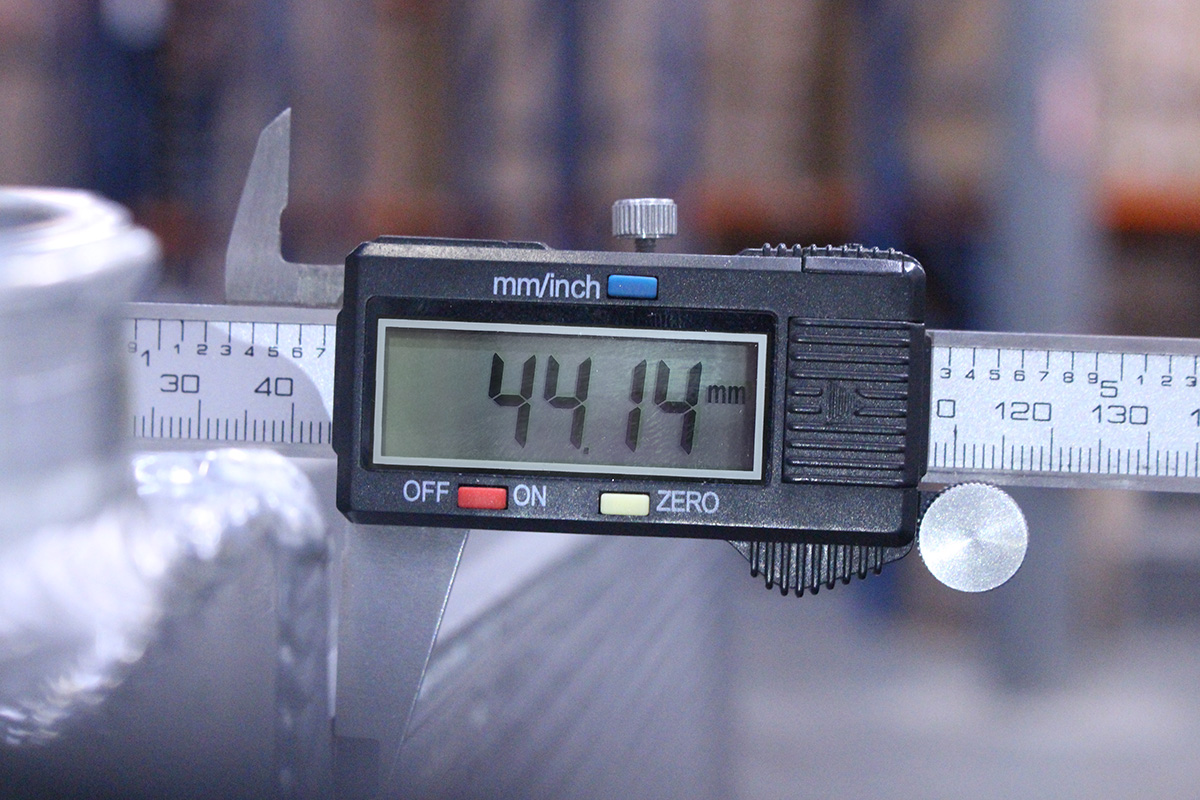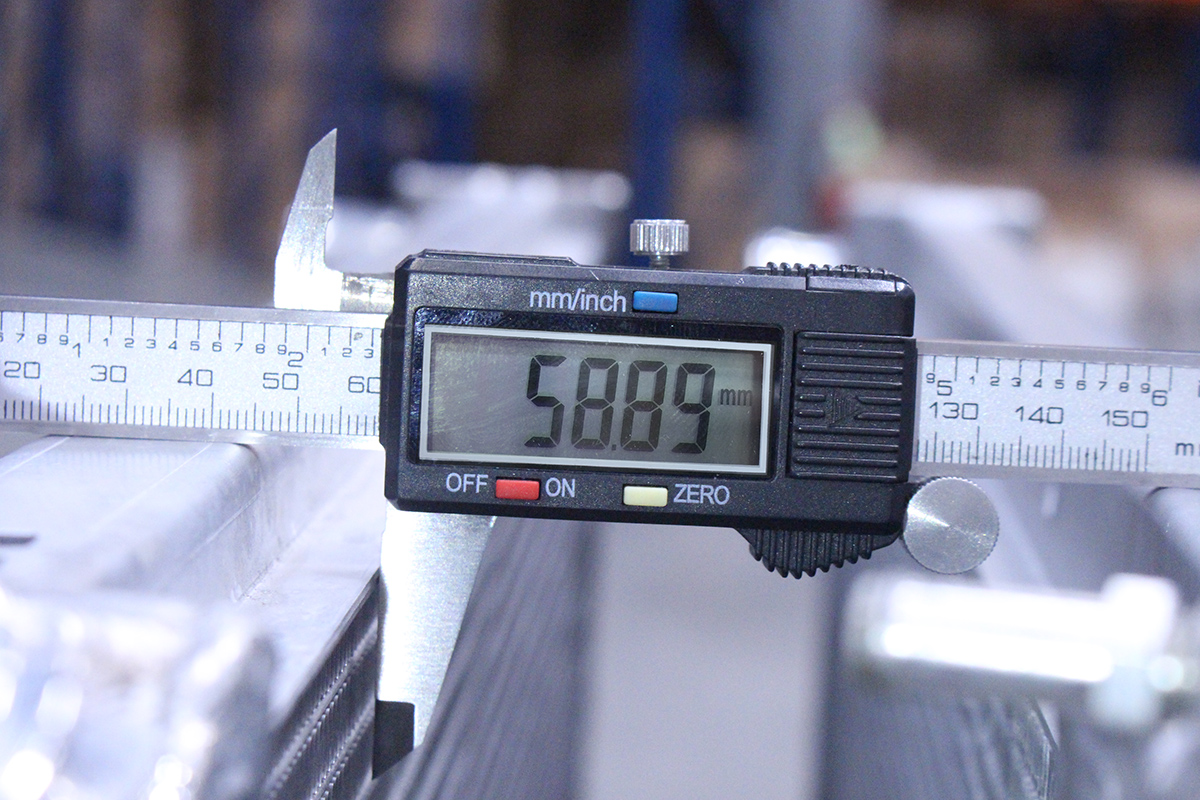 Although the counterfeit is a 3-row radiator, a quick measurement reveals a much thinner core than our 3-row radiator.
Beware Of Online Sellers Using Amazon
One thing that happens when a seller lists a product on Amazon is that anyone who has that product can jump in on that listing and add themselves to it. That means you won't know what you're getting, or from whom.
In this case we're profiling here, the customer who thought he was getting a Champion Cooling Systems product even received an invoice (shown) stating that he purchased a "Champion Cooling, 3 Row All Aluminum Radiator" from Alloyworks (the Amazon seller.)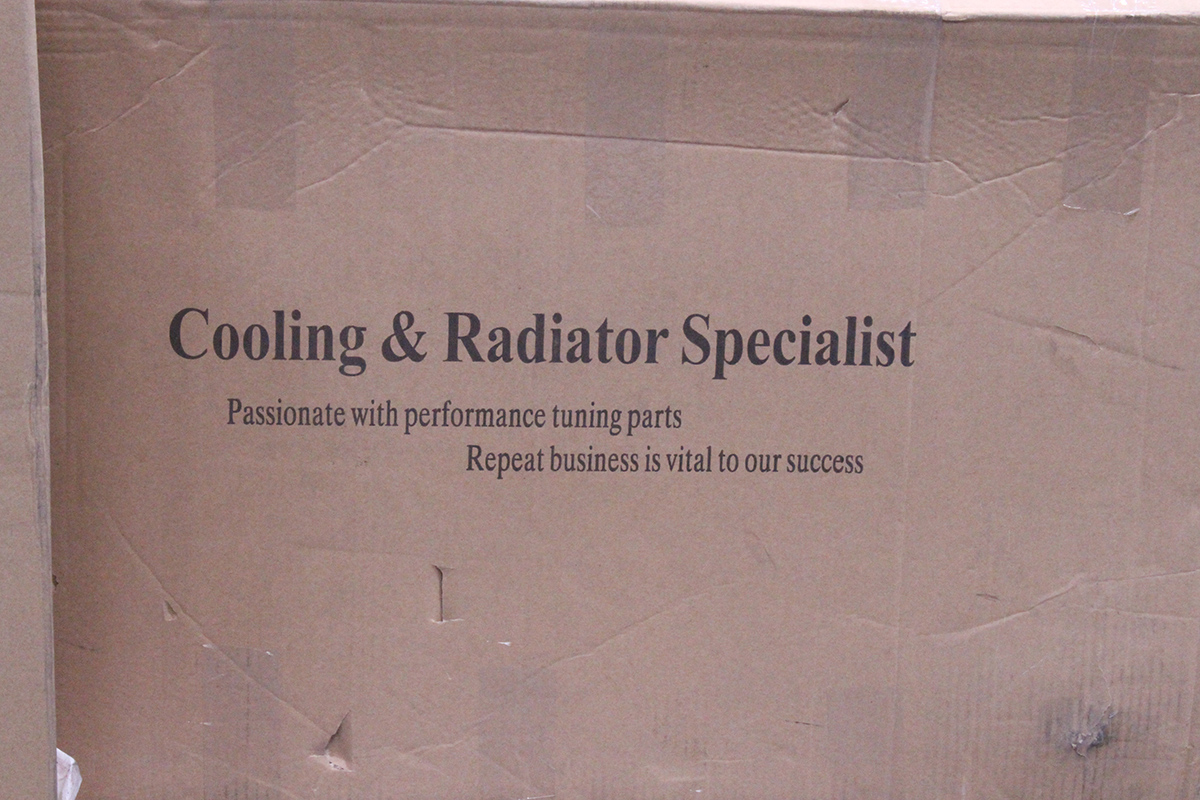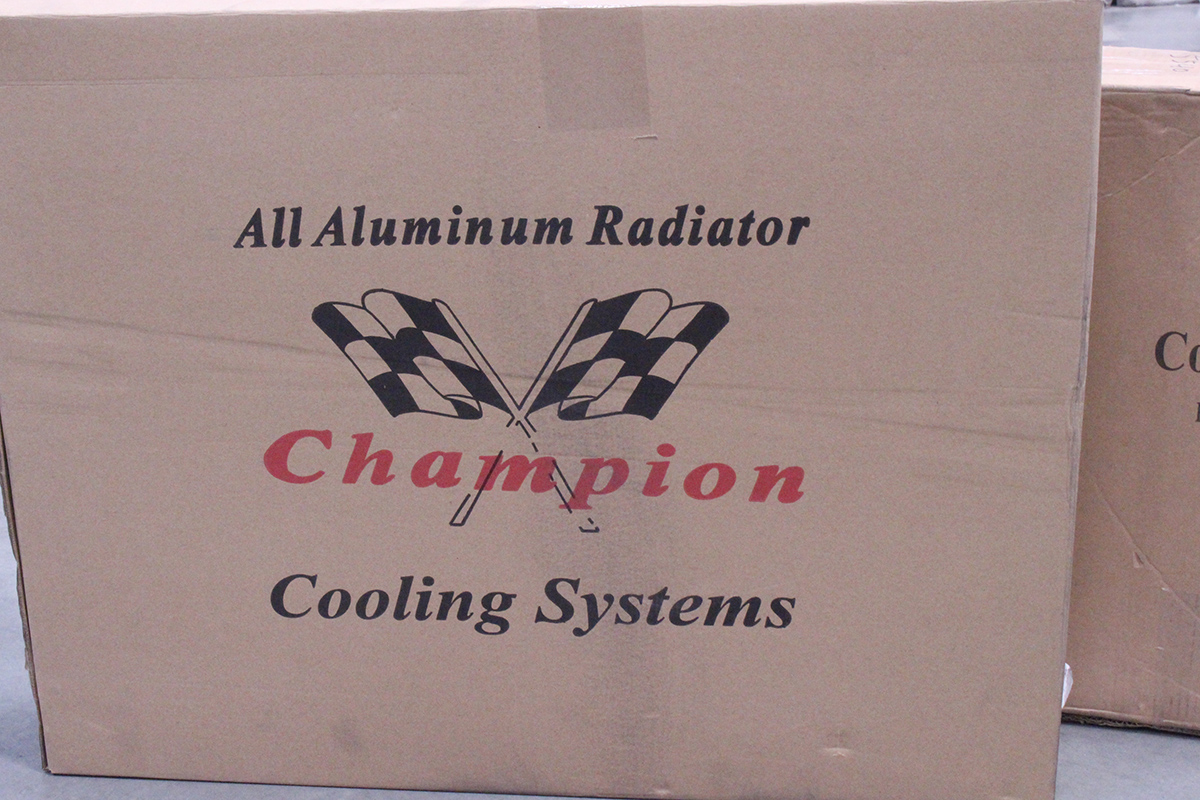 All Champion Cooling Radiators are shipped out in a Champion Cooling box. If yours shows up with some other name on the box, it's probably not our product inside, and you were ripped off.
Upon closer inspection, his radiator was clearly not a Champion Cooling product. It was a knockoff and when his calls to the seller went unanswered, he eventually contacted us where we, unfortunately, had to deliver the bad news that he was scammed.
We compared a radiator from the same place to one of our own, and the differences were noticeable. The three row radiator that came in the box was approximately 44mm in depth, where ours came in at about just under 59mm. You can also see the difference when looking at the three rows of tubes, they're a bit smaller on the counterfeit part.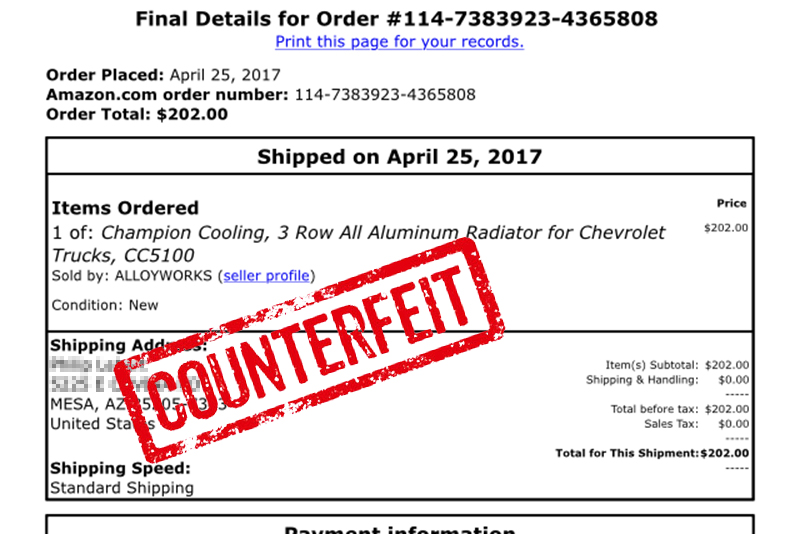 Even the invoice that this customer received stated that it was a Champion radiator, but Alloyworks is not an authorized dealer, and they shipped a cheap knockoff instead.
How Do You Know When You're Getting Ripped Off?
There are some ways to tell whether you're getting a genuine Champion radiator, or if you're getting one of those cheap knockoffs. First and foremost, you'll see the Champion Cooling logo in a few places, and not just the word "Champion" typed out in a standard font. If you don't see the Champion logo in full color or watermarked in the photo, that's a sign that something just isn't right.
Since most of us use the internet every day, we all know that images found on ads can end up almost anywhere. So how else can you tell if it's not a genuine Champion radiator? Here are a couple of other clues that will help you identify the real thing from a counterfeit.
The knockoff doesn't have a Champion logo on the radiator cap, meaning it isn't ours. We also include an OE-style brass petcock, instead of the cheap plastic one (lower left).
Every Champion radiator includes either a billet cap, with the Champion logo engraved into it, or an OE-style radiator cap with a Champion logo sticker on it. Another place to look is at the petcock at the bottom of the radiator. Very few of our applications don't have a petcock, and of those that do it will be a brass, OE-style petcock. If you see a plastic petcock, then you can be sure that it's not a genuine Champion radiator.
The next place to look is at the box. Again, if you don't see the red Champion logo with the crossed checkered flags, be suspicious if they claim it's a Champion product. And if you're still not sure, you can always contact us directly to find out if it's an authorized Champion Cooling dealer, or you can order your radiator directly from us.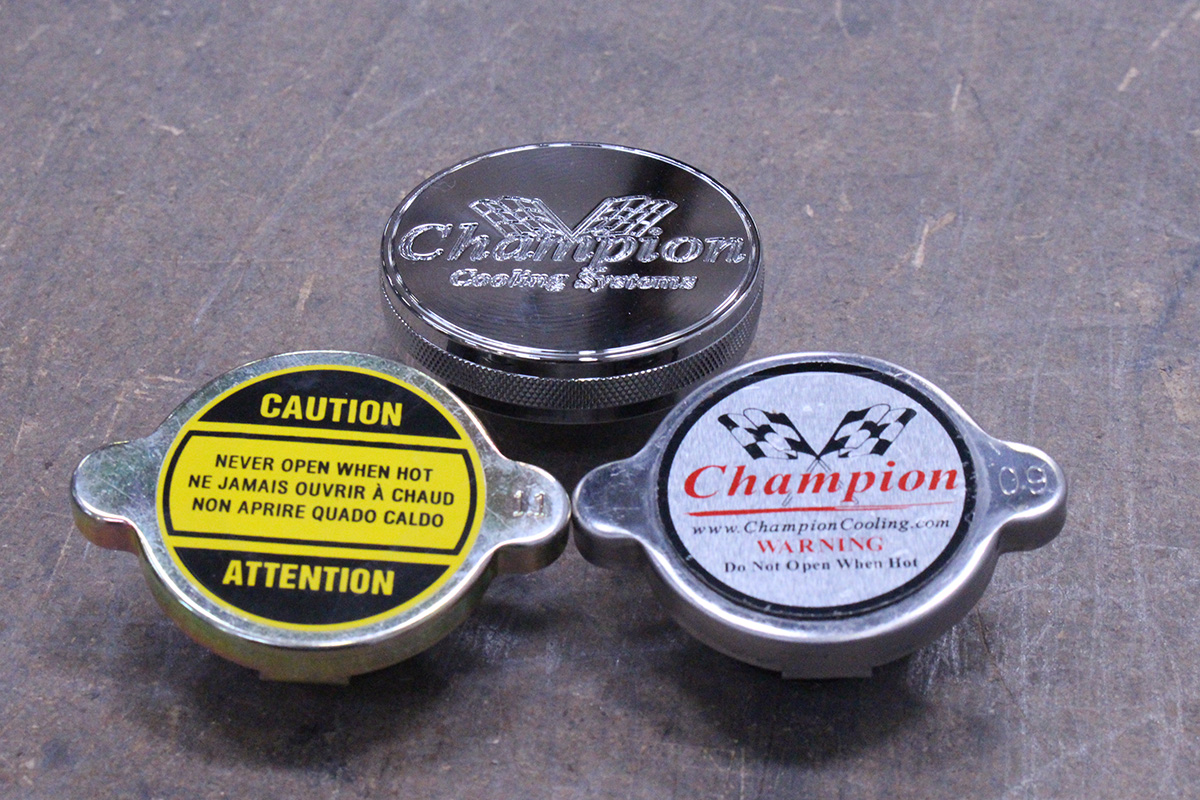 While we do have authorized Champion Cooling dealers who will sell you the genuine product, you'll never find a person on the other end of the phone that doesn't care about you and your purchase, as our staff and our dealers are dedicated to making sure that you get the product you expect, the product you want, and the product you'll keep – for a lifetime.