Here at Champion Cooling, many of us are enthusiasts, and some of us are just gearheads in general. Too often, you buy parts for your car or truck and you really don't know if the people behind those parts are as into the hobby as you are. When you find out that you have something in common with at least one employee, it can help bond the relationship between customer and business.
That's the one thing that we noticed at our Annual Car Show: we have bonded with many customers and enthusiasts who love our products, and we have received some great testimonials. We value those relationships with our customers, with the friends we've made, and with the many people who've become part of our 'family' in other locations all over the world.
Now that you've all shared your cars and trucks with us, we want to share ours with you. The vehicles below are just the beginning as we continue to grow and add more. Introducing: Champion Cooling's Project Cars.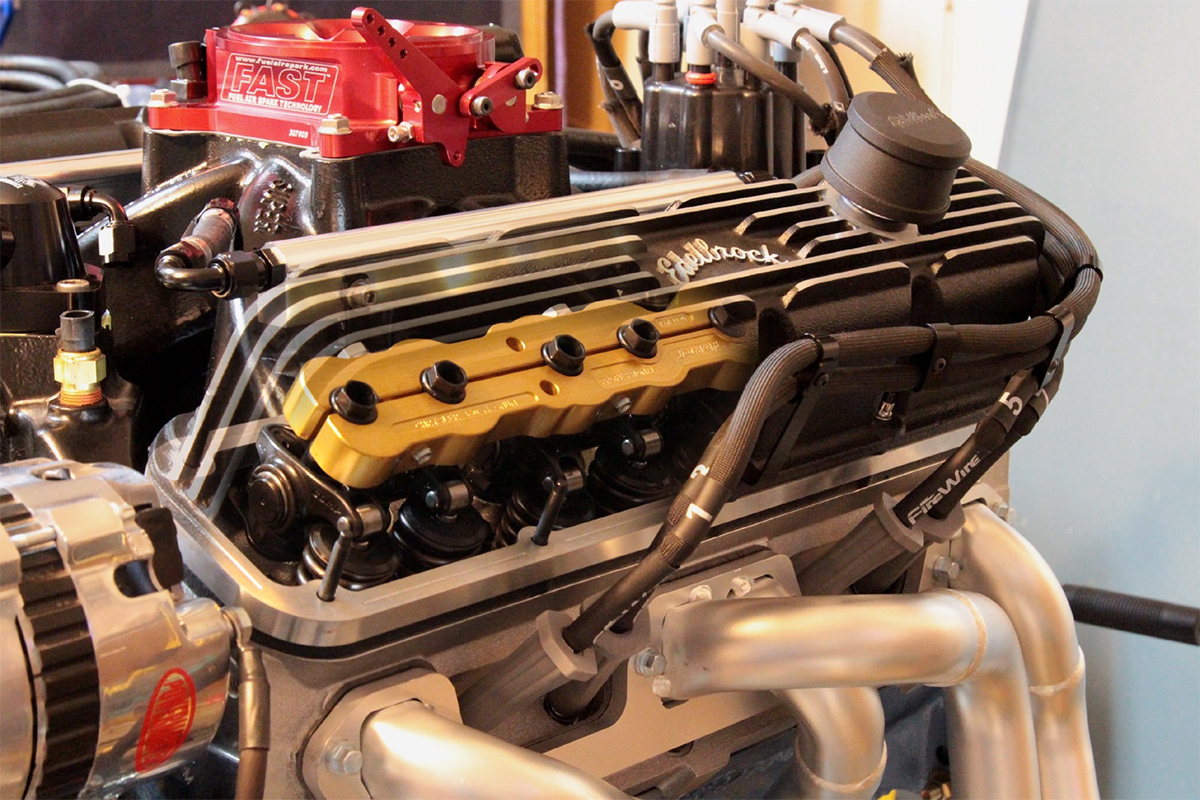 Project Cars – Who Owns Them?
Our newest addition to our Blog: Beyond the Checkered Flag is to share our project cars with our fans and readers. The goal is to share our builds, our installs, and to maybe provide some tech tips along the way for those who are just getting into the hobby, or to those who are looking for ideas for their own vehicle.
The vehicles in this section will be employee-owned, and the only criteria we are asking employees to meet – other than having our products installed – is that it has to be a vehicle that is currently "in progress". Some of these projects have been in the works for a while, so we'll share some back stories and show some of the modifications we've done in the past – just to get you up to speed on where the vehicle is today.
We will try to provide updates for each car as they are being worked on, but it may not be every week. With a handful of cars, and hopefully more added as we progress, we hope to be able to provide you with some ideas – and possibly encouragement – to work on your own car.
INTRODUCTION

---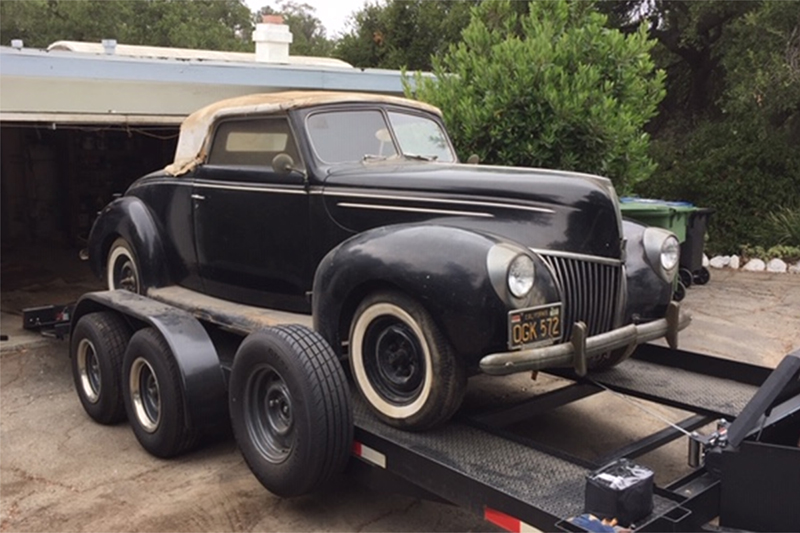 Matt's 1939 Ford Deluxe Convertible
With two other unfinished project cars in the driveway, it only makes sense to complete the trifecta of project cars and pick up a third one, and that's what Matt did when he heard about this 1939 Ford that had been sitting since the late 1970s. So we made the trek up to Woodland hills and found it sitting on flat tires in a garage.
It wasn't in horrible shape, but the convertible top needed replacing and the interior was as barren as you'd expect, with lots of torn or missing fabric. But that rumble seat in the back make it worth the trip, and in a few short minutes the car was winched onto the trailer and heading back to the Inland Empire area of Southern California.
Although the car hadn't been started in years… decades?… it was given a once over and fresh fuel was added before connecting a new battery and turning the key. Everything looked good as the key was inserted and turned. It cranked over and then a puddle of fuel spread out like cockroaches when the lights come on.
After replacing the fuel pump and giving her another go, the Ford received some new tires and matching wheels and it made its first drive in nearly 40 years. Now it's receiving some much needed TLC and some great top-down weather for a trip to the beach or maybe a night time cruise.
---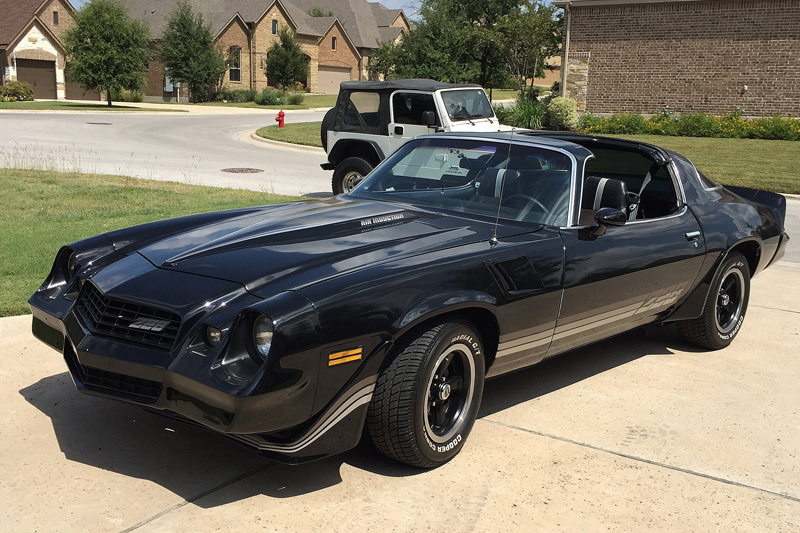 Rick's 1979 Camaro Z/28
When the Camaro was first purchased, the original 350 was tired and on its last legs.  This was the decade of emissions, so the 350 was choked down a bit and way down on power, and the drivetrain wasn't doing the looks of the Z/28 any justice at all.
Then it was decided to up the ante a little and the purchase of a new mill was in order. With a little research on the matter, the outcome was a Blueprint 355ci small block with Vortec heads. One call to JEGS and it was a done deal and the small block was on its way to its new home.
The engine specs came in at 385 horsepower and 405 lb-ft of torque in a package meant to run on pump gas. Finally, the Z was living up to its reputation and it earned the stripes already running down the side of the car. But with everything you do to a classic musclecar, something else deserves your attention as well, and it was the transmission that was causing the most grief.
This is just the beginning, we have lots more in store for the black on black Z/28. It's a 40-year-old musclecar, but it's about to get a new lease on life with some forthcoming upgrades, including a Tremec TKO 500, some new shoes, and other goodies under the hood.
---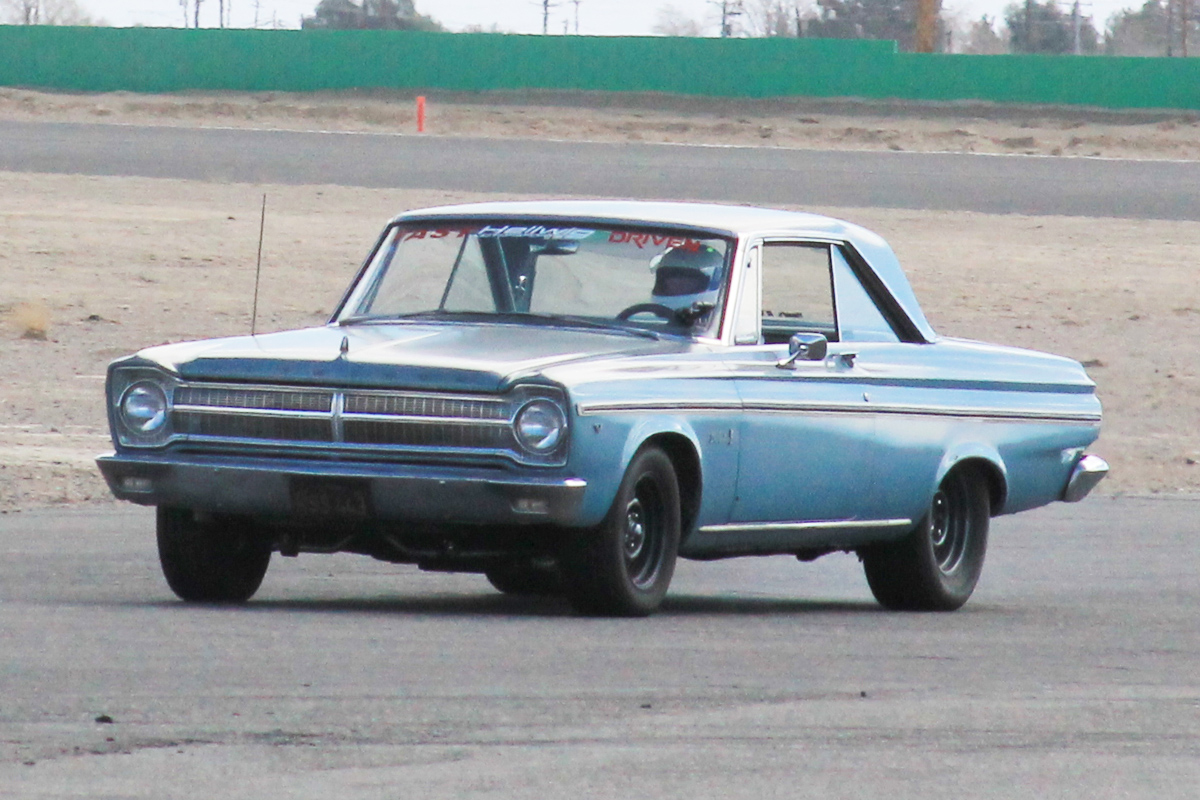 Michael's 1965 Plymouth Belvedere II
When the idea struck to swap a small-block into the daily driver, a wiser decision was made to just buy a classic musclecar rather than try to shoehorn horsepower into a small frame. The Plymouth was completely stock and not missing very much, but it was still in rather rough condition. A new paint job that covered the rust was just the tip of the iceberg of discoveries.
A new set of rolling stock, a few engine upgrades, and an interior makeover helped move the Belvedere into custom build territory, but it was still far from the goal of making it a great cruiser with a little more bite than bark. A front disc brake upgrade was done to rid the car of the dreaded 4-wheel drums, but it was still not enough.
After taking on a job at a local magazine, the car started to get a little more attention as a cruiser, but then one day, on a whim, it became a track car – road racing, that is. The only other upgrade added to the front disc brakes was a set of sway bars from Hellwig Products, and surprisingly the car handled so well that it rode the back bumper of a Porsche in the fastest turn on the track at Willow Springs' 2.5 mile road course.
From there, the plan was to make it a worthy track contender, but still have it mild mannered enough for the street. It's nothing to hop in the car and make the four-hour trek to Vegas, or just a drive up the coast for an hour or two. But don't let that fool you… this car gets serious about its on-track time.
---
Michael's 1979 Toyota CoronaThis car was not bad looking from a distance, but it had a lot of issues with rust, broken parts, and it wasn't running very well. It was so bad that it was a crap shoot just driving it home. The engine sounded like a beat down occurred, and much of the interior was either missing, ripped, or broken.
After having a 1978 Celica totaled in an accident a couple of months before buying the Corona, the idea was to add a couple of doors and transfer some parts. Research led to the discovery that lots of Toyota parts from 'sportier' cars would fit this family sedan. After it was brought home, it didn't take very long for the car to be torn apart and customized.
A couple trips to the wrecking yard netted some new interior parts, and a couple weekends in the carport netted some mechanical and suspension upgrages. After getting the mods done to the outside, the inside was tackled and a new interior was fabbed up and it was starting to take shape.
It was sent out to get a fresh coat of paint, and even more upgrades, including a new 22R Hybrid and a Supra rearend with disc brakes. It was an easy swap, and provided better handling with the limited slip and much better braking with four-wheel disc brakes. But we're not done yet, there's definitely more to come for the Corona.
---
We have a couple more project cars to add to our collection, and we'll share those as they get added. For now, we're working on getting to the installs and upgrades and the restorations and restomods to our collection of Champion Cooling's Project Cars.  Be sure to save this page as a favorite and visit often.