Many of us had a favorite car in school, and if we were lucky enough to find one we could afford, we got to drive it through our teen years. Others wait until later in life and seek out that one vehicle they longed for when they were young, and build the vehicle they always dreamed about having.
Then there's John Nutt, from Bonsall, California, who bought his truck in 1975 when he was in high school to haul a trailer. He liked the truck so much he daily drove it for a decade before parking it. "Who doesn't love a truck?" was his answer to the proverbial 'why?' question. He said he always loved trucks and likely picked that up from his father who had his own truck.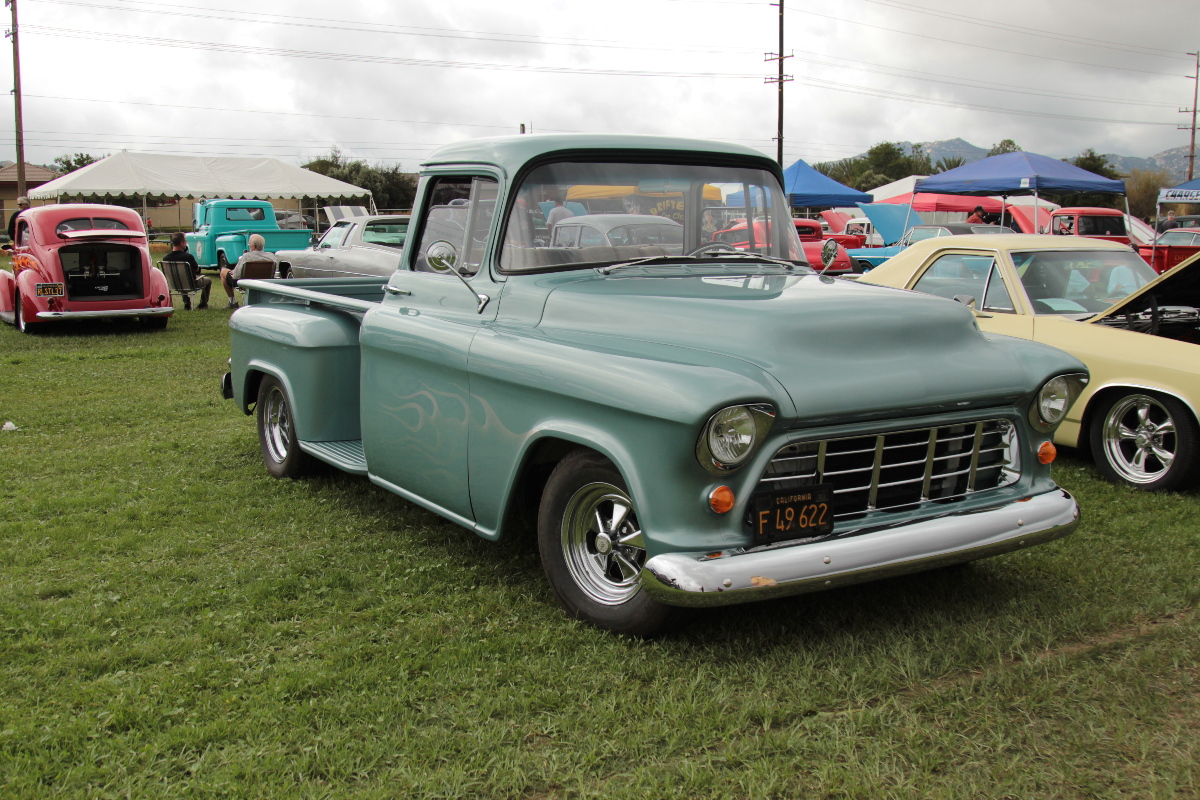 His 1955 Chevrolet 3200 pickup was a pretty sweet ride to be cruising in back in the 1970s, and while everyone else was trying to trade their big vehicles in for a smaller economy car, he just kept driving it for a few more years. But then it was parked, and there it sat for nearly 30 years until he made a decision: either sell it, or fix it up and drive it again. From the looks of things, he made the right decision.
Getting The Show On The Road
We caught up with John at a local car show here in Temecula, the Classic Car Craze show held every year at the Big Horse Feed Store. Adjacent to the store is the Corn Maze, where they carve a Veteran-themed message into the cornfield and let the kids go crazy running through the maze.
The thing that initially caught our eye about John's pickup was the subtlety of the ghosted flames, and the contrasting engine compartment. Fortunately for us, the hood was up and we got to see it, otherwise we might have just taken a couple of pictures and walked right past.
Approaching the Frosty Green big-window truck, we noticed the lack of a shiny or black radiator, as John decided to have it powdercoated to match the engine compartment, along with the mounting brackets and shroud.  It's an approach we rarely see, but John says that so far it's been keeping the engine cool.
---

---
He drives the truck a few times each week since he got it on the road in August of this year; he still has some plans to finish the interior and add a set of custom wheels. We can't blame him for getting it out on the road before it's done – which is hardly noticeable. But don't we always say that project vehicles are never done?
The interior that he plans to finish soon already has a great start. Of course, the vitals are always necessary so a Dakota Digital cluster keeps track of what's happening under the hood. Keeping himself comfortable in the cab is done with audio from Custom Autosound, and cold air from Vintage Air. John didn't want us to spend much time photographing the interior, but we can tell he's doing it right with insulation and sound deadening.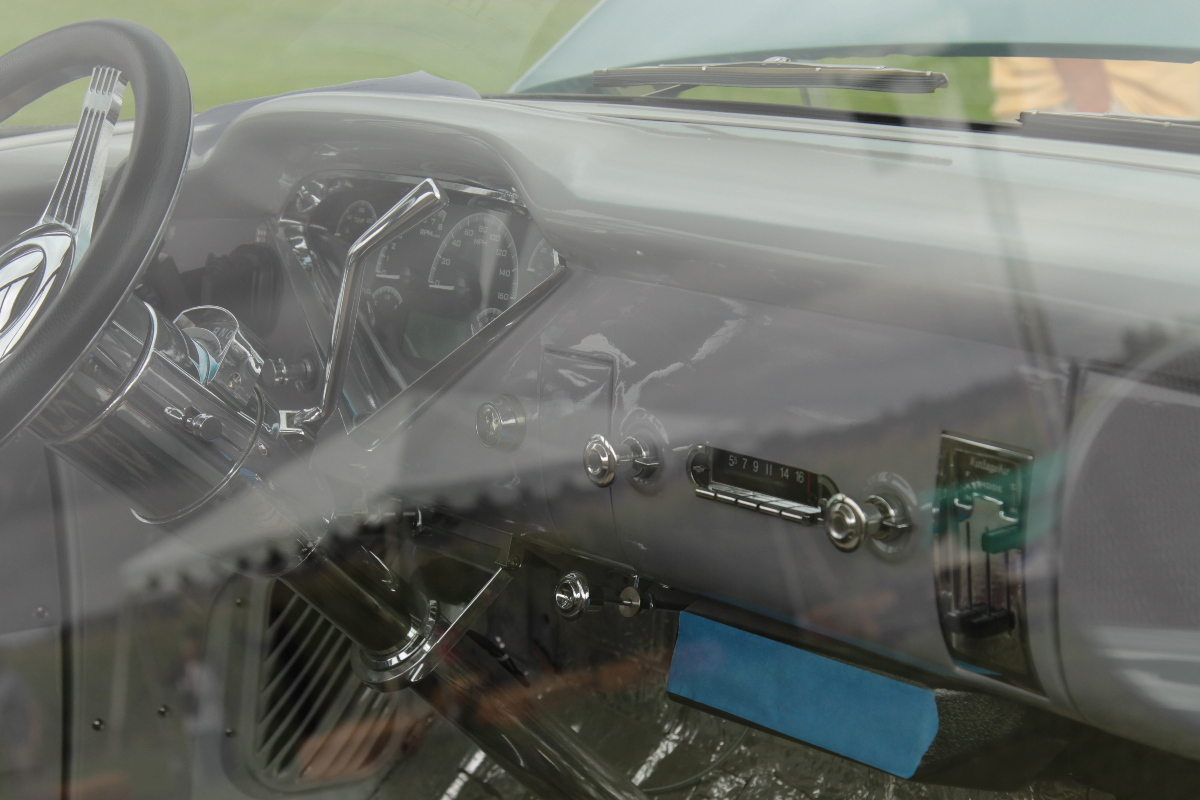 Outside, other than the obvious ghosted flames in Chameleon paint, John removed the badging and hood emblem, installed tubs, and filled in the antenna mount. To help make the look even smoother, the stake pockets were closed up and the tailgate chain mounts removed and the fuel filler was filled in and moved to the rear fender.
This 'work truck' has become quite the street truck with all of that work done, which makes perfect sense when you start looking at the drivetrain. The Chevy 327 small-block has received its own share of go-fast parts to give the truck a true street truck presence.
Ditching the typical carburetor found on old trucks like this, John opted for something a little more fuel friendly in the form of a Holley Terminator TBI fuel injection, which clearly is going to help out with the fuel mileage mated to a 4L80e overdrive transmission. But even with EFI this truck is no slouch.
A Holley dual-sync distributor is lighting the fires via an MSD 6A ignition module, and an Edelbrock intake helps deliver the air and fuel mixture to the cylinder heads. Inside a Crane camshaft gives the small-block a little more pep, aided by a set of Hooker Headers. Keeping everything fastened together, John relies on none other than ARP Fasteners, you can never go wrong there.
Under the truck, TCI Engineering is giving the old Chevy a firm stance with a coilover IFS and parabolic leaf springs in the rear. The pavement pounding duties are handled by a Moser 9-inch rearend with narrowed axles and  3.70 posi. Stopping power is done with a 4-wheel disk brake setup, and to keep the truck from rolling during some planned burnouts is a Hurst Line Lock.
As we mentioned, the rolling stock is on the parts list, replacing the Cal Chrome 15×7 and 15×10 wheels. We're looking forward to what John has planned out for the next phase of his gorgeous project to add to the 2.5 years he's spent building it so far.
Fortunately, it started as a straight truck with no rust, so that left him to take care of the very pleasing aesthetics, which John's performed all himself – other than that awesome paintwork and powdercoating. He's even plumbed the brakes, fuel, and transmission lines, as well as rewired the electrical, making this a true hands-on build – the kind we like.
Since the truck has only been on the road for a couple of months, it hasn't seen too many shows, which John attends primarily to check out other trucks. Did we say he's a truck lover? He did manage to pick up a Top 20 award at the recent show he attended, not too bad considering it's still on its maiden voyage.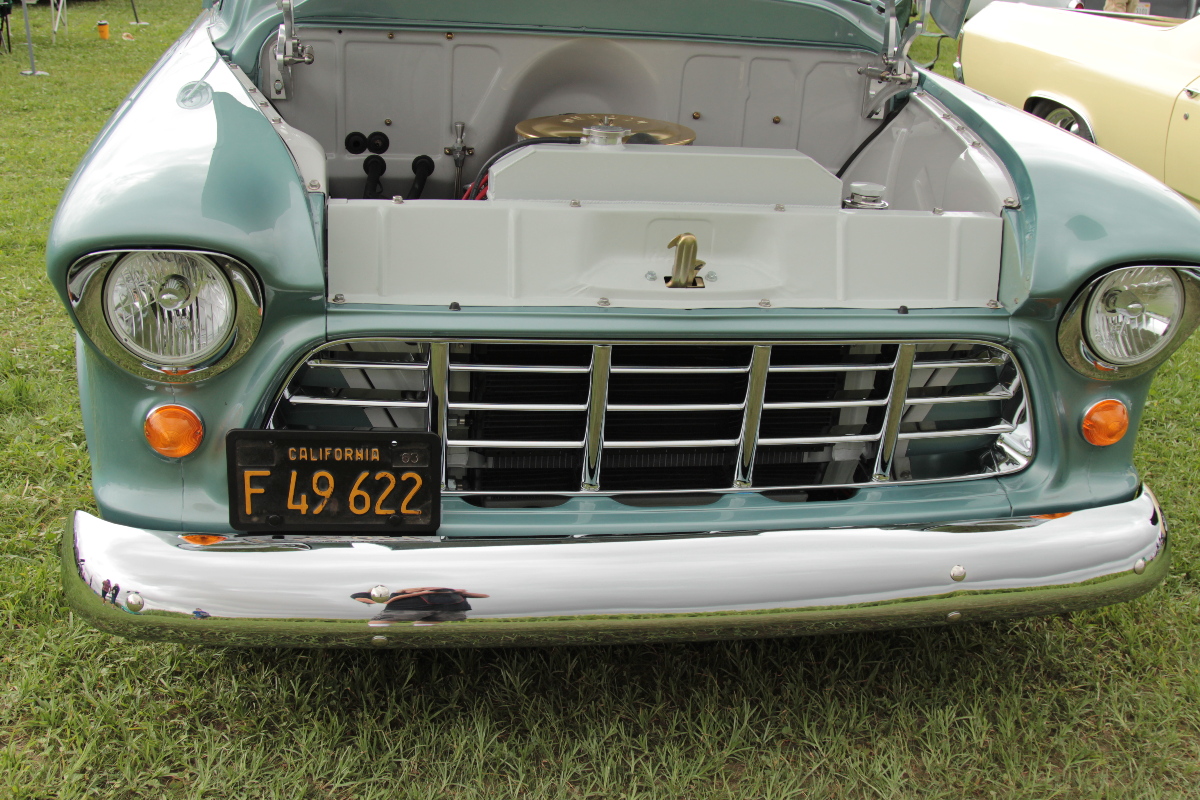 What would you change about this truck, if anything? We get the feeling that as he drives it a little more he might start the project gears turning again and who knows… perhaps that 409 Chevy engine that seems to be calling out his name. But he's a true truck enthusiast, and he's done this one right.