Although muslcecars of the 1960s and 1970s were some of the most desirable cars made, they lacked some of the necessities that you need today: handling, steering, and most importantly, brakes. Factory brakes were sufficient for the day because that's about the best that everyone had. Today, cars are quicker, better handling, and performance oriented; that makes a classic musclecar inadequate by comparison when it comes to road worthiness.
We've been getting the Camaro dialed in on power and handling, thanks to our hopped up small-block, QA1 suspension components, and Hellwig sway bars. But we didn't want to leave out one of the more overlooked aspects of making cars go faster: making them stop better. For that function, we looked no further than our friends at Master Power Brakes.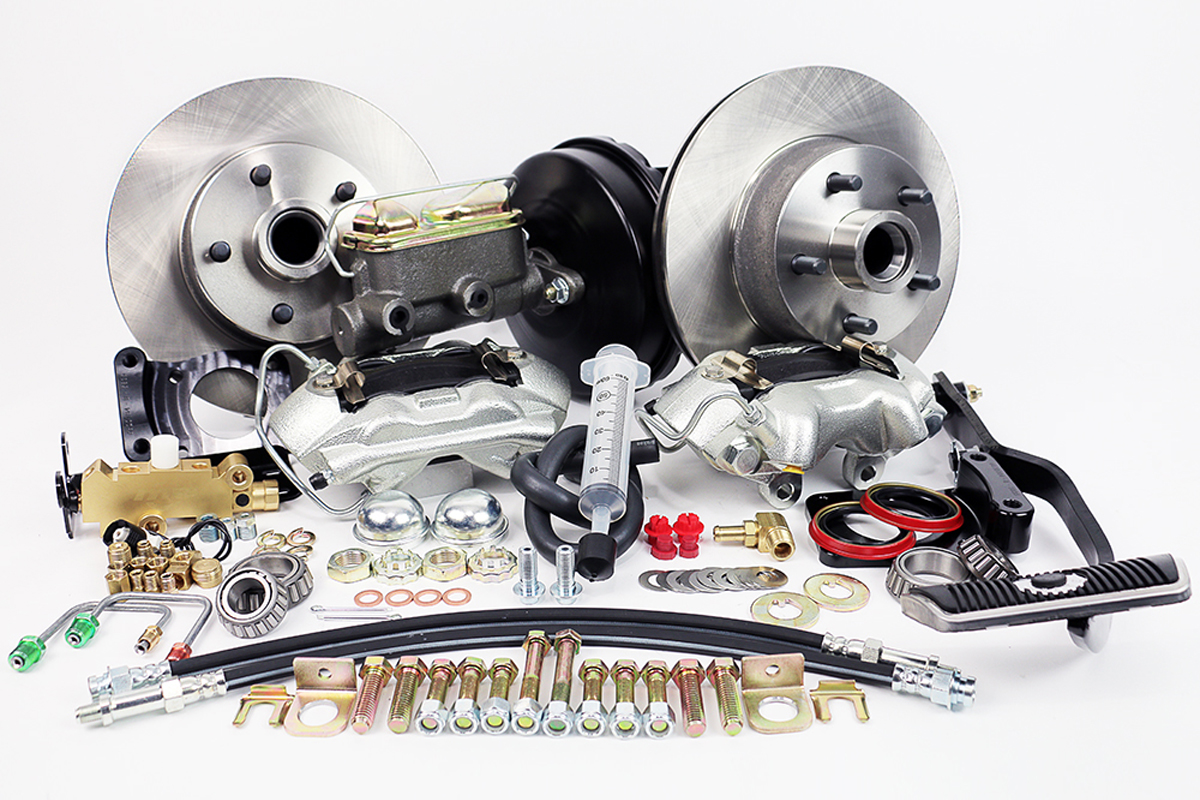 Big, colorful calipers seem to be all the rage these days, but kits from companies like Baer or Wilwood also come at a price that can put you out of your budget quicker than you can get from zero to sixty. Unless you're spending every weekend at the track, though, all that bling can be excessive. Coming into a sweeper hot might require serious stopping power when you're on and off the brakes every few seconds, but out on the street you'll never really get the full potential of those expensive brakes.
A great alternative that we've found and used both on and off the track is an OE-style disc brake setup from MP Brakes that will fit your steel wheels, as well as your budget.  Our friend Mark Chichester, General Manager at MP Brakes, has been at his craft for a decade now, and when it comes to brake upgrades he's been there each step of the way to make sure that his customers get the proper brake setup for their style of driving.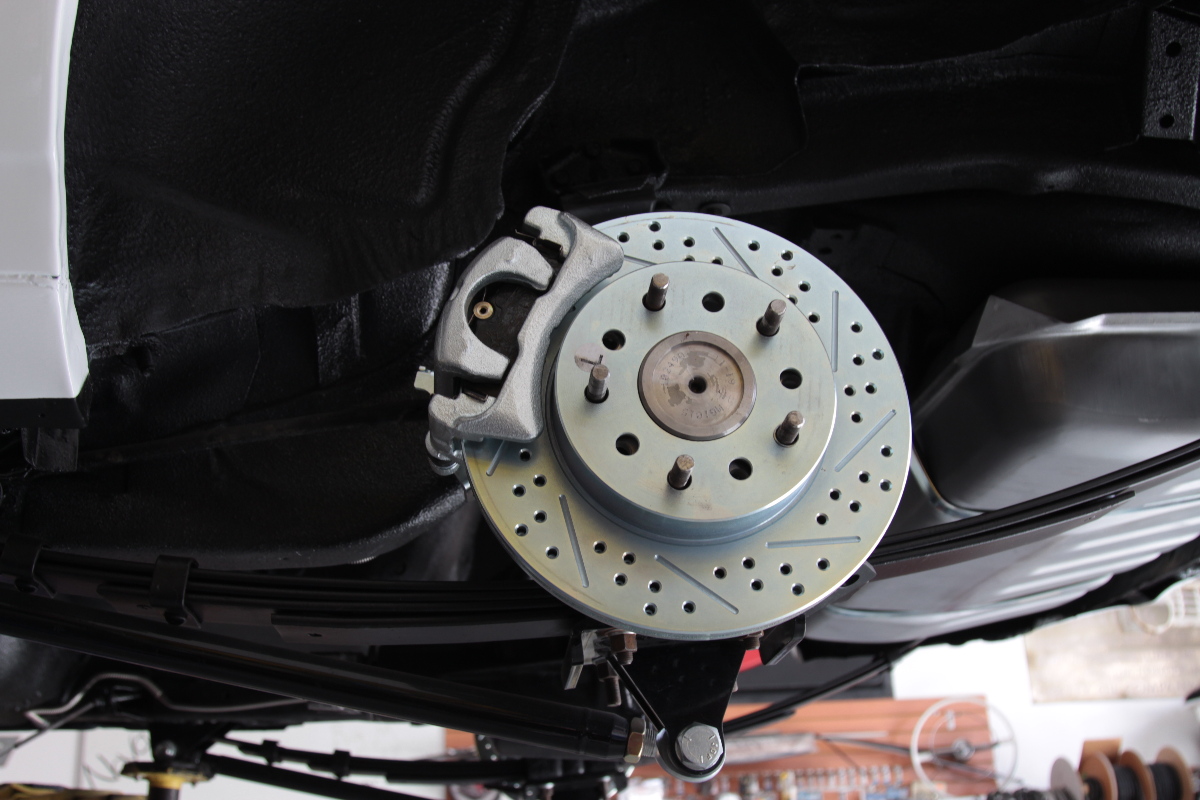 Legend, Rallye, and Pro Driver Series
With three levels of brake upgrades, you can go from daily driving to autocrossing and never have to step away from MP Brakes. The Legend Series will give you a great option to keep within your budget but still provide the brake performance you need for a little bit of spirited driving, which fits our project perfectly. This single-piston caliper has an OE look and feel, and will mount directly to your stock steering knuckle.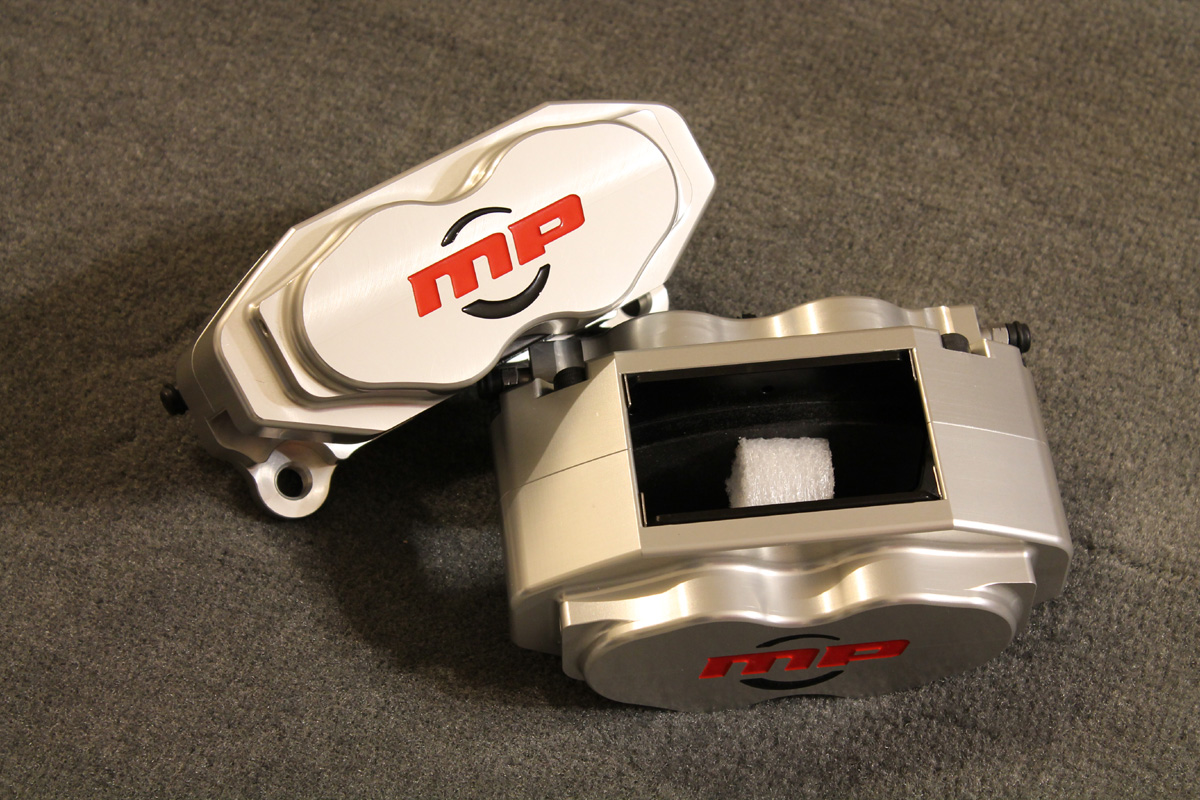 If you're stepping for a little autocross or road racing on occasion, the Rallye Series will help you handle those high speed entrances like a pro. These are four-piston calipers, but in a compact size to fit behind some 15-inch wheels, but it's recommended for wheels 16 inches in diameter and up. While you can add the Rallye series to the front, it's recommended that you also upgrade the rear to the multi-piston caliper.
For those who spend a lot of time at the track and participate in the Pro-Touring arena, the Pro Driver Series offers a larger, four-piston front caliper for the front brakes with a larger, 13-inch front brake rotor. The Pro Driver caliper, however, won't fit behind your 15-inch wheels, as Mark tells us that a 17-inch wheel, minimum, is required to clear the caliper. These are used in conjunction with the Rallye Series rear brake kit.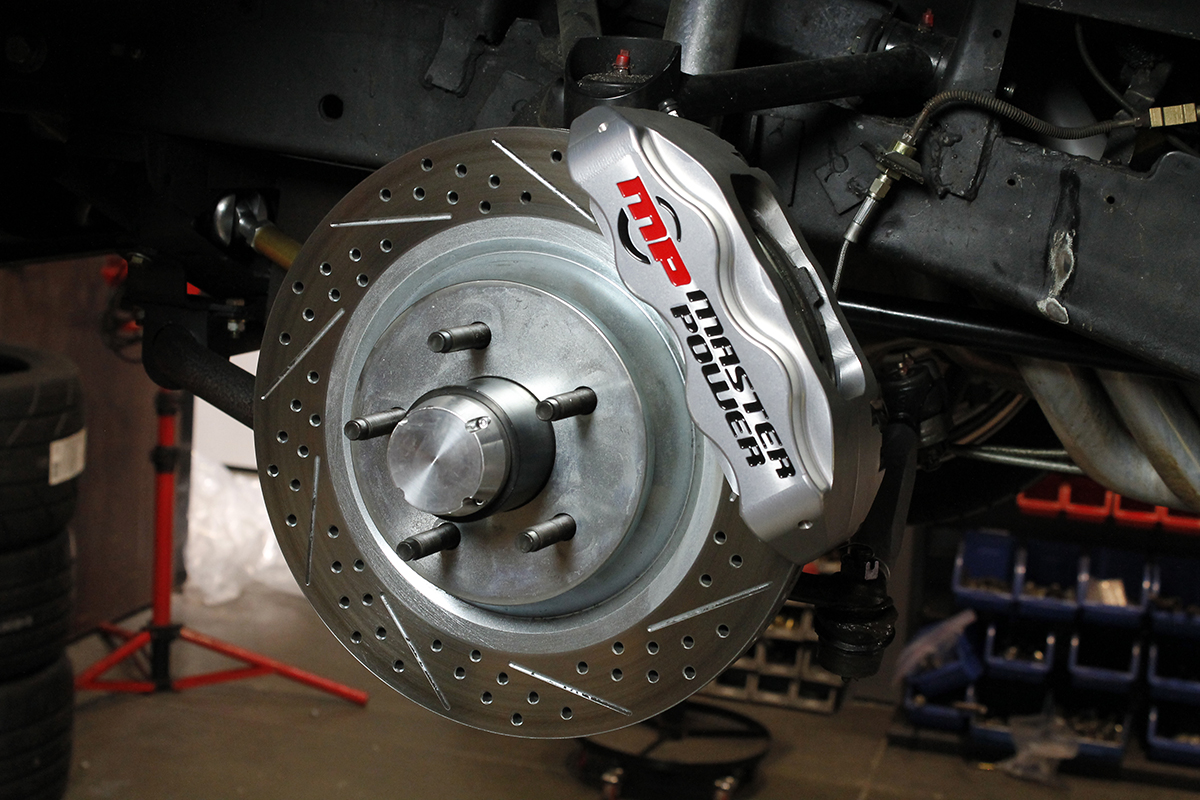 Direct Bolt In Performance
The legend series has one option in common with the Rallye and Pro Driver Series: a slotted and drilled brake rotor – as an upgrade. If you prefer the smooth look of an OE style brake rotor, the standard package provides that look. As with each kit that Master Power sells, it is a complete kit designed to be bolted into your existing vehicle, with everything included. You won't have to find new spindles, because the calipers will bolt to your existing spindles, be it direct with the Legend Series, or via caliper brackets with the Rallye and Pro Driver Series.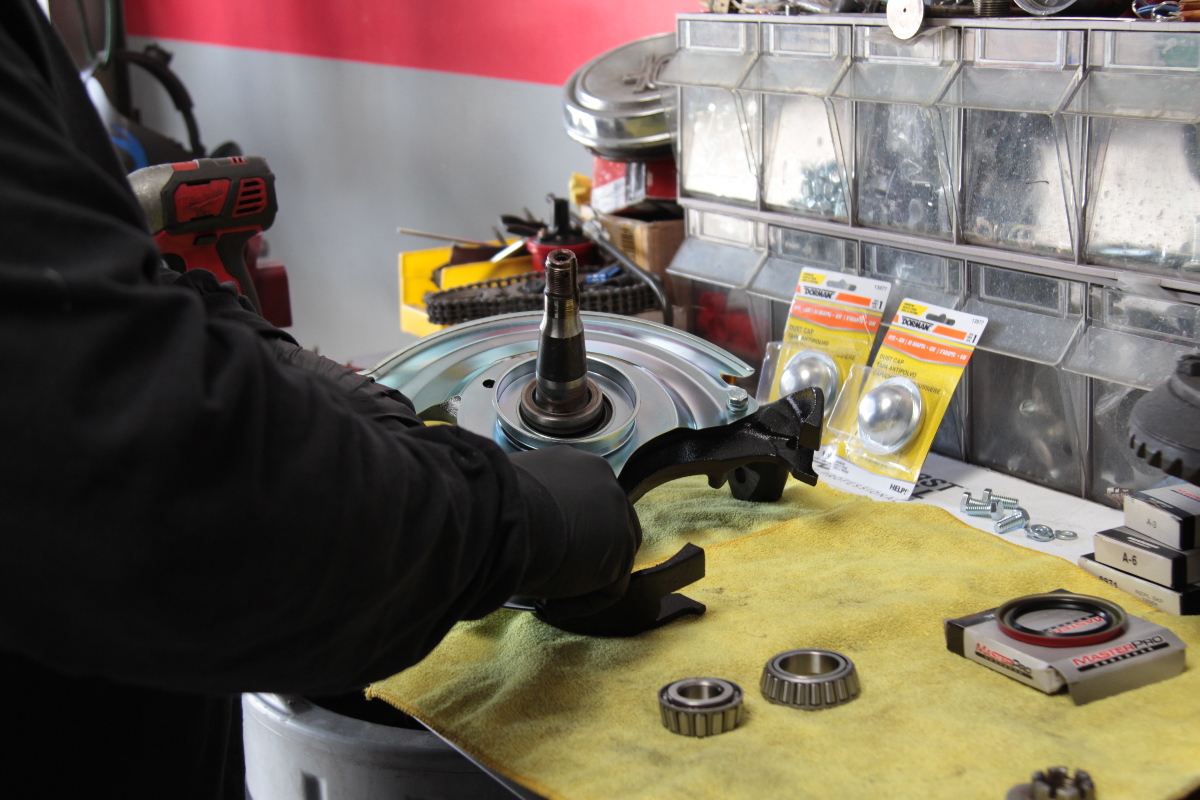 While you can opt for a standard solid rotor, the option is yours to add slotted, cross-drilled, or both to your braking package. While many simply like the look of the drilled and slotted rotors, the function behind the process is significant, and cannot be done without particular attention to the direction of the rotation. There is a specific right and left brake rotor, and swapping them to the opposite side can create braking issues.
The reason for the cross drilling is for brake rotor cooling. As the rotor spins, air is drawn into the center of the rotor from behind, and the centrifugal force of the rotor spinning helps facilitate that function. This force will pull the air out from the center and out of the vanes between the inner and out disc. The slots are specific, as well, and help to swipe built-up gasses on the brake pad surfaces.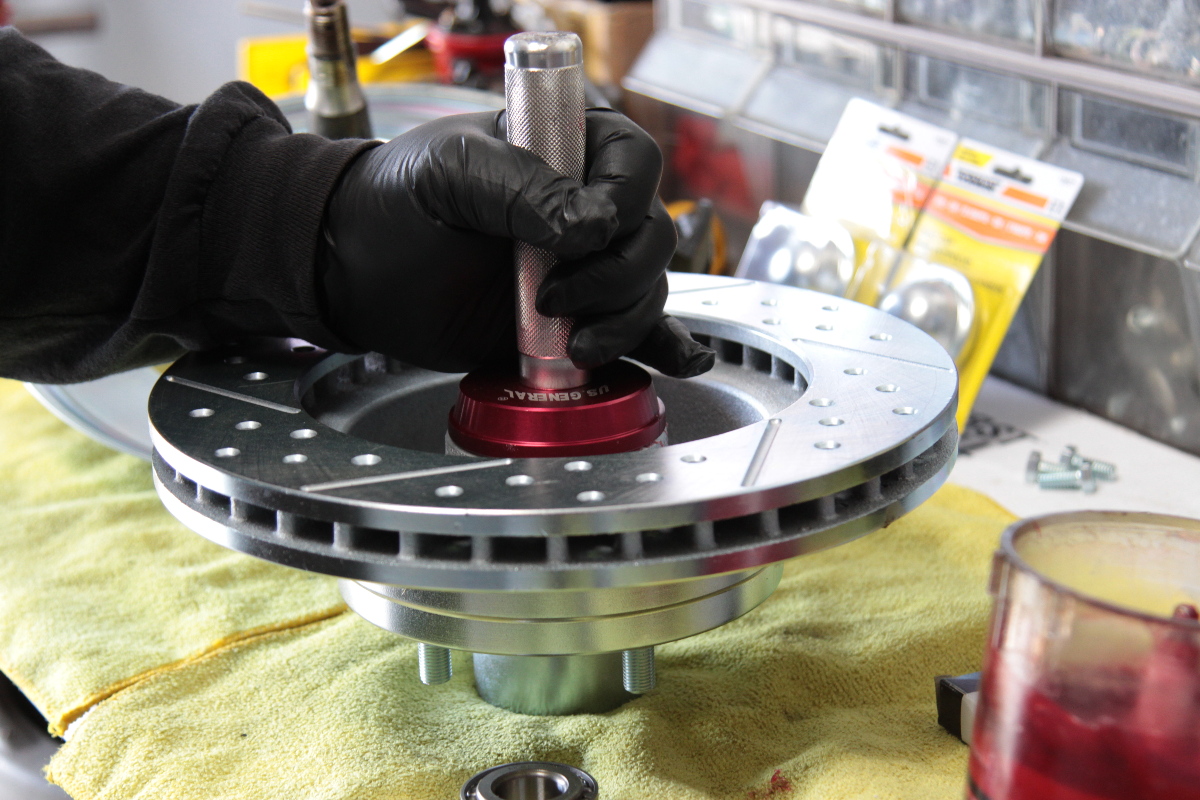 For those who like the look, but aren't interested in the performance aspect, many braking companies offer what they call 'dimpled' rotors: they look like cross-drilled, but the drill bit merely breaks the surface of the rotor, creating a dimple, without going completely through the surface. This process is less costly, and is done purely for looks, not function.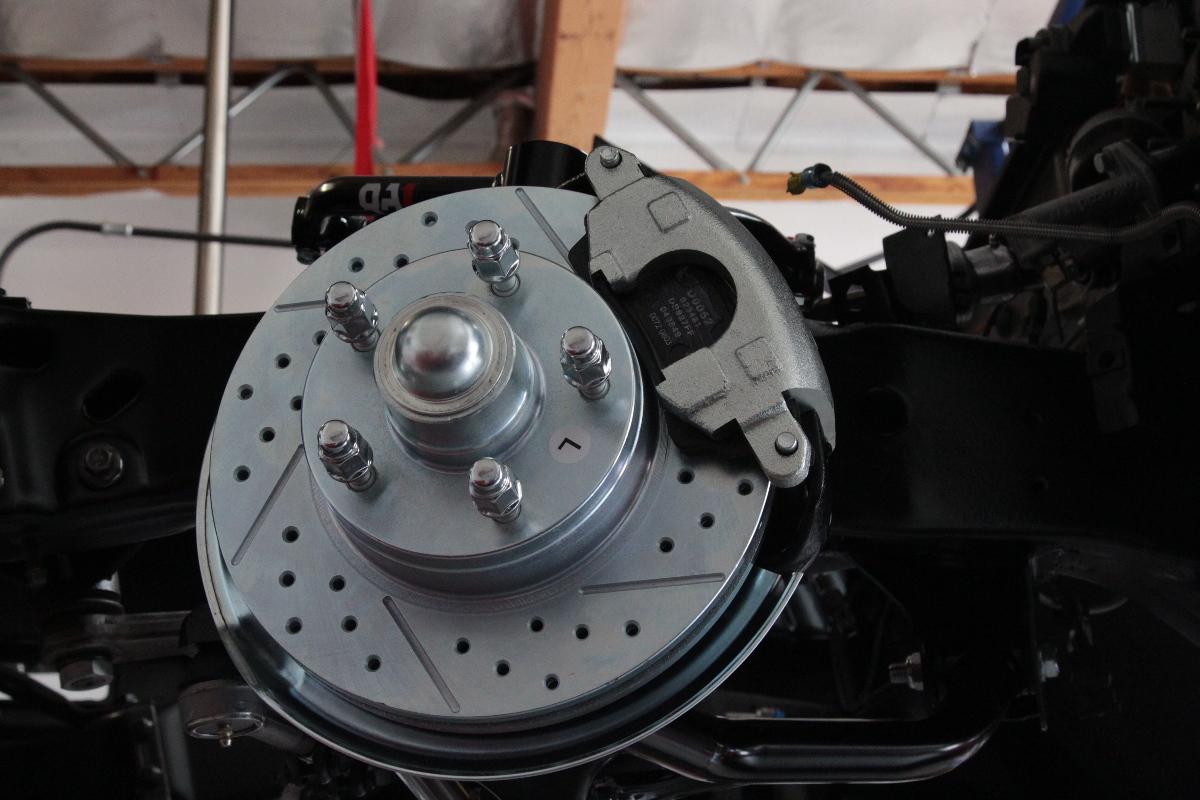 The rear disc brake upgrade is going to require a little more work than the front, mainly because you're going away from the drum and that makes your braking system function differently. There's also the parking brake cable to contend with, and while it's easily upgraded it will require a different cable than what was on the drum brakes.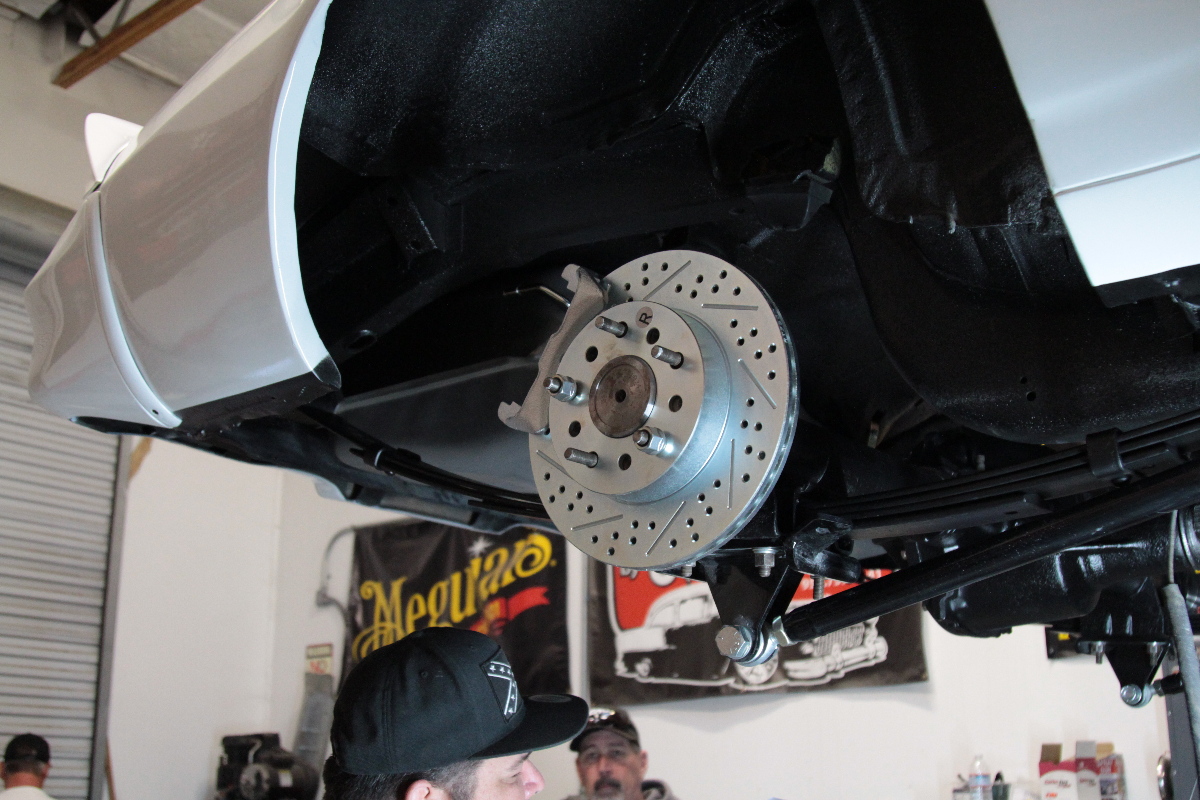 While the kit is a direct bolt in kit, going to the rearend to mount the new disc brakes requires additional parts that weren't used for the drum brakes. But not to worry, all of those necessary parts are included in the complete brake kit.
Clearances aren't an issue with the Legend Series, either, as this series was designed to fit behind standard 15-inch wheels without any clearance issues. Upgrading to a larger 17-inch wheel gives all the room needed, and then some. But don't let the size fool you, the braking power will be greatly increased.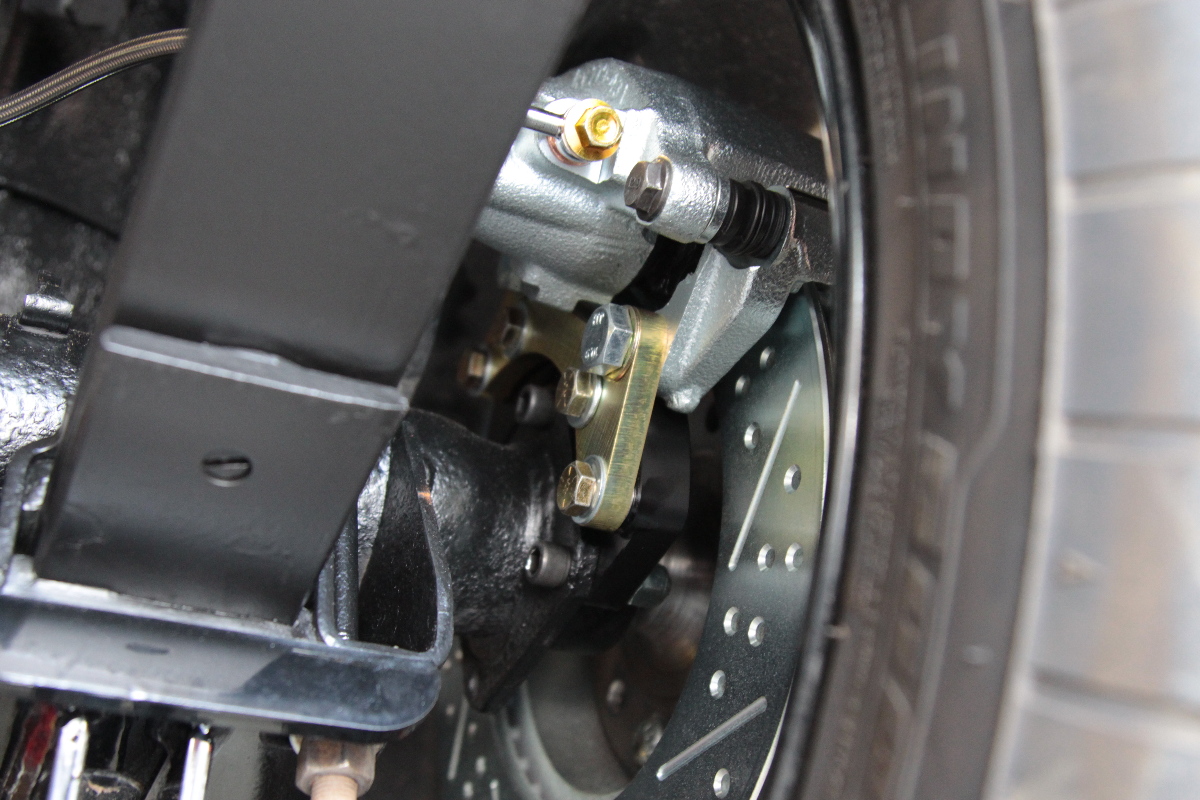 Master Cylinder Upgrade
Another area that needs to be addresses is the brake master cylinder. Doing away with the rear drum and converting to disc requires a different type (and amount) of braking force. Instead of brake shoes pushing out against the inside of the drum, disc brakes means squeezing two pads against the rotor surface. If you keep the existing brake bias, you'll find your rear brakes locking up under heavy braking.
To combat this bias in the front/rear braking system, a new master cylinder and proportioning valve can be purchased from Master Power, as well. They can provide the correct bias based on your needs, and in most cases the integration is so seamless that it looks factory installed (but that MP logo kind of gives it away).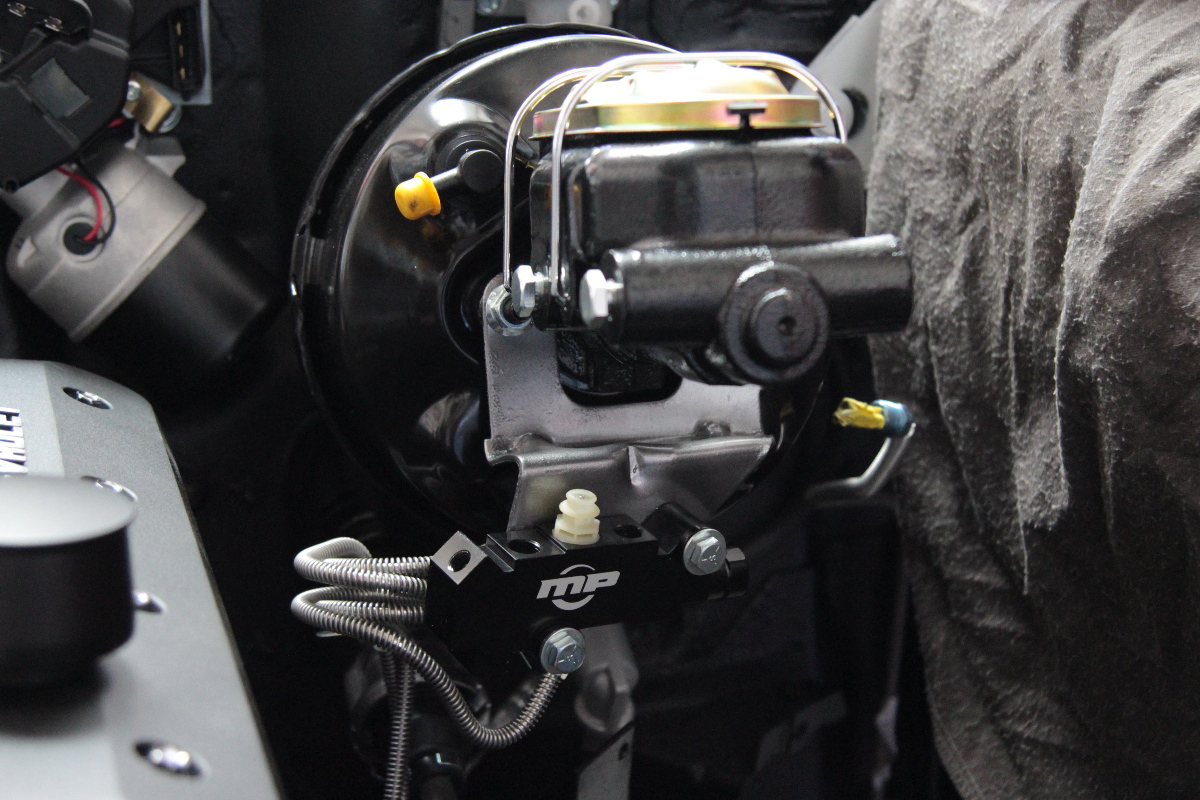 Mounting your new brake booster and master cylinder, both of which also come from Master Power, is very straight forward. But you will need to pay close attention to the brake pushrod length and make sure you have proper brake pedal movement. This is not a difficult process, but it is very significant that you get the full motion of the pedal, and that there is no play in the pedal or the pushrod. For this reason, the pushrod is adjustable.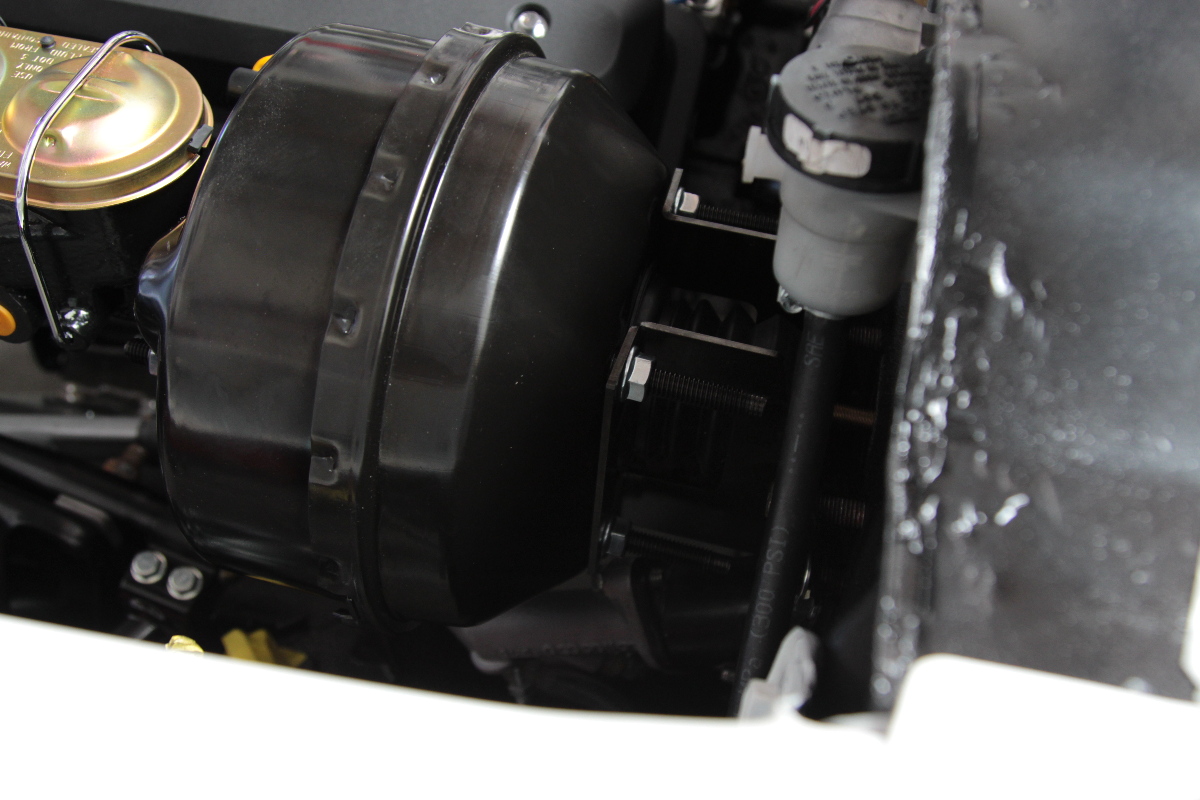 The final step, once everything is installed, is to bleed the brakes. While it can be done by one person, it's always worth it to offer free pizza to a friend to help perform this function. Be sure to flush out all of the old fluid from the lines, and use a suitable brake fluid. As Master Power states on its website: "Brake failure is simply not option. That's why all Pentosin Brake Fluids exceed DOT standards, delivering one of the most versatile programs on the market. With Pentosin Brake Fluid under the hood, professional repair technicians have peace of mind knowing they are working with the highest-quality product available, while drivers enjoy increased safety and reliability."