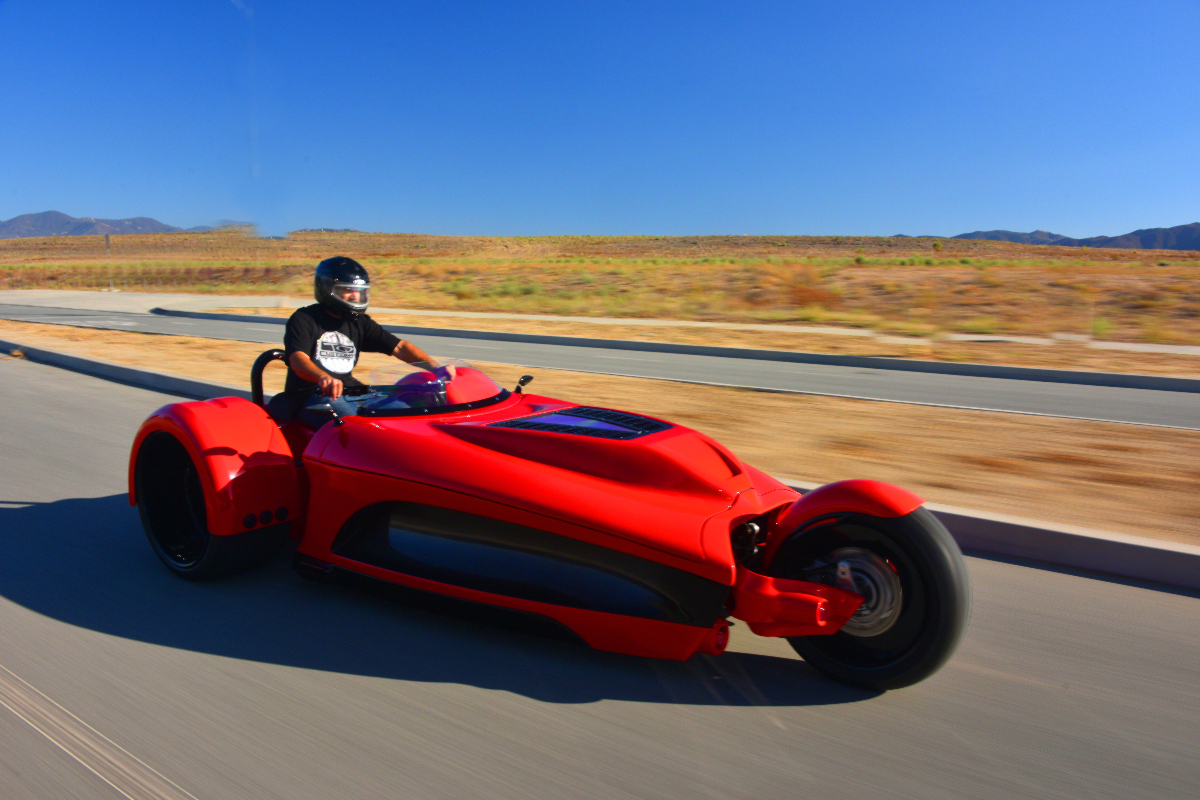 Photographs by Peter S Linney
When you say the word "trike" to a gearhead, immediately it's known that this won't be something lame and mundane. You know it's got to have at least a V8 and the cool factor is enough to turn heads – that's exactly what happens with the Viper Trike. You know you can add a couple of cylinders to the powerplant, but sight unseen, you might not expect the red beauty you see here.
Built by Tony Quinones of TQ Customs in Temecula, California, the Viper Trike is about as red as you can get without some of it dripping off the body panels and leaving a puddle on the pavement. But the paint isn't what makes this trike so unique, or so extreme; it's the level of detail and all the performance parts that make this an insane build that we want to pilot around some of the back roads of Temecula.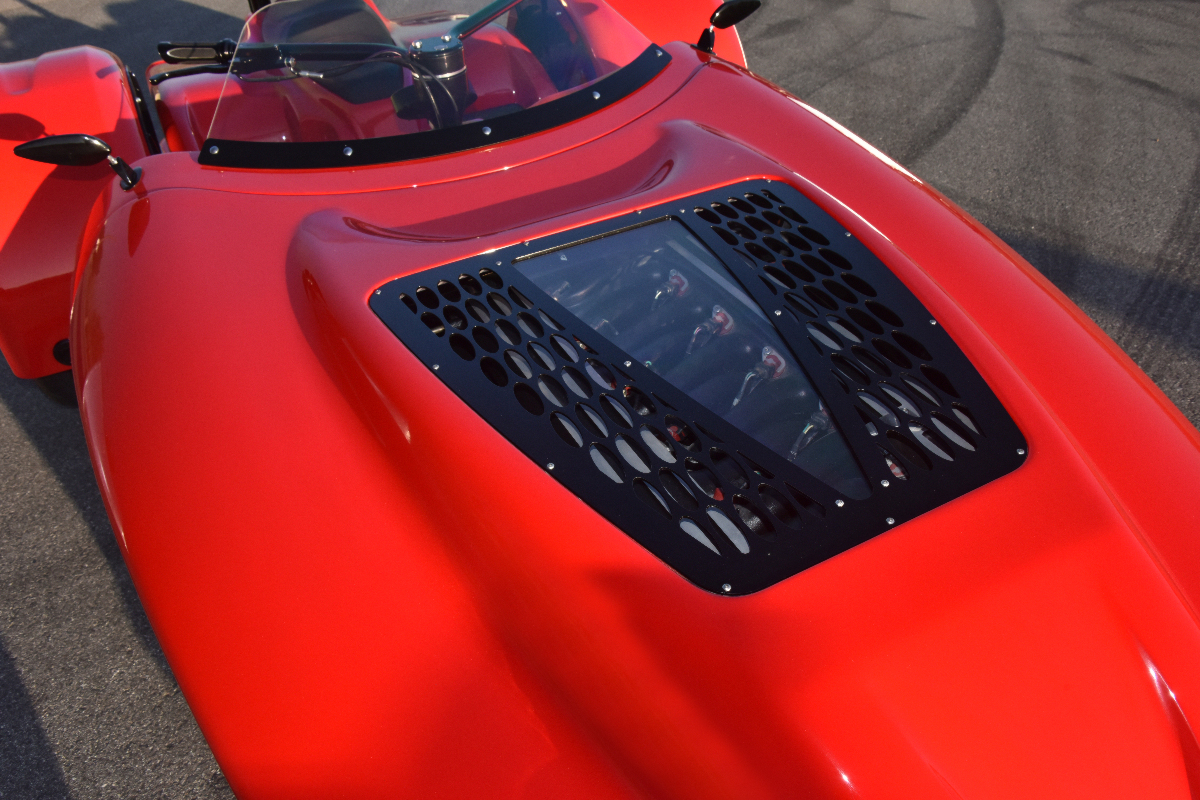 Let's start with the notion for motion underneath the stretched out cowl: the Viper V10. That's eight liters Mopar power that awaits your beck and call as you take the reins of this beast. Unlike some trikes, however, instead of straddling the engine like a motorcycle, you sit back on a small seat, rest your feet on the floor, and grab the handlebars. That's about as close as you're going to get to a motorcycle with the Viper Trike.
Although the Gen 2 V10 retains a stock bottom end, a set of A&C Performance ported heads and cam livens things up when the throttle is twisted open on the Viper EFI system. Sucking in the air is a dual K&N intake system, and a set of modified Gibson stainless headers pull the spent gases through a custom exhaust system tuned with a pair of Gibson mufflers. To cool the V10 down during heavy throttling, a pair of custom-modified radiators from Champion Cooling Systems gets the job done.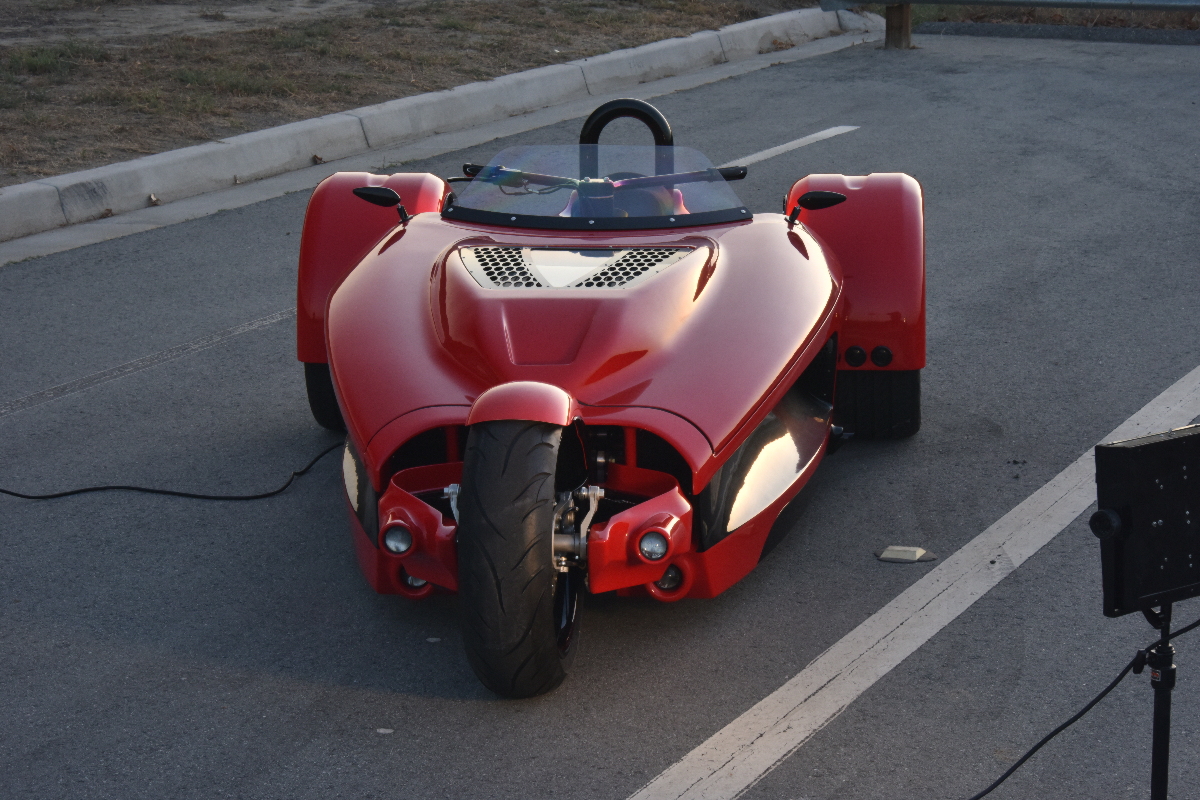 An old school Powerglide modified by Mike's Transmissions – the Ultimate Shorty Glide – transfers the power in just 2 speeds to the independently suspended rear suspension via a Dana 44. Getting through the gears is a modified Master Shift paddle shifter, with shifting done by foot.
All of that happens below the seat, and once you're rolling all that wind blows your hair back and you're piloting the baddest trike in the region. Starting up the red beauty is done with an RFID security system using a push-button starter.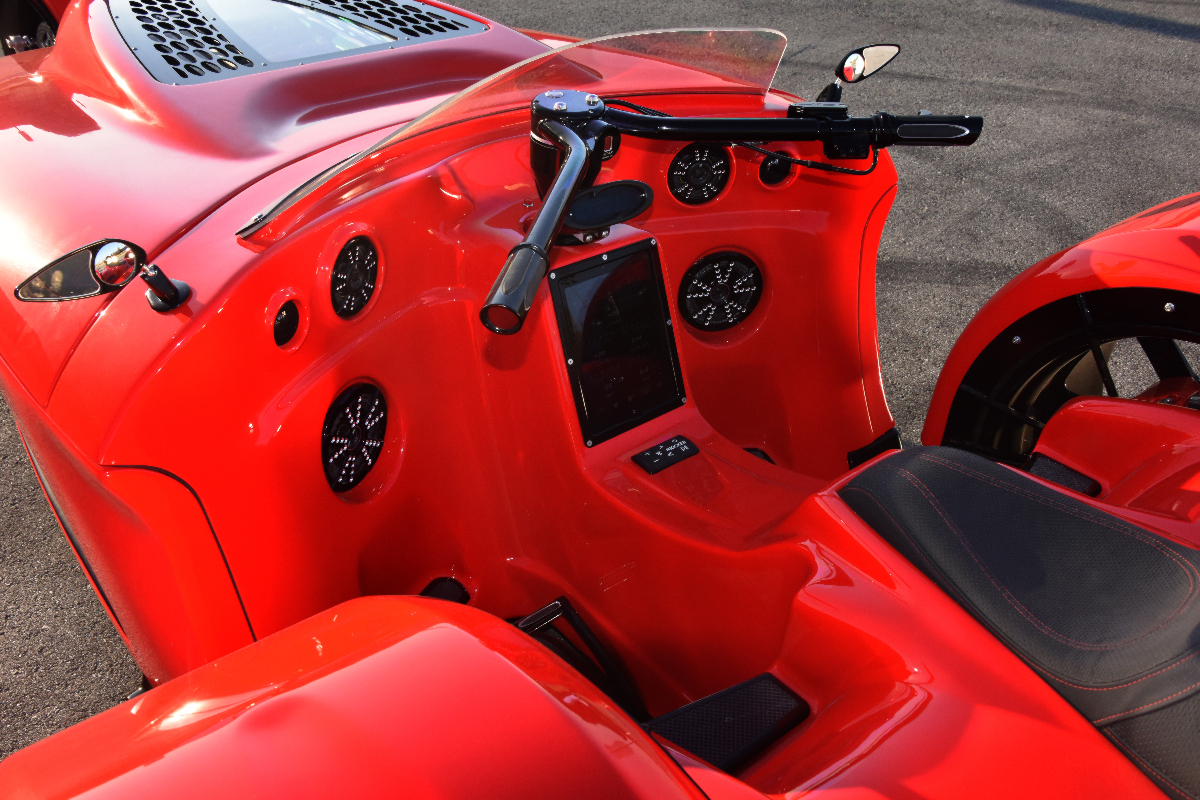 To keep the ride a little more comfortable, Tony relied on QA1 coilover shocks; steering the trike is an ISR NS2 hub center steering system. Adding to the confidence level when behind the custom windscreen, Baer brakes help you bring it back down for a quick photo session before you twist the throttle and disappear again.
That rolling stock packed up under the rear body consists of 15-inch wide TQ Custom wheels machined by Colorado Custom. Those wide rear wheels are wrapped in a pair of steamroller-wide Pirelli tires measuring 405/25R24, completely dwarfing the 20×7-inch front wheel and 220/50R20 Avon tire.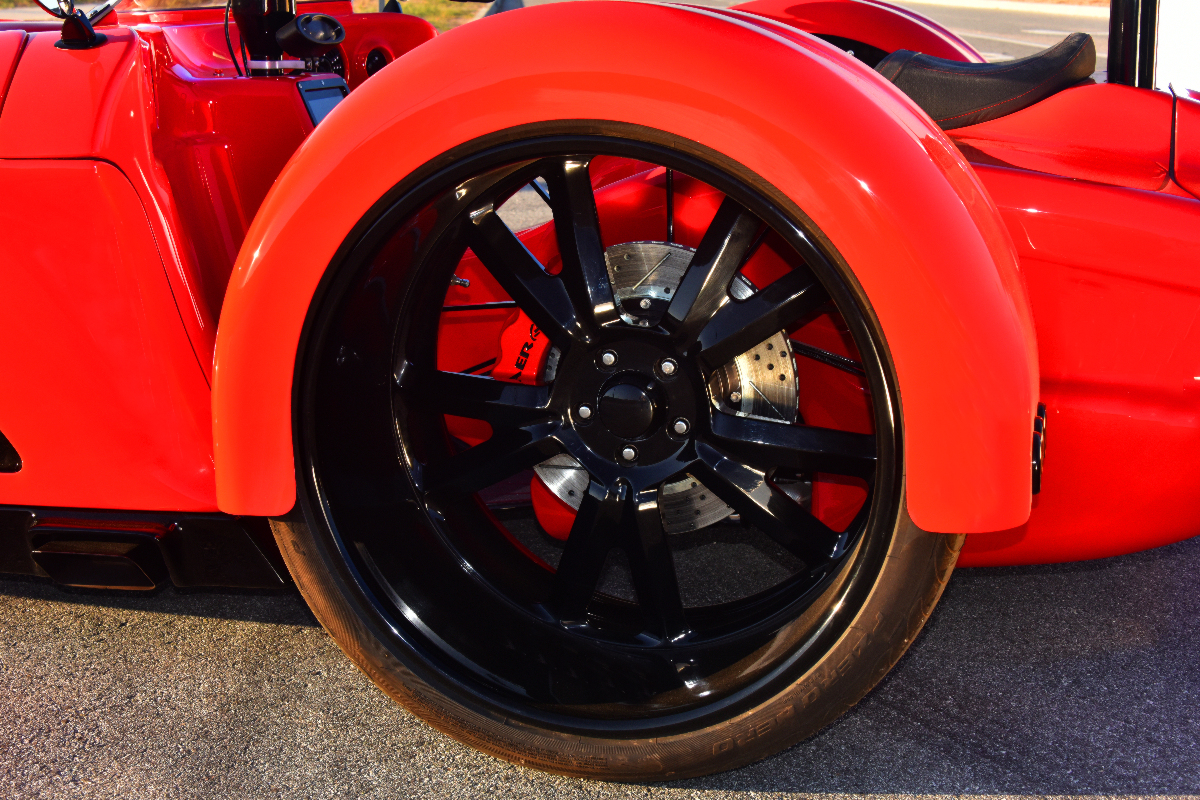 Surrounding all that power and keeping it partially hidden is a hand laid carbon fiber body with a very liquid red finish laid down by Jim Smith of Smith Designs, using House of Kolor paints. All around the bike you can find CNC work and black trim, and the whole thing is laid out on a black, powdercoated frame.
Childhood Dreams Become A Reality
The story of the Viper Trike is not so far removed from other unique builds. They typically start with a design, and that design comes from someone who loved to draw cars as a kid. That also describes Tony, because he was that kid and later in life he toured the Art Center in Pasadena, California, when he was in high school, with aspirations of becoming a designer.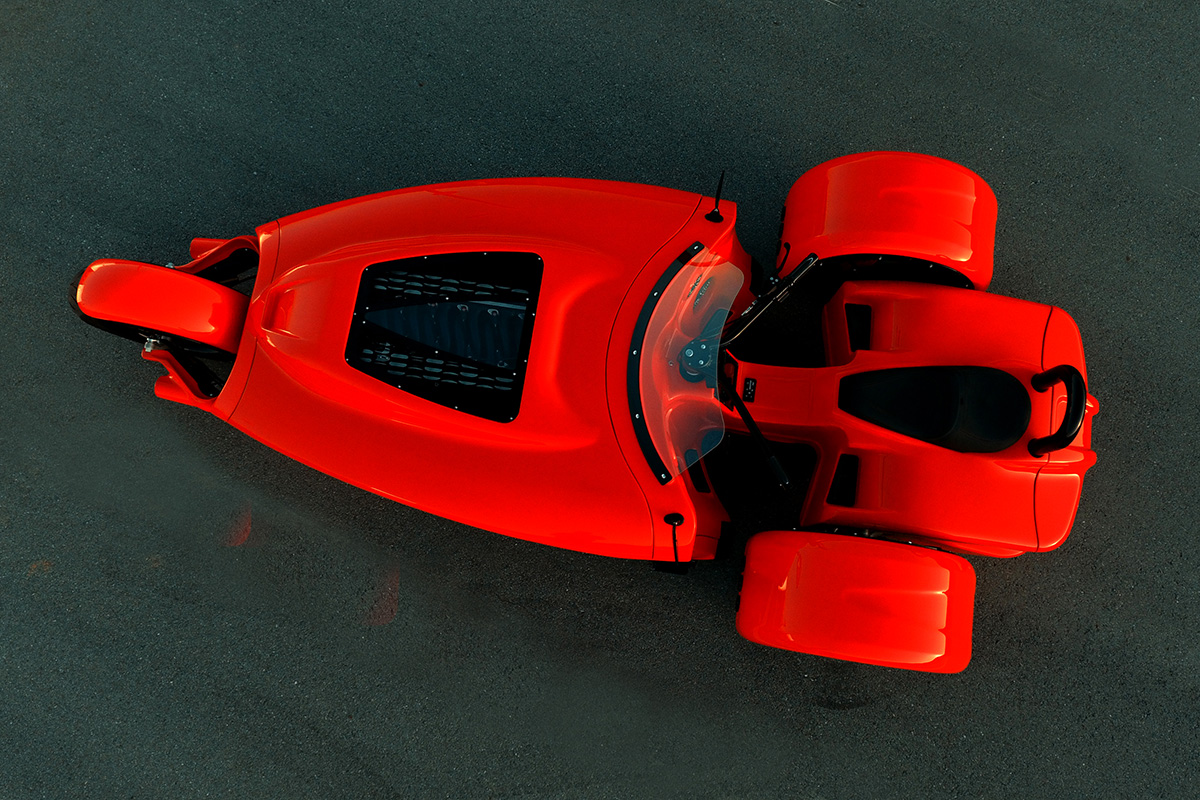 However, Tony knew that even if he was accepted to what is considered "the most elite transportation design program in the world," the cost was going to be impossible to cover. So he did what many other designers did, he began working with his father, designing and distributing aftermarket parts. They created Wicked Image, Inc., and designed parts for Harley-Davidson motorcycles.
Tony said, "My father had a lifetime of knowledge in engineering and manufacturing, he has been my mentor from the beginning." Together, the business grew and they evolved their skills and their shop is equipped with CNC and manual machines, water jets, and 3D printers.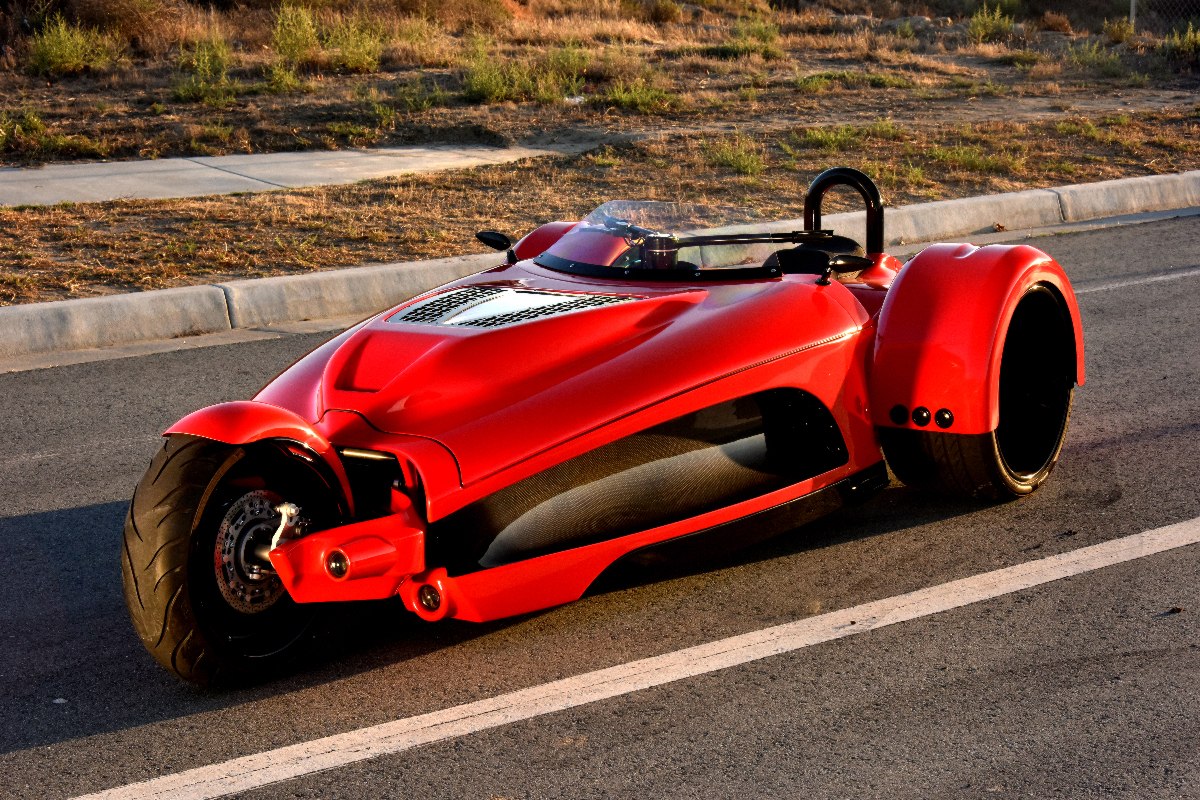 Building The Viper Trike: From Concept To Reality
Tony was approached by a friend one day who had a client looking for a unique build. The client had seen another trike build with a blown Hemi in it, called the Frogman Trike, and he wanted something similar, but unique. Having a Viper V10 laying around and a vision – it didn't take long to put the two together.
Tony did a lot of reverse-engineering on the trike, starting with a 3D CAD model of the V10, and designing the chassis around it. He put a lot of thought into the steering and suspension, knowing he wanted something unique and reliable. That's when he came across the ISR NS2 hub center steering, having seen it in use, and knew it was what he needed for the trike. A C4 Corvette suspension was just what he needed for the rear suspension, knowing it had to be IRS.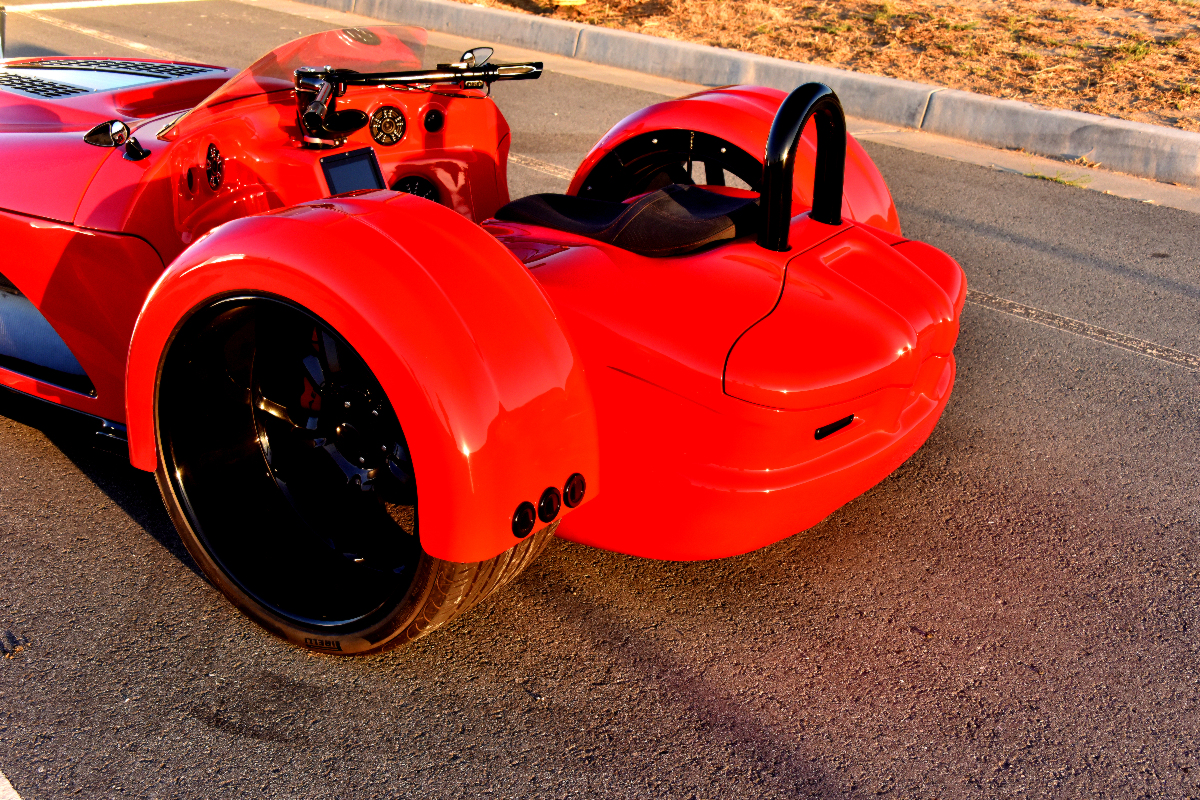 Of course, everything is custom-designed, done in CAD, and even the lower rear control arms are machined out of a 2-inch thick billet block. Sadly, that kind of artwork is not seen as the rear suspension is completely covered up.
Tony needed to finish his design away from the shop where he could really focus on what he was doing, and enrolled in the Art Center at Night for its transportation design program. There, he and his instructor, as well as accomplished designer Jason Hill, provided Tony with the perspective he was searching for to refine his design.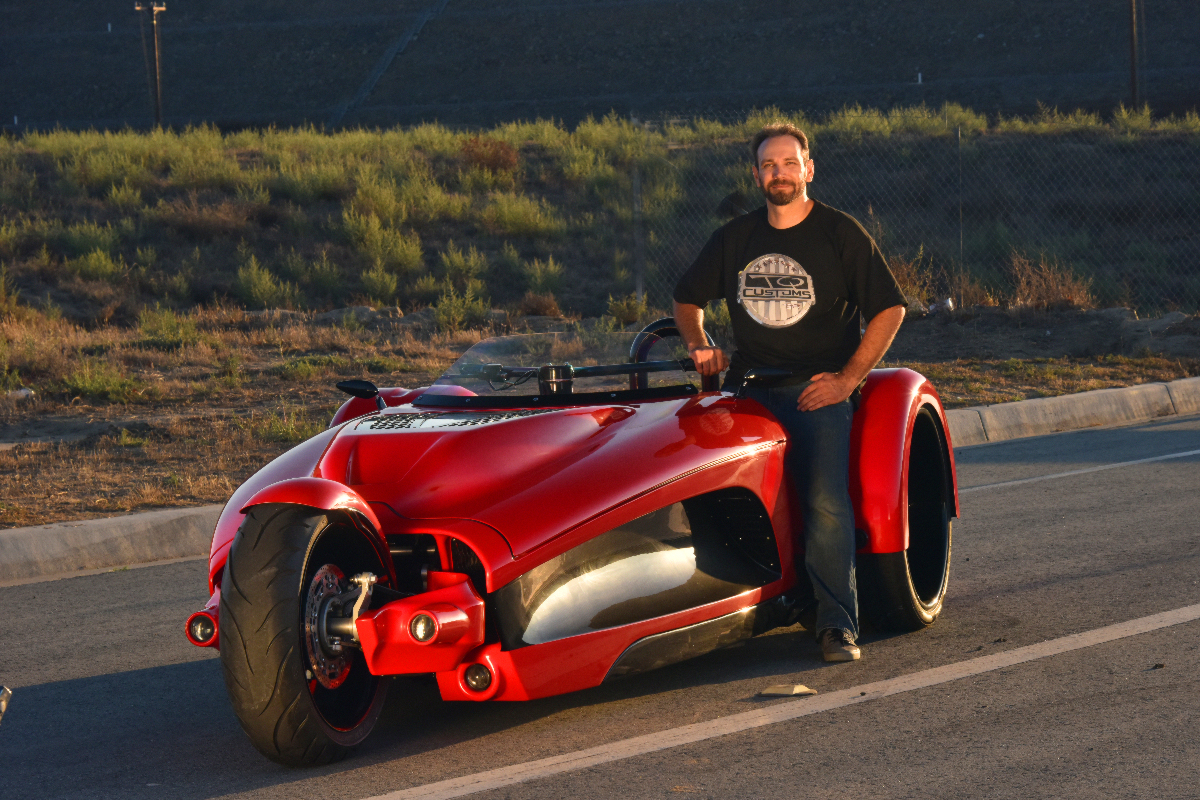 With full 3D renderings of the design, Tony sent it off to the client for final approval, and then the fun began. Contact Scale was able to provide full scale prototype molds so that the carbon fiber could be hand laid.
To acquire a factory fit and finish, 300 hours of block sanding helped to get the panel gaps to where Tony was happy with them. Then the body was ready to head over to Jim Smith to lay down the House of Kolor red paint.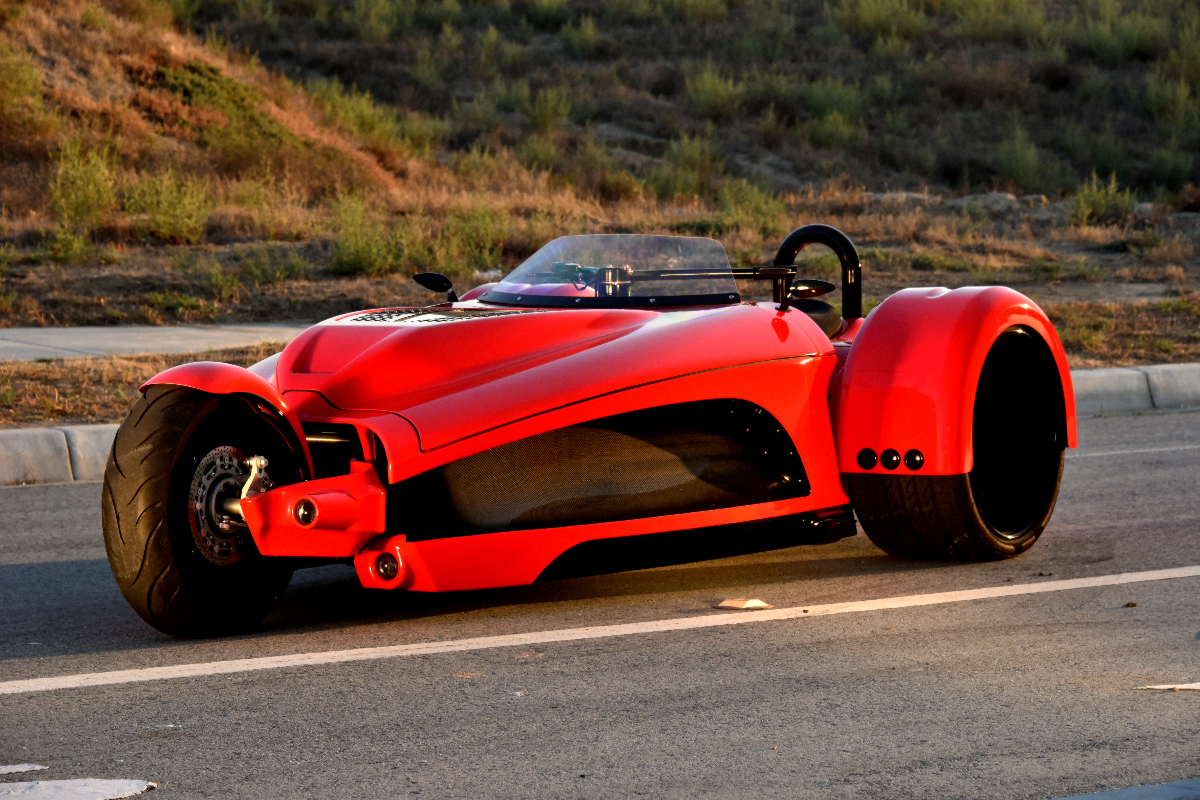 The trike was assembled and thoroughly tested, with an iPad dash connected to the ECM. Then a problem occurred with the steering system, as the 1,500 pound trike proved to be much more demand on the cable system than a 500 pound sport bike. So the wheels began turning again, and a hydraulic system – like that used on a boat – was implemented with a 5:1 hydraulic advantage. The system all fit in place and they were able to match the 50-degree lock to lock rotation of the handlebars.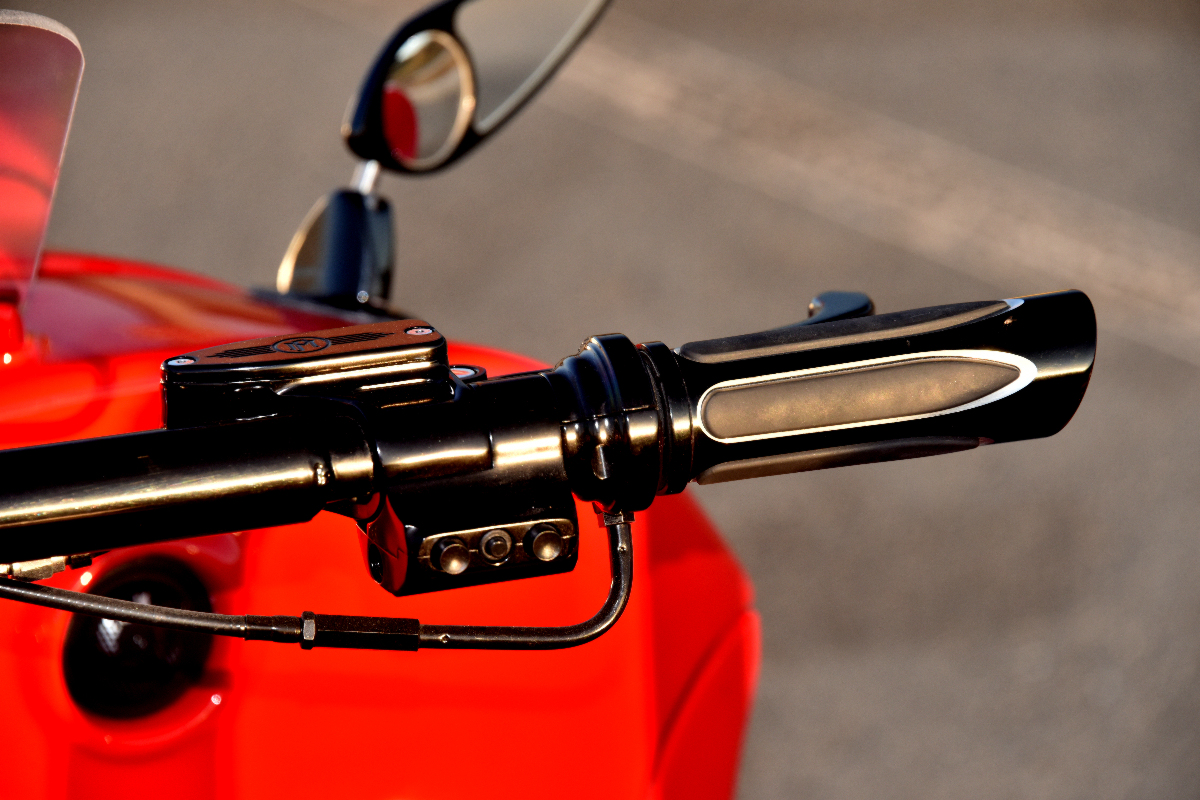 As the small details worked themselves out through final testing and assembly, the Viper Trike was finished and a success. "Blending the technology of a car and a motorcycle with a few unique aspect made the Viper Trike a challenge in design and craftsmanship," Tony said. "Whether you love it or hate it, you can't help but stop and look at it."
We agree with Tony's assessment of the Viper Trike, and we can't get enough of it. Any gearhead who stops to look probably has a million questions like we do, and it probably starts with "what is that?" and escalates from there.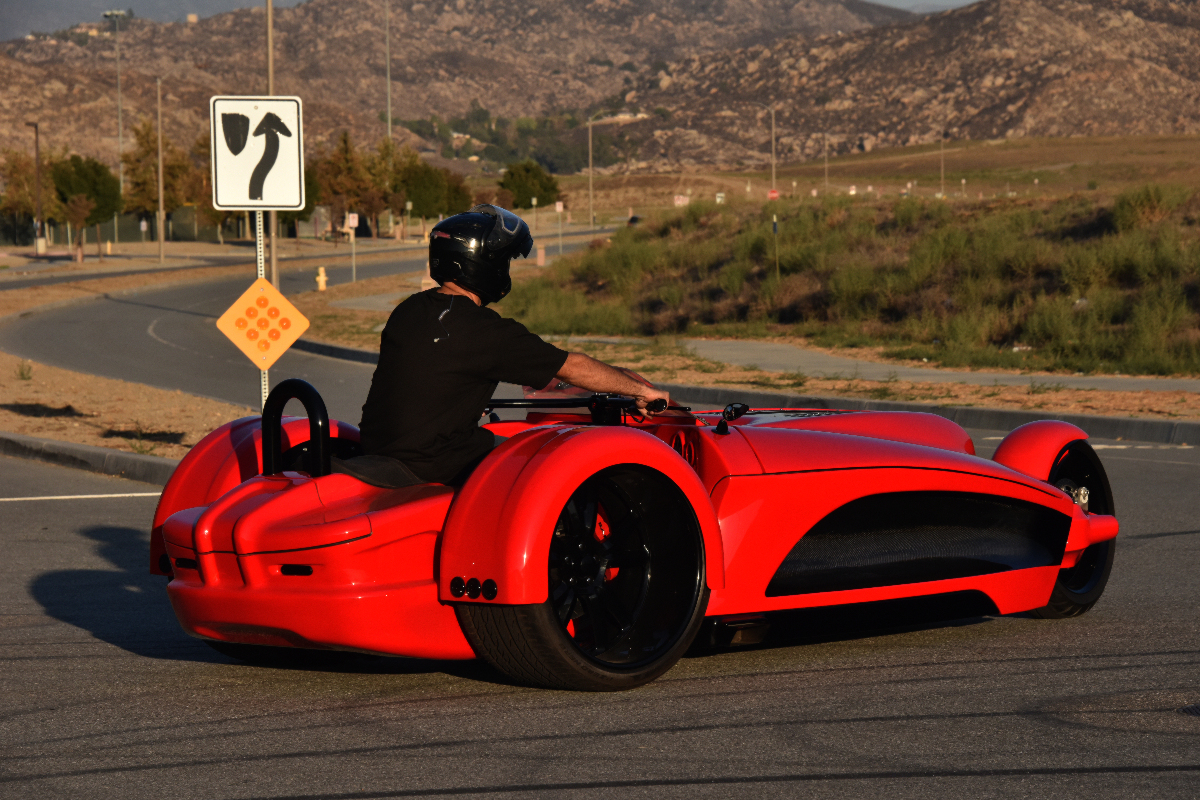 Written by Michael Harding