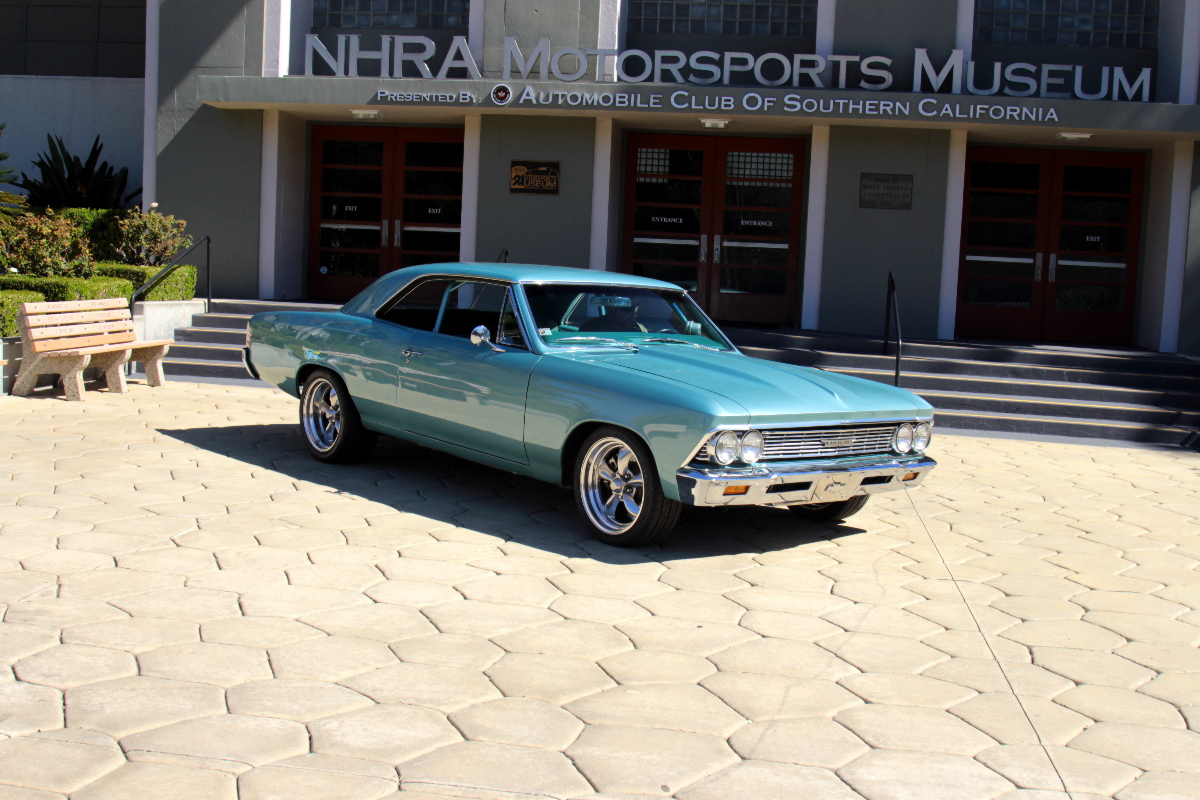 Many of us cut our teeth into the automotive world by doing simple maintenance and upgrades, and there's nothing wrong with that. It helps to build your skills and your confidence, as well as your ride. It's the first step into hot rodding, and from there you can continue your journey at any pace you feel comfortable with.
For Jason Bear of Riverside, California, those years of maintenance were stepping stones that laid the foundation for his very first build: a 1966 Chevrolet Chevelle Malibu. We took a trip up to the NHRA Museum in Pomona to check out his street machine, and found much more than you would expect for a first foray into building a hot rod.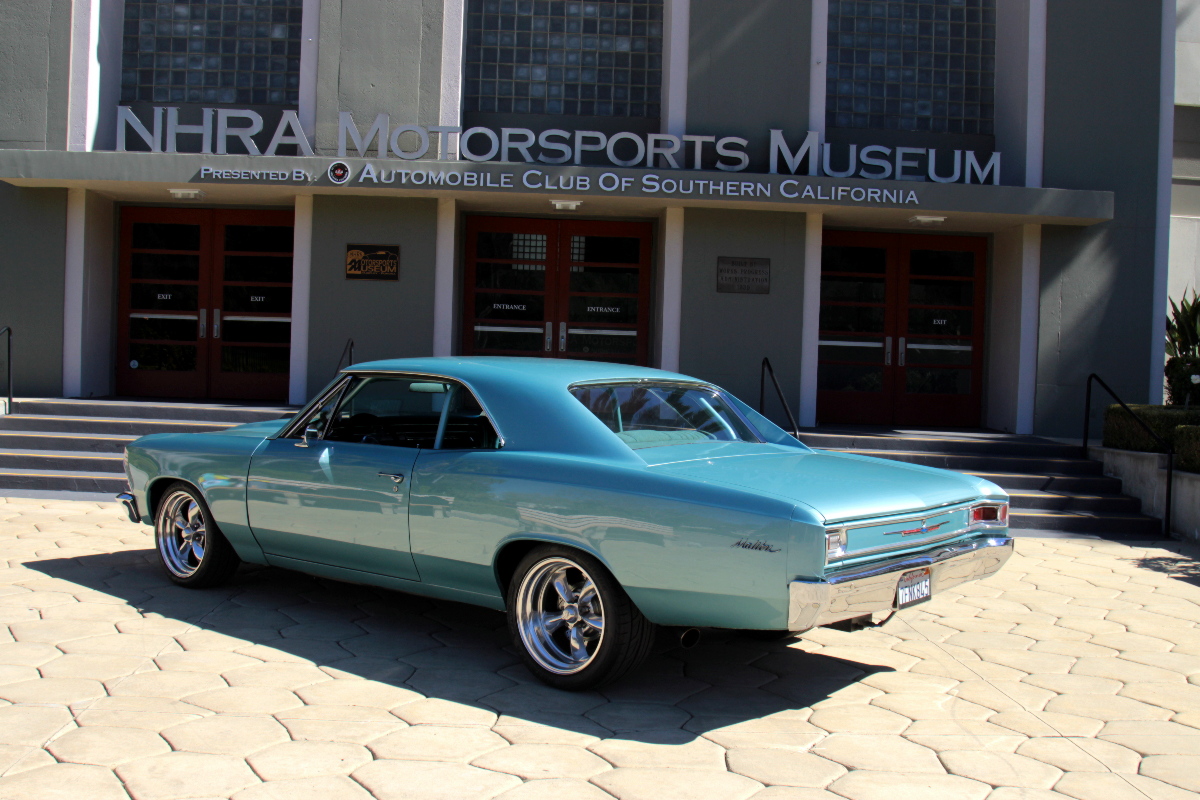 But with many builds – especially a first build – the final product doesn't always tell the beginning of the story. For Jason, that beginning was one that many first time builders would shy away from.  He tells us, "The car was crashed out. It needed a lot of work, and a lot of parts."
Jason always liked the 1966-67 Chevelles, and decided to get one of his own. He picked it up in 2014 and took just a year to bring it to the shape you see here. He assures us, this is no trailer queen – he loves to drive it and shows it regularly around Southern California. He finished it off in Artisan Turquoise with a little more pearl added in, and it definitely had us drooling.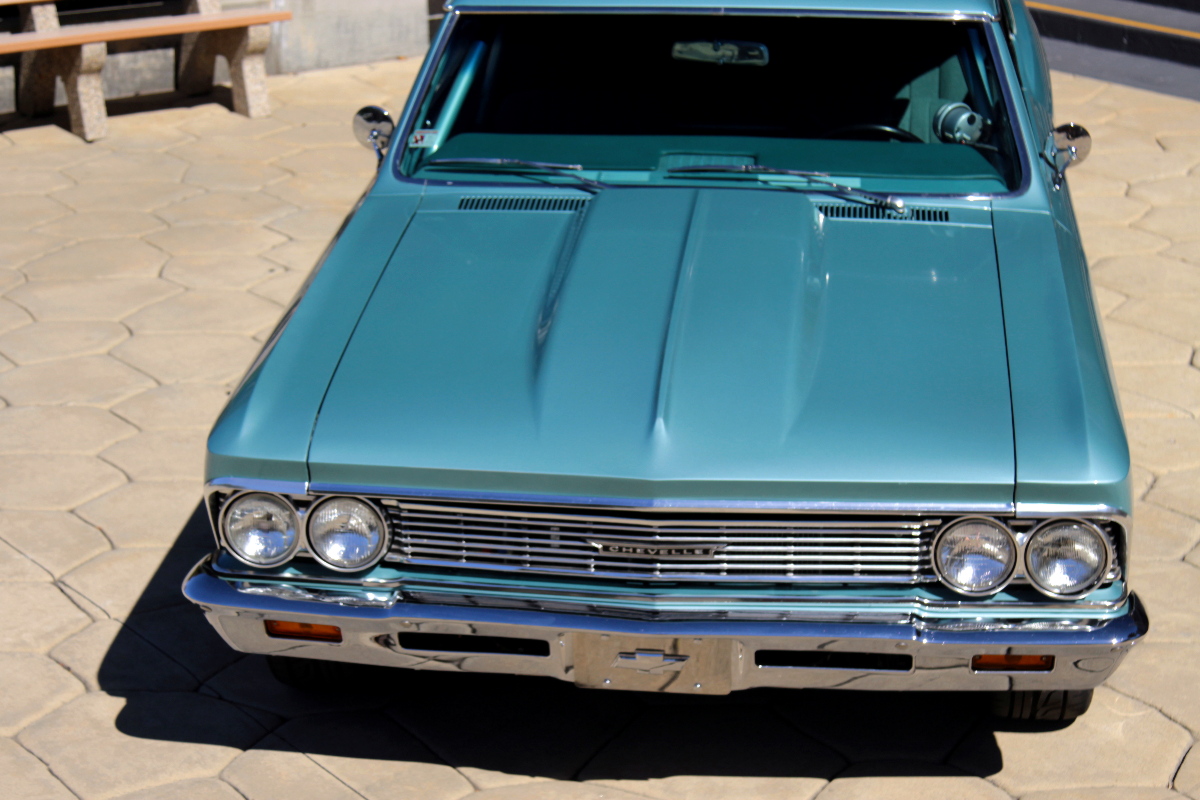 The Right Motivation
But none of that deterred him from taking that leap, one that he made with a lot of help from his friend Chris Dinan. Here's where the story takes an interesting turn. Jason was dating Magen Dinan at the time, and he liked the Chevelle that her father, Chris, had built for her so Jason asked Chris for his help building a car of his own.
And Chris being Chris, he told Jason he would help in under one condition. Fearing the weight of a father coming down on him, Chris' condition was not what Jason had expected. Chris made Jason promise that one day he, too, would teach another youngster how to build a classic car to help keep them on the road.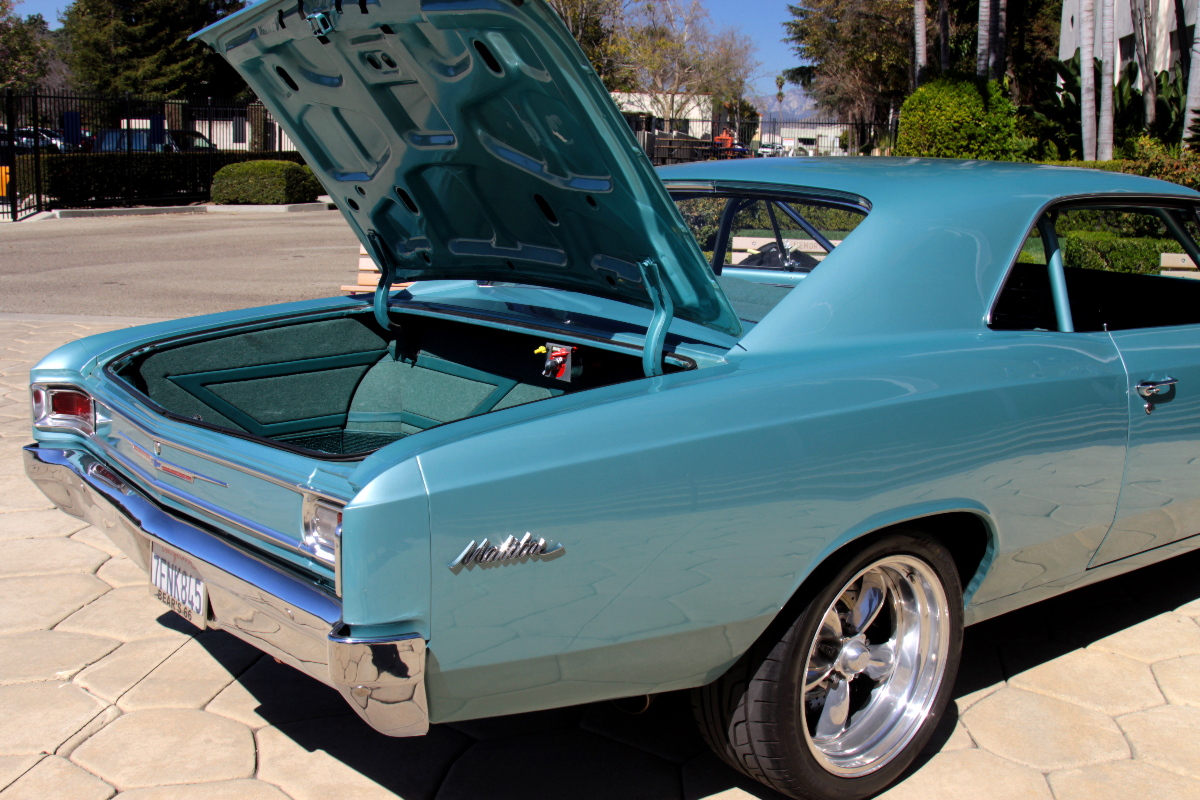 With Chris' help, Jason was on his way to building his first muscle car and they both went to town on it. The results are enough motivation to help get others into the garage and working on their own car, Jason's Malibu is a perfect example of what you can accomplish with the right leadership and the right motivation.
Adding Some Muscle To The Build
Jason had stated that  the car had no front clip, not transmission, and the engine was blown.  It wasn't close to being a driver, so small-block build was the first step. His 350 SBC has been pumped up a bit and has plenty of bolt-ons to fill a Christmas wish list for any gearhead.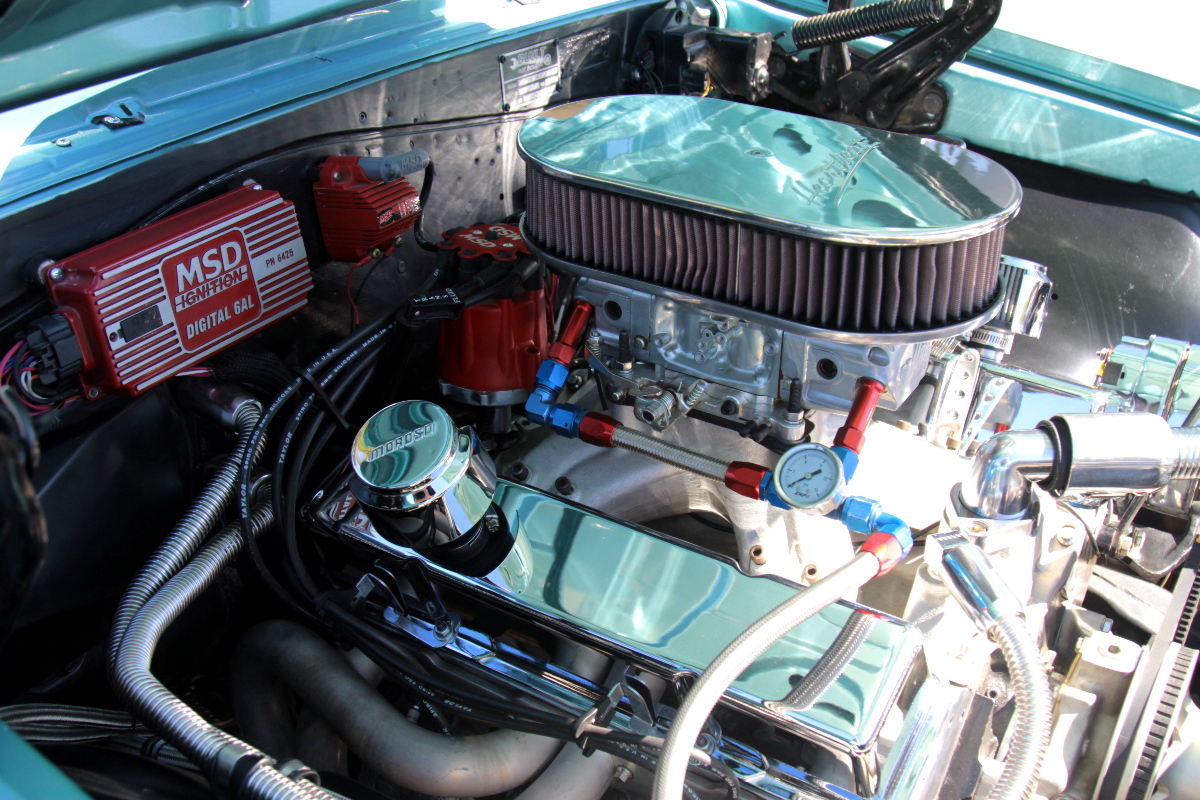 To help achieve the 525 horsepower this small-block puts out  at the crank, it took some solid component to make it happen.  Starting with a strong bottom end to support the power and a custom ground cam, he laid down a pair of Air Flow Research cylinder heads mated to an Edelbrock Victor Series intake.
A 750cfm Demon caruburetor provides the go juice and a set of Hooker headers and 3-inch mandrel-bent exhaust piping expels the burnt gasses. To add a little more oomph to the already potent mill, a 200 shot NOS system brings the power up to the 775 horsepower mark. Jason said this combination is good for 10.40s in the quarter mile on street tires.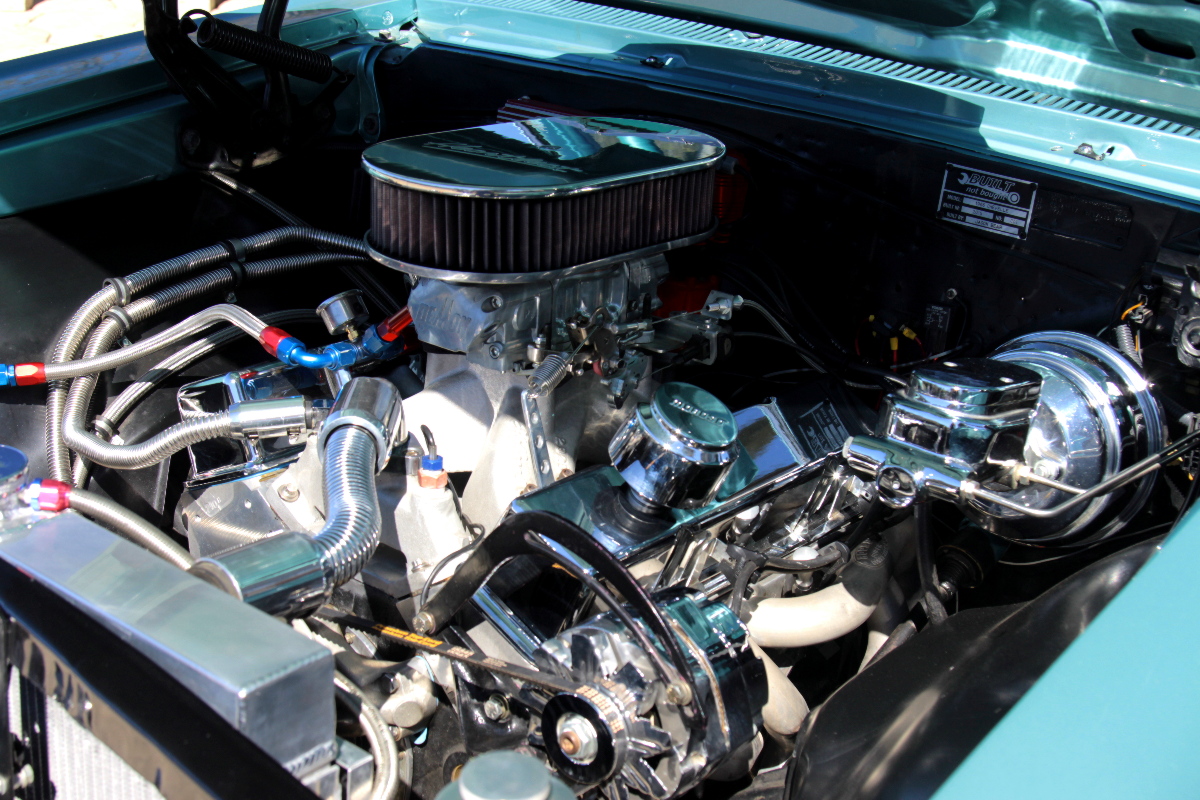 Other goodies under the hood include an MSD ignition system to keep the sparks up during those quarter mile romps, and of course Champion Cooling Systems helps to keep the temps reasonable, whether he's hitting the track or hitting the cruise night circuit.
---

---
Backing up all that power Jason relies on a 200R4 trans with a B&M Ratchet Shifter. Putting the power to the pavement,  a Performance Motorsports 12-bolt rearend with 4.10:1 gearing houses a Moroso limited slip.
It's All In The Details
The suspension on this beauty has been modded up, too. Up front is a set of Fatman Fabrications drop spindles to bring it down a couple of inches , and out back is a set of Hotchkis control arms, all suspended by Koni adjustable shocks.
He's running a set of Baer brakes at all four corners to keep the braking reliable. Surrounding the calipers is a set of American Racing Torque Thrust II wheels wrapped in some hefty meats, running a 235/40R18 up front and 295/35R18 in the rear.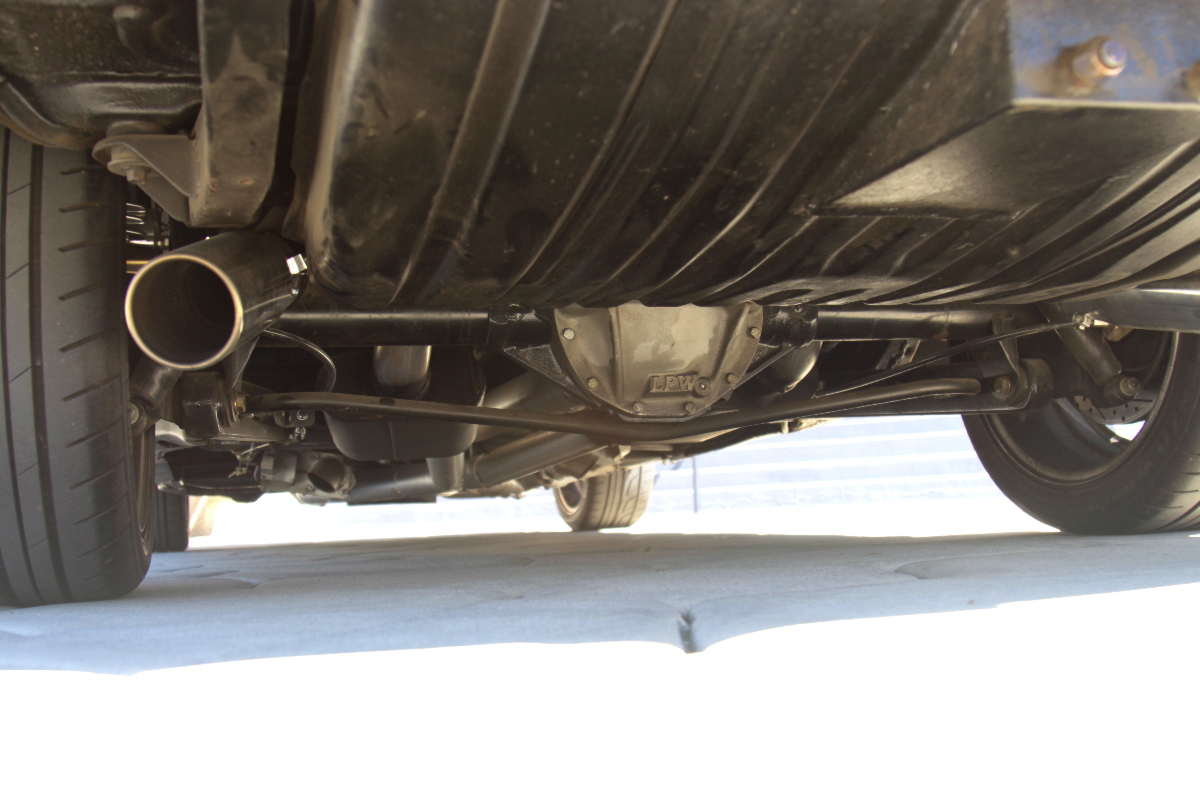 Inside the car, a roll cage will keep Jason safe should any of those passes at the track turn a little wicked. And the tweed throughout  is a nice street-comfort touch, with matching upholstery adorning the trunk area, as well.
While he's in the pilot's seat, a set of Auto Meter gauges keep the tells at a glance and bucket seats, power windows, a sound system, and a tilt steering wheel add more of those creature comforts.
It's hard to tell that so much of the car was in such poor shape when he got it, but he sure converted it into a head turner in a short period of time. No build is ever complete, but Jason said he only has a few more little things he would like to do.
Of course, showing the car and driving the car are the best parts of this, and we would tend to agree with that. The car won a Top 25 at the 3rd O'Reilly Auto Parts Street Machine and Muscle Car Nationals in Pomona – a show we'd love to see come back to us out here.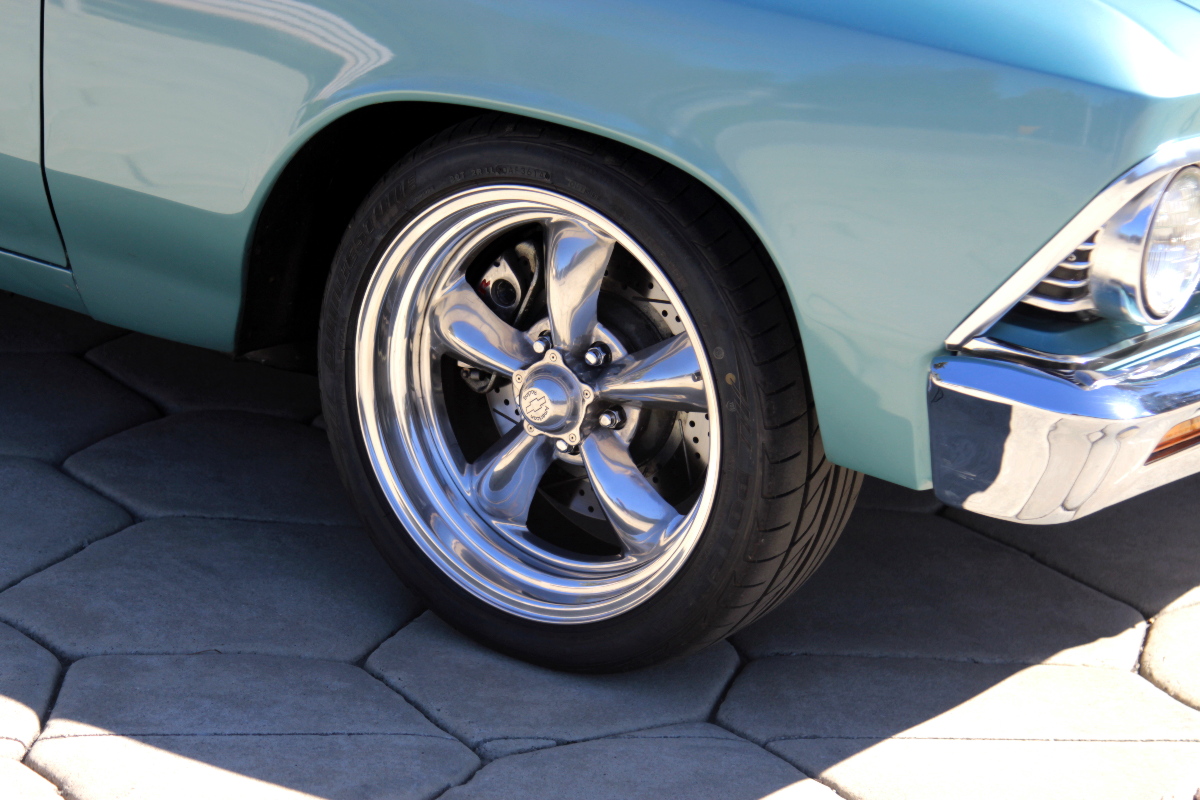 If you like this gorgeous 1966 Chevelle Malibu, let Jason know in the comments section below. We feel he did a great job with his first build. We can't wait to see what he does next (other than helping Magen out with her Chevelle.) Jason said he's got a '55 Cadillac that's in bad shape… perhaps that's the next project?