Most of the time, our choice of what project car to buy is governed by our wallets, and maybe a few scattered memories. Sometimes, though, the decision is made for you when the pieces all fall into place, and when you least expect it. Such is the case for our friend Mac MacAvoy.
Thinking a rotted out Camaro was more within his budget for a project build, he brought the Mrs. along for moral support and they spotted a car that had just made its way to the sales lot. Almost immediately, she knew which car was going to be Mac's project car – this 1971 Olds Cutlass Supreme.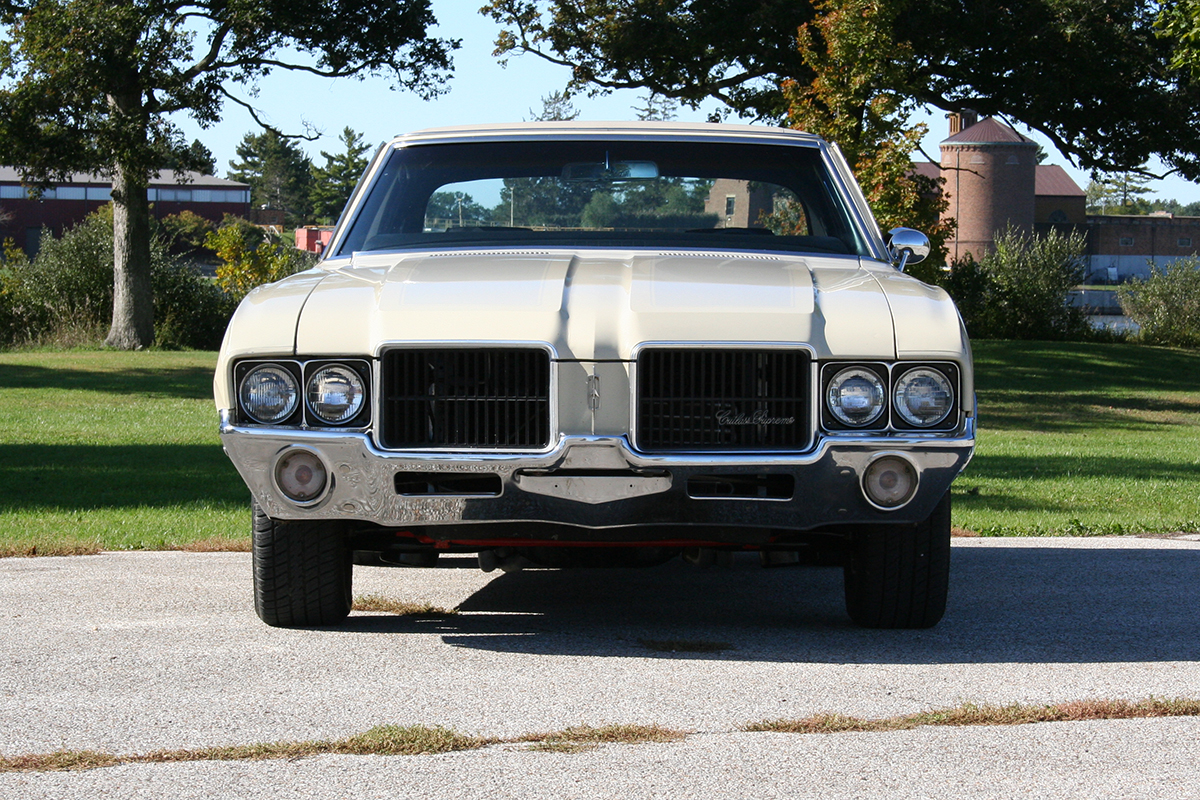 Mac tells us, "When I was awarded tenure at the community college where I teach, I decided to reward myself with a project car." Thinking that rusted out Camaro was going to be the one coming home, it was the Cutlass that caught his eye, and brought hers to tears. "We have to buy this car," his wife, Mary, exclaimed!
Mac's father was an Oldsmobile man, and had a few nice examples of his own, that Mac could remember. "My father and wife were very close and he had passed away a couple years before," he said, "hence, my wife's tears." The decision was made, and Mac said he was ecstatic about bringing the Cutlass home.
Making Plans For The Project Car
As for the condition, Mac says it was butt-ugly and poorly maintained, but physically it wasn't too bad. He's now the second owner, and despite his assumptions he found solid floorboards when he reluctantly peeled back the carpeting. While there was still a little work to be done, such as rust repair in the wheelwells, overall the car was a good start for a project car.
His first plans were to paint the car another color, but the original color has grown on him. Instead of covering up the original paint, he decided not to go with a cherry red finish. He taught himself to weld so he could fix some of the rust behind the rear wheels, then mixed some paint to cover up the repairs, but said it was a bit too dark. So he decided 'waste not, want not' and that batch of paint ended up being ghost stripes on the hood.
Over the past five years they've been driving the car mostly during the summers due to the bitter road conditions during the Illinois winters, compounded with the road salt. Mac has found a few things here and there to repair on the car during his outings. There is one dent that's still present – you can see it in some of the photos – and it's a memory left behind by the 90-year-old driver who previously owned it. Other than that, the car looks like a cool driver that gets plenty of attention.
Beefing Up The Rocket
The original powerplant was a small-block Rocket 350, but like any true enthusiast with a yearning for more cubes and more power, Mac built a big-block Rocket 455.  It was his first engine build and he took it straight down to the block and bored it .030 over, line honed it, and went with high compression Wiseco forged pistons. He filed the rings himself, then installed the rotating assembly and heads with roller tip rockers and dialed in the cam.  Pretty ambitious for a first build, wouldn't you say?
He's running a set of full-length Hedman headers, and Proform HEI ignition, and by looking at the pictures we can see a handful of name dropping that can be done with the go-fast goodies. He says he'd like to pull the engine to see how well he did, but it sounds like he did a great job to begin with – so maybe enjoy it a bit more before that tear down happens, okay, Mac?
Aluminum heads are the plan for the next build when he gets around to it, but it seems that with all the driving he's doing, what he has now is holding up pretty well.  Currently, a Street Demon 750cfm carburetor is providing the go-juice and the simplicity of it is keeping Mac from constantly playing with the adjustment screws.
And to keep that mill running at the best operating temperature and provide Mac with some security on those long trips he makes during better weather, he relies on a radiator from Champion Cooling Systems.
---

---
To keep up with the ponies of the bigger mill, a stage II TH200-4R was added to the mix to replace the TH350, and then with the steeper gears he now had it was time to add a 3.73:1 limited-slip, with 275R60 rear meats to meet the pavement.
But the mods don't stop there, and to help make the car ride a little better and handle more like a modern car, UMI Performance tubular trailing arms and a rear sway bar were added, along with some front suspension upgrades as well. Those wide tires wrap around a set of Cragar SS wheels, making this Cutlass look period correct and giving it a great stance.
Inside, Mac has gutted the original interior, opting for new black carpeting and matting to insulate some of the road noise. A new headliner and Legendary Interiors seat covers keep the interior looking sharp, and he's added a couple of gauges to keep better track of the vitals, including a Sunpro tachometer. Although he has plans for an audio upgrade, he's still running the original AM radio in the dash.
Mac admitted that he hopes the upgrades and the fun never ends, he's been driving it for five of the six years since he first picked it up, and it seems he's always adding something to the future plans which includes A/C – and maybe fixing that fender dent. One of his longer trips was from central Illinois to Niagara Falls, and he and Mary always meet some great people along the way.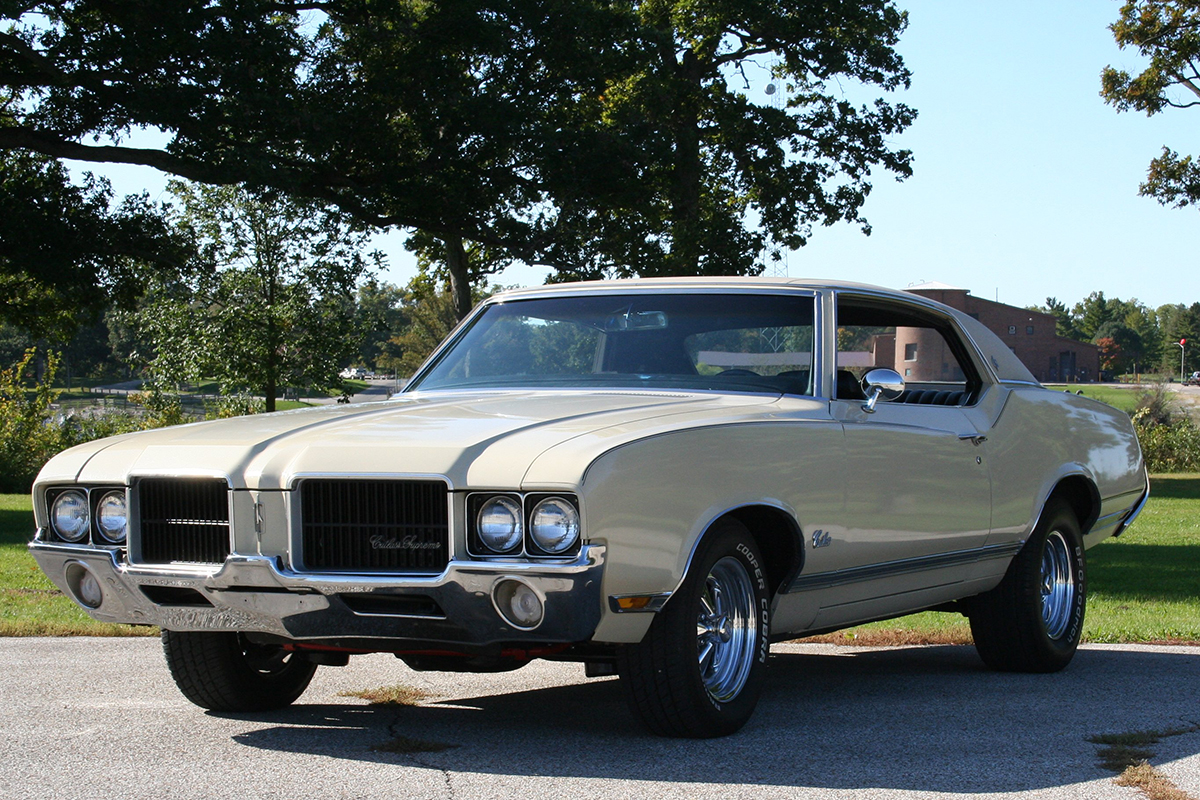 The fact that he's still making regular trips is a testament to the fantastic job he did on the 455 – his first ever build. It seems he did everything right. I'm sure his dad – nicknamed Tuck – is proud of Mac's accomplishments with the build, and it seems that this time, at least with Mac's Cutlass Supreme, it actually is his father's Oldsmobile – since Tuck was the inspiration for the the purchase, and the build. His name adorns the license plate with pride and fond memories.
Mac's won a slew of awards with the Cutlass, and although he's never really been brand specific with his likes, he admits to becoming an Olds man, with plenty of support and encouragement from friends he's made online, on trips, and maybe a special nod from above.