For decades, enthusiasts have been upgrading their gauges to get more information than what the factory offered. It made sense with many vehicles in the early decades of hot rodding where we relied on "idiot" lights to tell us when something was wrong.
Back then, oil pressure was a light that came on when the pressure was dangerously low, but that was usually when it was too late. The temperature was the typical "C" and "H" for cold and hot, but your guess was as good as anyone's when it came to the actual temperature.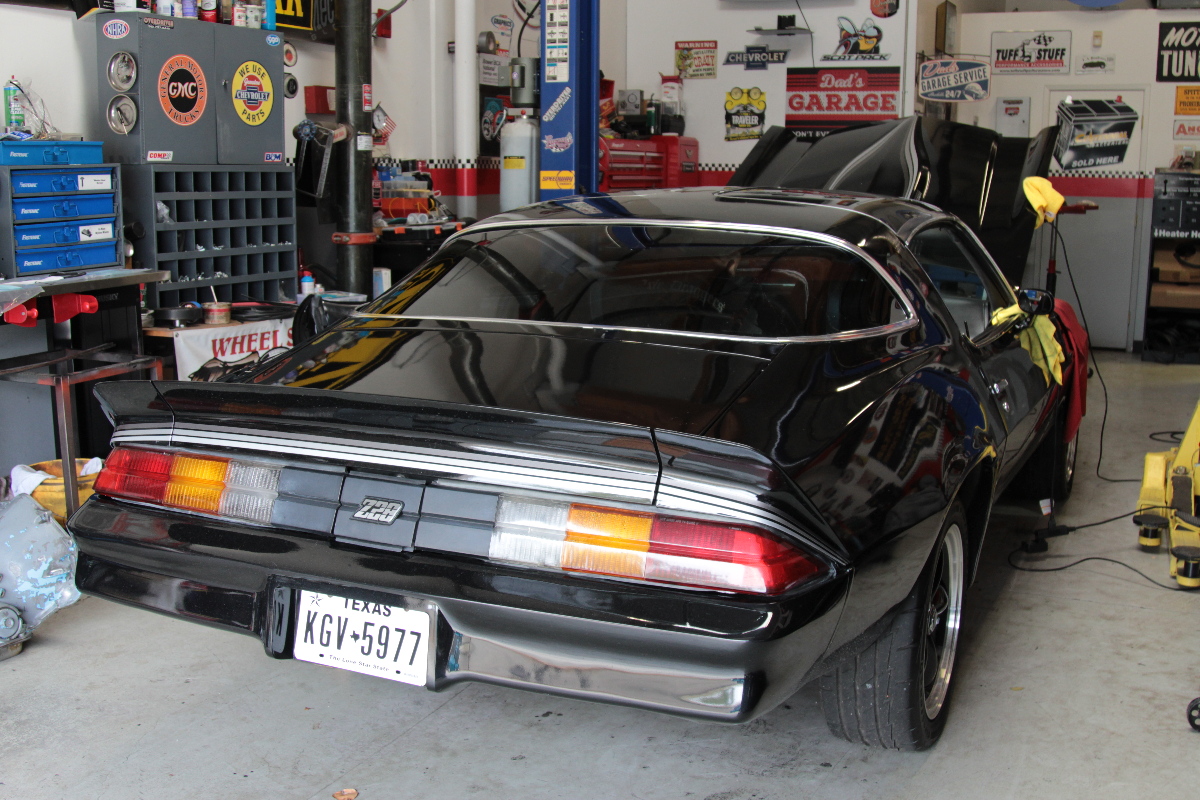 Factory tachometers were rare, and to add one usually meant clamping one to the column, or mounting it on the dash by drilling mounting holes. Fuel level, and the dreaded ammeter were the other two gauges that provided information, and, of course, a speedometer. The gauges were quite plain, and not much to look at.
But even if your car had a full set of gauges, like our Project Camaro, an upgrade to aftermarket gauges is fairly common, especially when one or more of them starts to give bad readings. However, many aftermarket gauges are limited to just a set of numbers and a needle – that is, unless you take a look at Dakota Digital. We brought our Camaro to Brandon Gorbulev at Overdriven Performance, in Murrieta, California, to add some color to the gauges.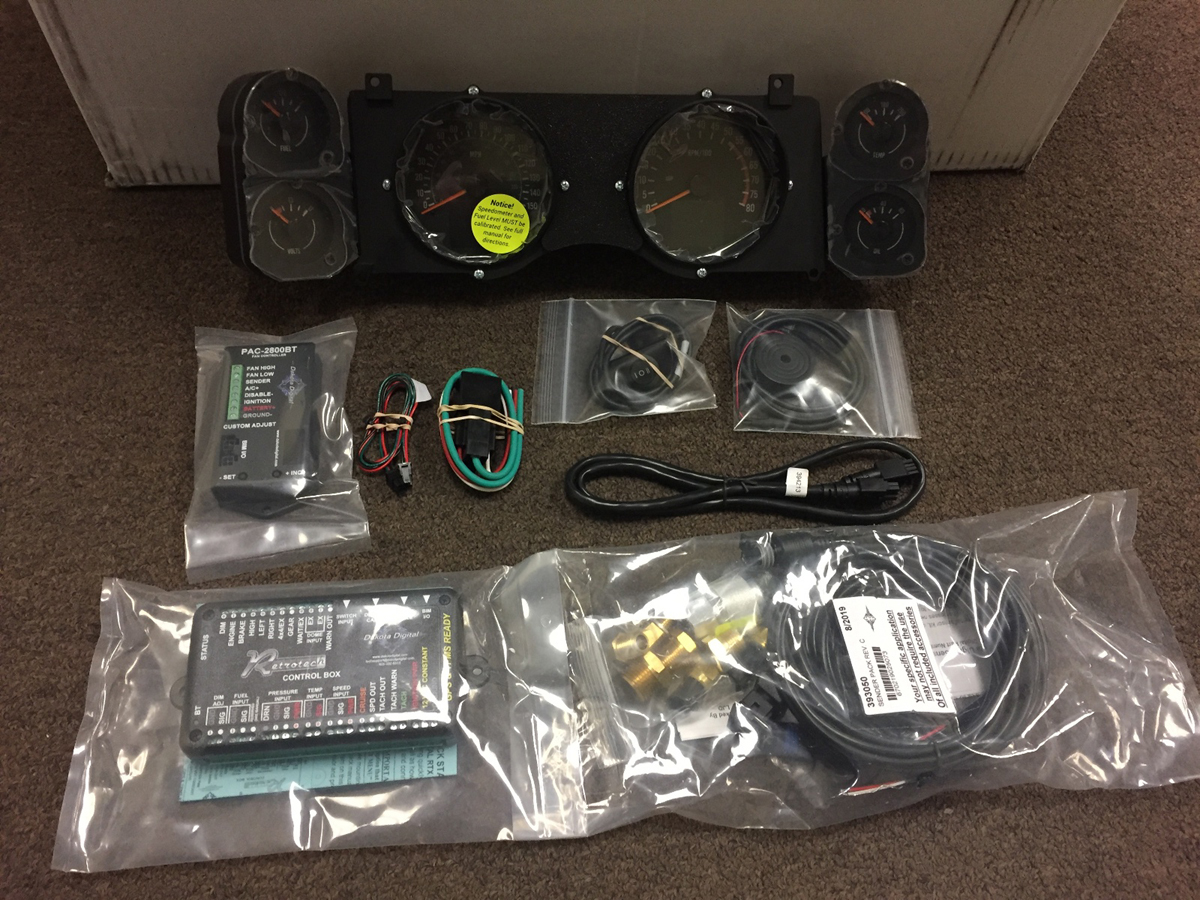 Dakota Digital has been building custom instrumentation for decades, and some of you older hot rodders might remember its VFD Series (Vacuum Fluorescent Display) with it's aqua blue digital readout. It was a very popular gauge for hot rodders, and is still popular today.
Then the South Dakota company created the VHX series, which Marketing and Sales Specialist Greg Karpe called, "a digital gauge with an analog display." The VHX provided the same digital input as the VFD, but offered a visual that mimicked a standard gauge with a sweeping needle. The difference was that you could get a black gauge/cluster face or silver alloy, and it was available with red, blue, or white LED backlighting.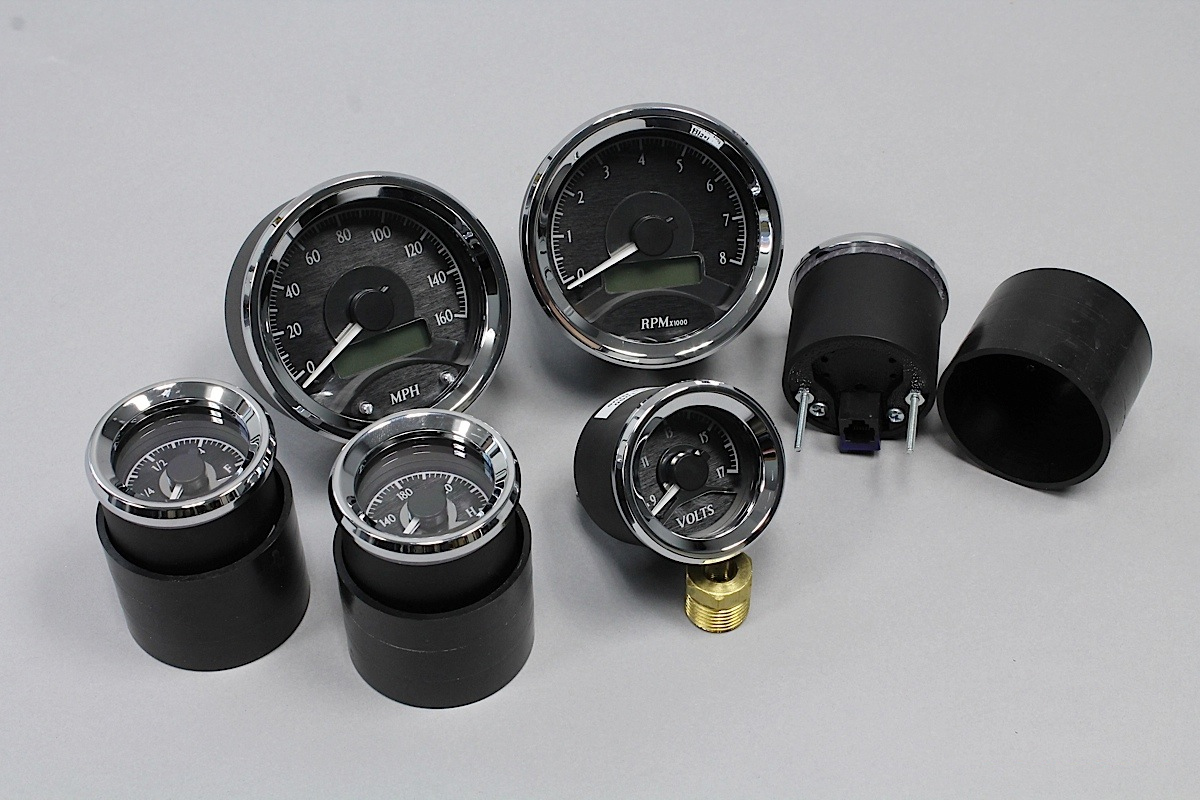 Adding Functionality
You would think with these digital input gauges that you're limited to the standard six gauges that make up a set, and for the VFD that was one limitation. But the VHX added another dimension to its abilities: the speedometer and tachometer provide an information display.
In those displays, an additional 16 functions can be added and viewed in the display area as a digital readout. This is done through a series of BIMs (Bus Interface Module), which can be daisy chained together to provide readings such as cylinder head temperature, oil temperature, transmission fluid temperature or pressure, boost, air suspension, and a few others.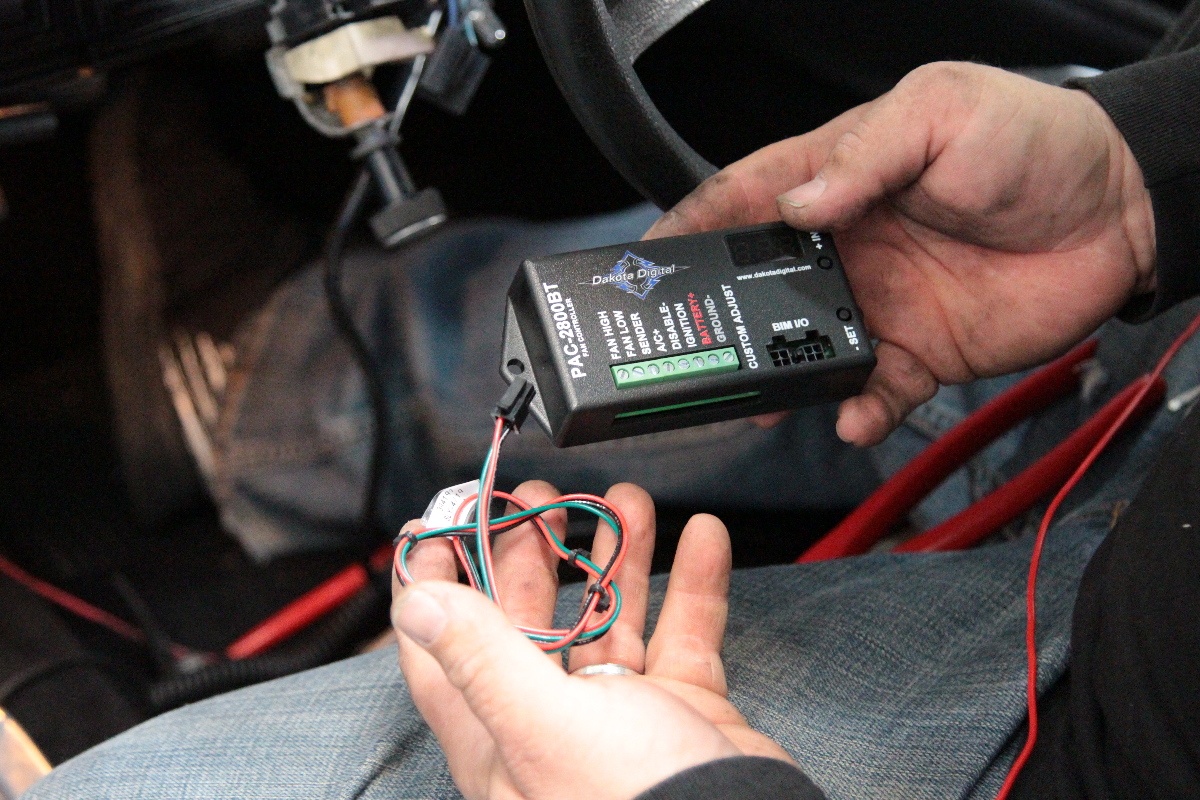 All of these added readings are done without adding actual gauges that require another hole in the dash. Simply mount the BIMs under/behind the dash and send the readings to either the speedometer or tachometer (on separate gauges) or the main cluster.
In addition to the gauges that can be added, you can also get more accurate information from your vehicle because the gauges are programmable. Changing tire sizes or gear ratios? Just program the speedometer by either driving a measured mile and pushing buttons, or make incremental adjustments as you drive, both through the setup menu.
Want to know how fast your friend/kid/spouse drove when they borrowed your car? You can cycle through the display and get high speed read back, or high rpm on the tachometer. The gauges don't lie as long as you set them up properly; and you might not want to tell your kid that they can get 0-60 and quarter mile times on the gauges, lest they head out and see if they can better their old man's times. This information is provided until the info is reset, because you've got a digital gauge that provides all of that information.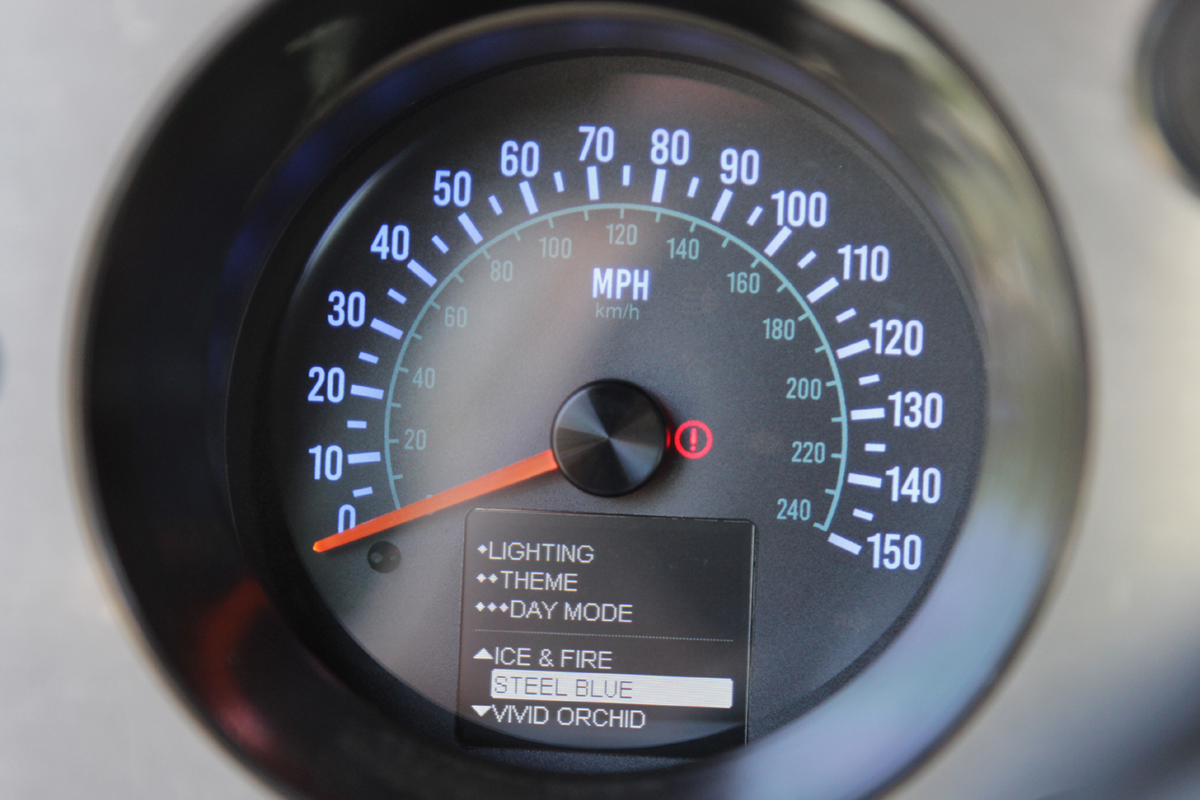 Taking Instrumentation Further
As if the options weren't enough for the VFD, VHX, and the VFD3 Series (which allows for BIM add-ons that weren't available on the VFD Series), Dakota Digital took information technology a step further with the very colorful HDX Series, which adds a TFT (Thin Film Transistor) display that can be custom tailored with dozens of different LED lighting choices, and still provides the expansion modules to add more gauges to your system.
This TFT display can provide even more information than the VHX Series, which was limited to displaying one set of data at a time per display. The HDX can provide several at a time, and like the VHX you can set alerts for minimum/maximum on certain functions, allowing the control box to send a signal when oil pressure or voltage drops, or when the temperature reaches dangerous levels, all done through a flashing display – a really fancy idiot light, if you will.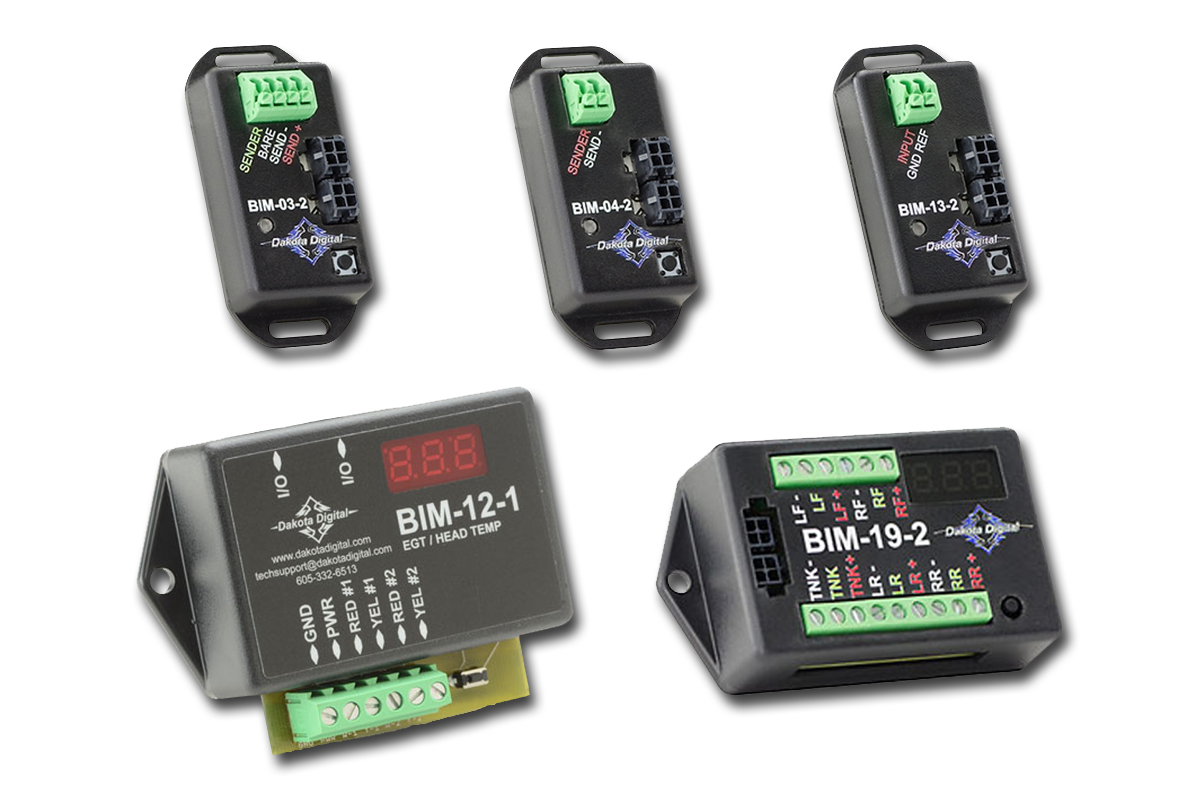 While the initial appearance of the HDX is similar to the VHX, with numerals and a sweeping needle indicator, the ability to change the colors of the needles, the backlighting, and the TFT display functions are a very cool feature that can have you cycling through setup for hours.
The control box of the HDX is a bit more sophisticated, and provides a little more input and an upgrade to how BIMs are added. The HDX was really a great addition to the line up, and became very popular with the custom crowd because you could tailor your lighting to match your car, or your interior, to some extent. But if you think you've had enough, we have the proverbial, "but wait… there's more!" for you.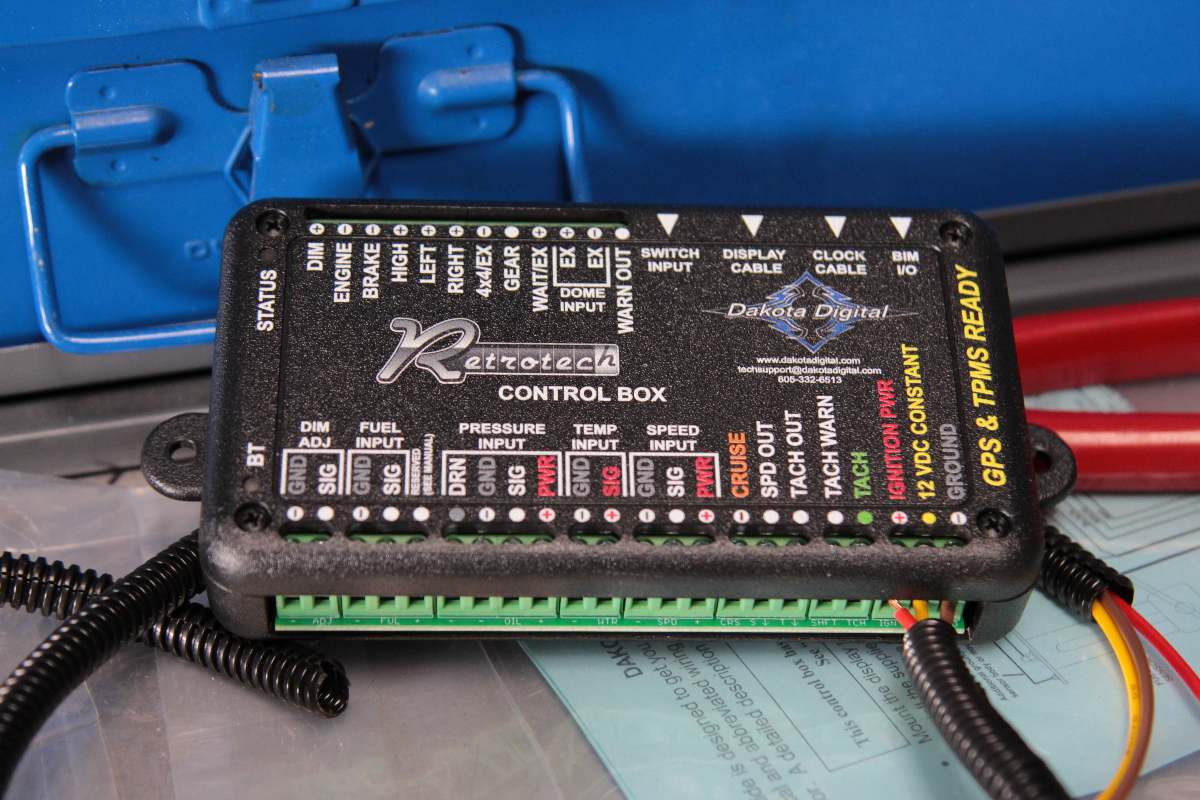 Dakota Digital has introduced the RTX Series (Retrotech) which takes the best of the HDX Series and melds it with the look and feel of the OE cluster. Marketing Manager Greg Karpe told us that they tried to maintain the look and feel of the OE cluster, but it was a challenge for some cars, particularly those that didn't have a tachometer or an actual oil pressure gauge.
"You've identified one of the big challenges with this line," Greg said. "Not only are we trying to replicate designs and arrangements from the '50s and '60s with modern technology, but we're also adding gauges and elements that weren't there before."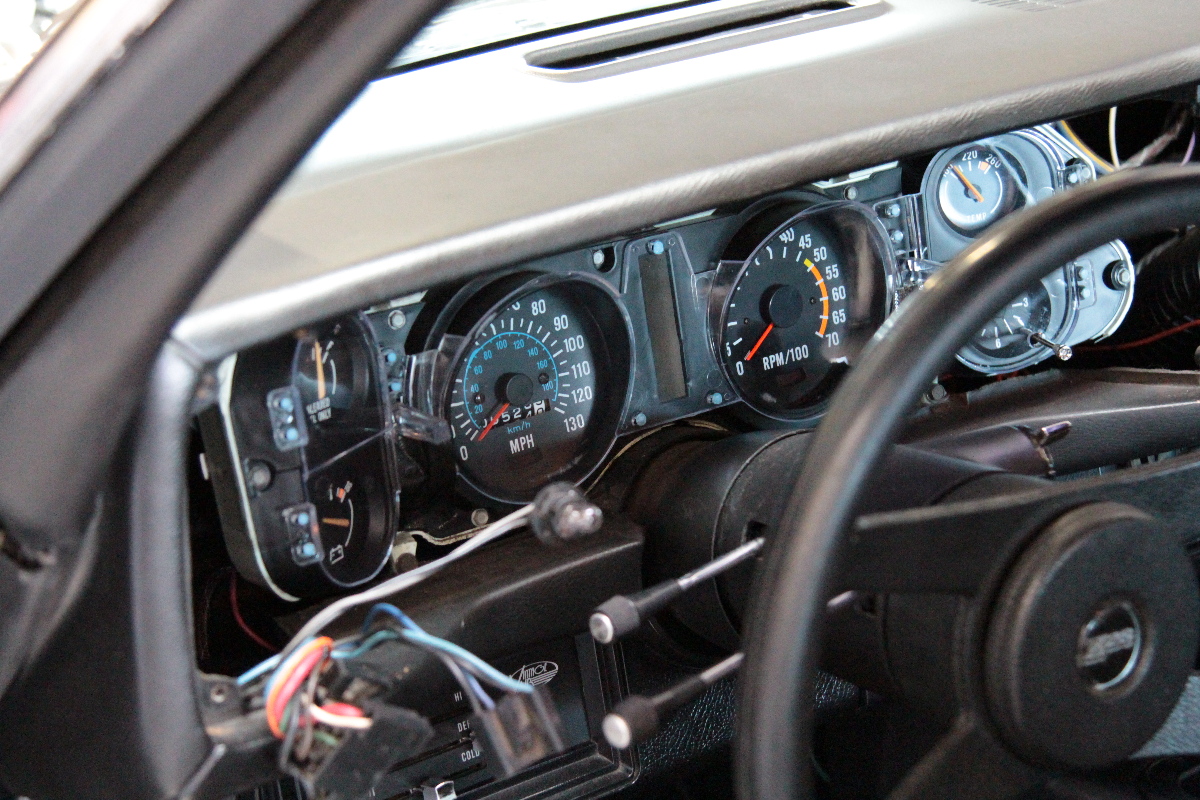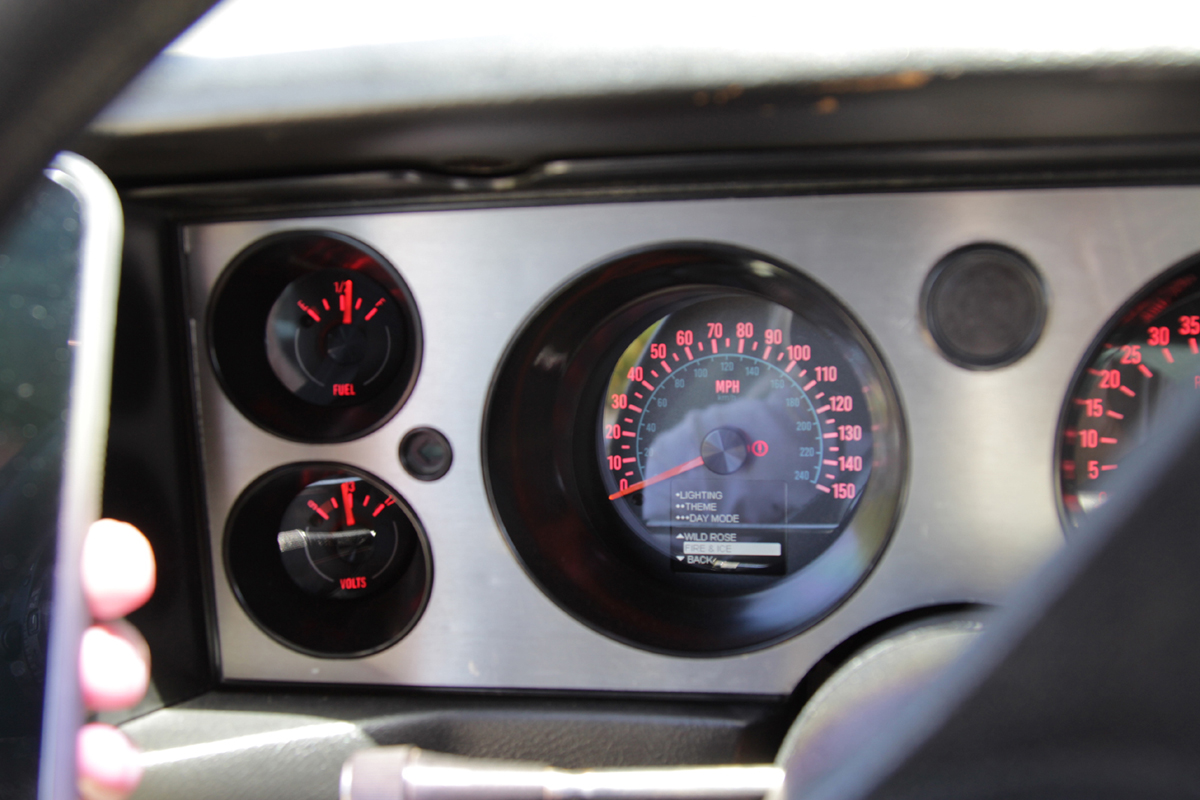 Left: after installing the Dakota Digital cluster, it looks stock, right? Right: turn the key on and you get colors that can't be duplicated on the OE cluster.
Seeing Is Believing
Of course, it would be simple to recreate a full host of instruments, but many vehicles back in the 1960s that had 'idiot' lights made trying to add an oil pressure gauge in place of a small red light on the dash a chore. Still, Dakota Digital manages to make the RTX look factory – until the key is turned on, then you know something is up.
Unlike many other gauges on the market, however, you're not limited with the HDX or RTX series of instruments. If you've ever tried to install LED lighting in other gauges, you'll find it doesn't work very well, and actually seeing the needles is sometimes difficult.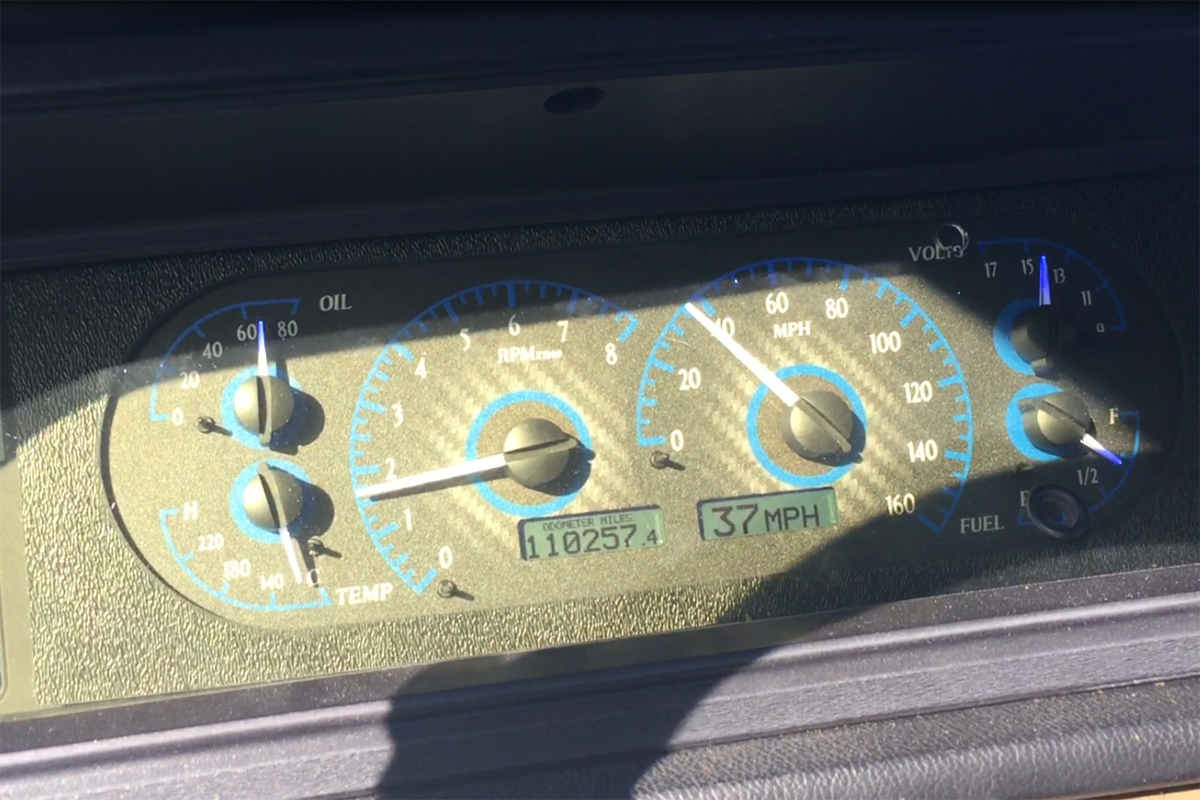 And how about glare – have you ever looked down at your gauges and the sun's glare across the lens makes it nearly impossible to read your gauge? You won't have that problem with Dakota Digital; even when the sun is shining brightly on half the gauge, with the other half cast in a shadow, you still get 100% visibility.
Unlike the VHX cluster shown above, the HDX and RTX series both have an added feature that most everyone just loves about them: custom lighting. If you want your gauges to be backlit in red? Done. How about green and red around Christmastime? Not a problem. Like the blues? Get some. You can even program one set of colors for the daytime, and another set of colors for night viewing.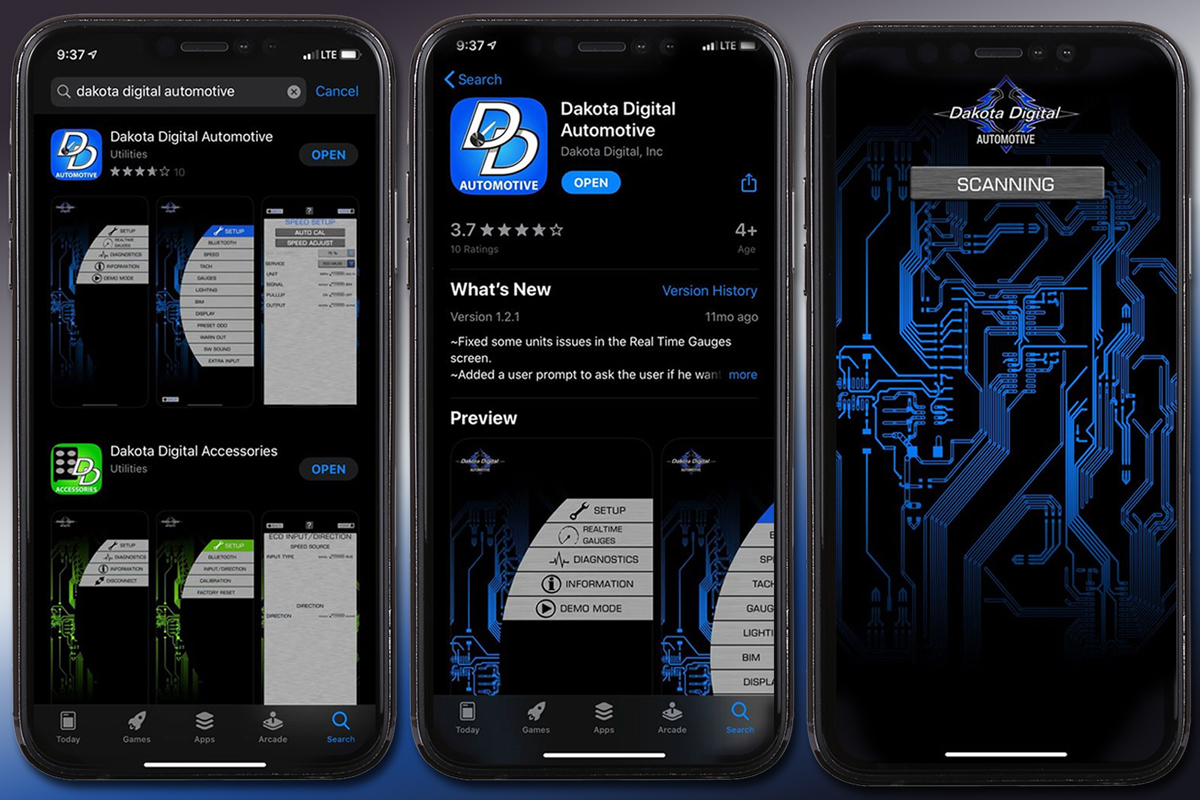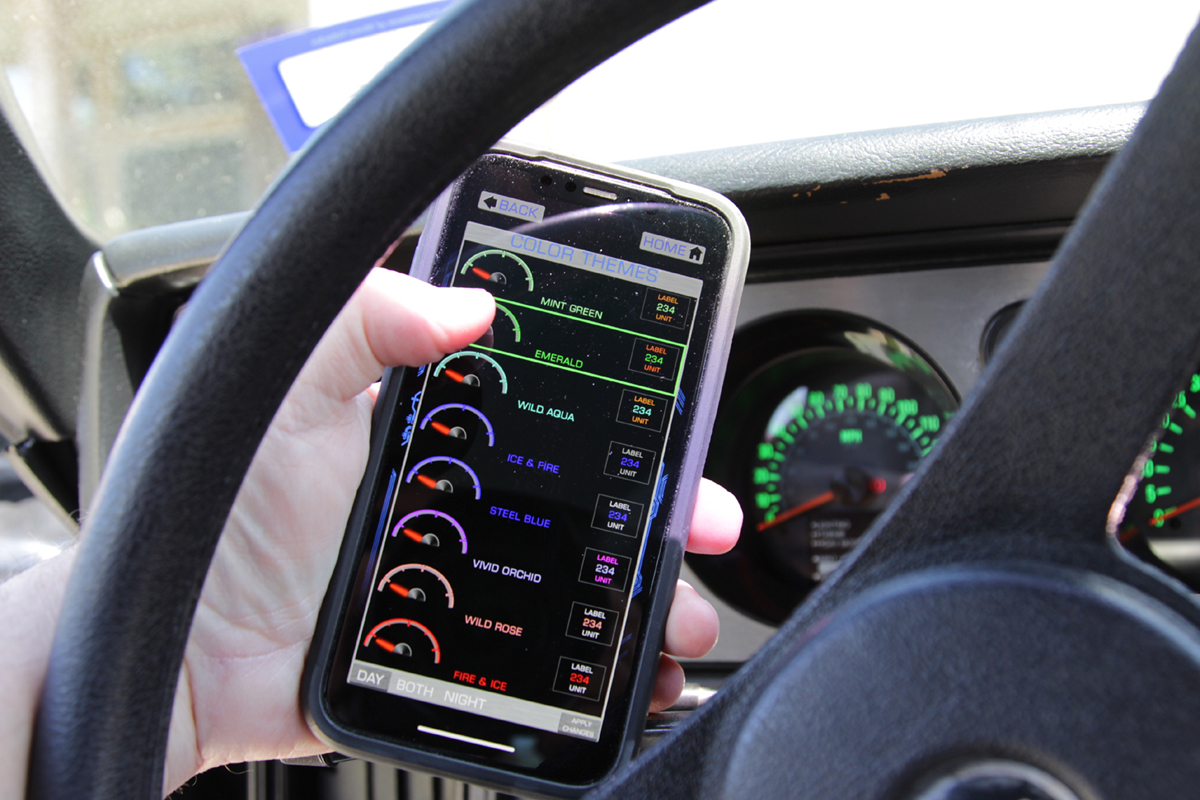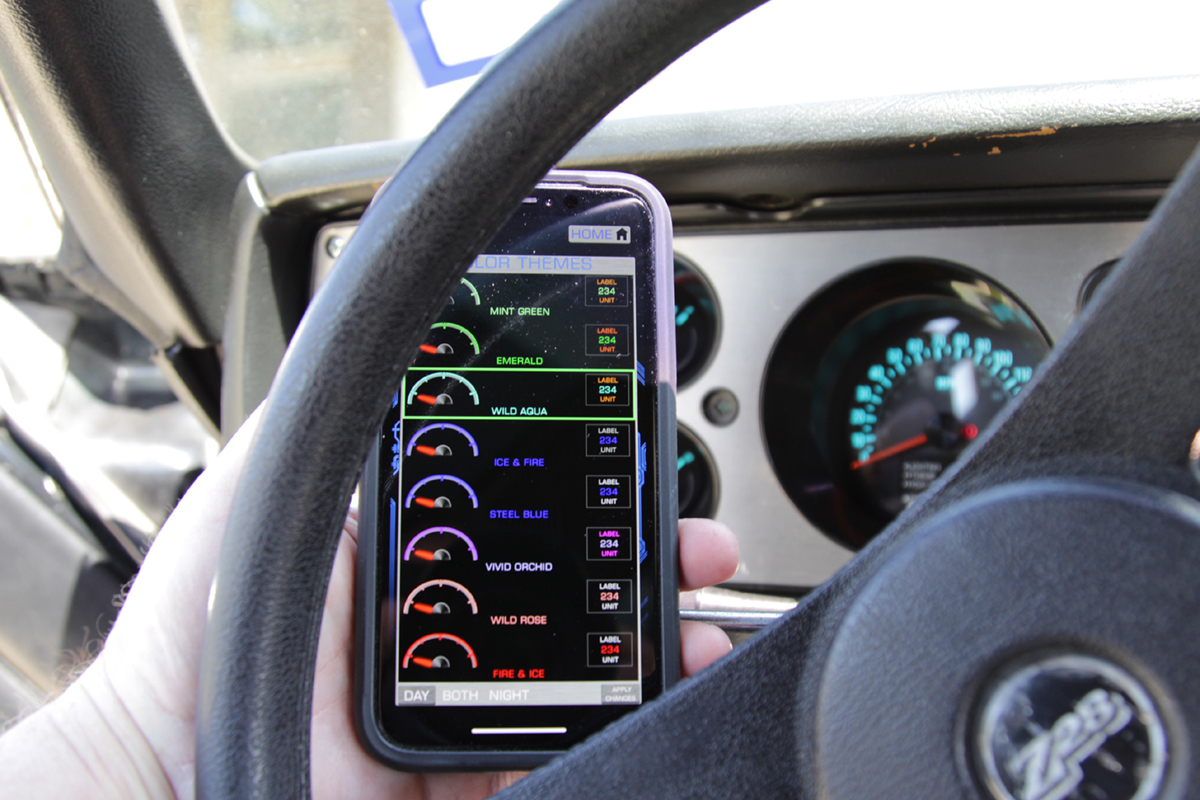 If you get tired of one color, just open up the free app and change the colors through the setup menu. Mix colors to match your attire, or to complement your paint scheme, it's all up to you!
With Dakota Digital, getting vivid is easy, too. The free smartphone app allows you to make changes directly from your phone, once you've entered the setup mode. There are pre-programmed color combinations, or if you want to set up your own color scheme it's all at your fingertips.
Like what you see? Check out the HDX Series and the RTX Series gauges from Dakota Digital, you might just decide that you need another project car so you can get another set installed. And if you just want to look around at all they have to offer, check out the Dakota Digital website for lots of browsing through instrumentation, BIMs, and even accessories like climate control, air ride controllers, and door poppers.